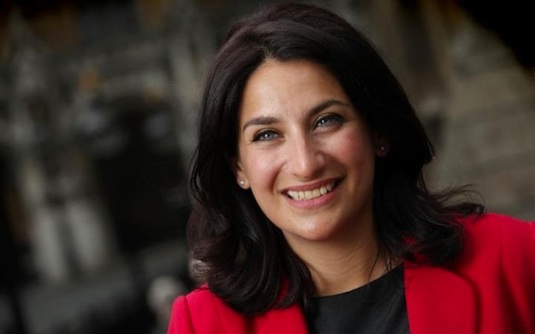 With contrived outrage howling about my ears, that can only mean one thing: someone has gone and suggested the Labour Party is in need of added democracy. Specifically, how the party selects and reselects its candidates at election time. As you have no doubt seen, the touchpaper was the election of a Corbyn-supporting majority to officer posts in Liverpool Wavetree, the constituency party of the Corbyn-critical Luciana Berger. As Luciana previously voted to bomb Syria and was seen as a participant in the attempted coup last Summer, without diplomatic niceties the new chair stated that she would be held to account for her actions. After all, that's what happens in a democracy, yes? Unfortunately, what's good for the goose isn't good for the gander. Conor Pope of the much-diminished Progress looked to his inner Leadsom and said Luciana took her baby campaigning with her, implying that being a young mum nullifies the need for basic accountability. Jess Phillips did a Jess Phillips and compared the new officers to perpetrators of domestic violence, and Labour Uncut doyen Rob Marchant was unseemly keen to suggest this was further evidence of anti-semitic behaviour.
When the Labour right go for smears and utterly inappropriate comments, you know they haven't a political leg to stand on. Unfortunately, the party has learned they were happy to tug on any old rope if it meant strangling the leader. And despite the hard facts of hard votes, an increased number of MPs and now, according to YouGov, an eight-point lead in the polls, some refuse to reconcile themselves to the new realities of politics.
I can understand why. Everything they know about politics has proven itself wrong, the policies they warned would bring calamity have furnished the party with success, Jeremy Corbyn turned out to be an asset, much to their chagrin, and the expectations they place on the membership - to deliver the leaflets, shut up and do as they're told - is not the station a huge number of recently politicised people are prepared to accept. Hence selection, reselection, deselection are touchy subjects that condense their anxieties. Building relationships with large numbers of people are difficult, especially when you've made your name rubbishing those of supposed colleagues. You have no idea of who's influential and who isn't, whether there are people organising against you or not. Also the job you have is one where you are accustomed to doing as you please with barely any comeback. Having to account for your actions is an alien concept for a number of MPs who think they're the shit when all they are is fortunate. And every now and then, there's no harm in reminding that they cannot use the office the party gifted them to carry on as they please. Everyone else has a job appraisal, and so should they.
Ah, but doesn't the trigger ballot system work perfectly well - where party units decide by simple majority whether a CLP with a sitting MP should proceed with reselection? No, they don't. Branch Labour Parties and affiliated societies and unions can be bureaucratically manipulated. What might be decided by 30 members in one branch has as equal weighting as six or seven in the other, where unions and societies aren't asked but rather the choice is nodded through by an official. Nothing better illustrates this by the persistence of self-seeking and useless MPs. Do you think, for example, the unlamented Simon Danczuk got through reselection by virtue of personal popularity?
But, goes the argument, if an open selection process takes place as a matter of course isn't that a recipe for division and civil war? Only if you regard democracy as inherently problematic. Part of the reason why the party lost its way and got hollowed out wasn't just because Blair undermined its constituency and, ironically, the traditional support for the Labour right in the party, but because MPs were insulated from the members and pressures from their constituents. A good MP would listen and pay heed anyway, but plenty do not. Open selections means they cannot do this any more. As the members under such a system are, rightly, sovereign, a lot of what they bring to the table, which is a political understanding informed by a life experience much closer to everyday life as lived by the majority of people than the reality filters around the Parliamentary estate, should be listened to and acted on. And, well, if the members don't like the cut of your jib an MP has the advantage of incumbency to organise and recruit. If a MP is doing a good job, they should have no problem convincing constituents to sign up.
No system is perfect, no system can be perfect. Yet in politics, socialists can apply a simple test. From the point of view of the political development of party members, of encouraging people to join the party, and getting the wider electorate to see Labour as theirs, to feel a real connection and ownership of what the party could become, is bureaucratic manipulation as per the existing system appropriate? Or giving members the right to determine at every election who the members should be campaigning for? It's so simple that this is even in contention shows how much work the democratic remaking of Labour has to do.