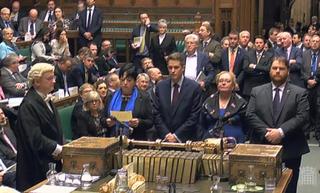 Taking a sneaky from things Stoke-related, it's time to cast an eye over last night's Commons vote giving the government permission to trigger Article 50. Annoyingly, it is not the Tories who find themselves poisoned and split over Europe, like the Lexiters promised. It's Labour. As the government won by 494 to 114, 47 Labour MPs joined the SNP and Ken Clarke in voting against.
Like John McDonnell, I have some sympathy for the rebels' position. Some MPs hail from constituencies in which majorities voted for Remain, other believe leaving the EU is a catastrophic act of self-harm. These for me are all valid reasons to oppose Brexit, but to my mind are trumped by another consideration: democracy.
Representative democracy at the best of times is inefficient and imperfect, especially so in capitalist societies where economic and political power are more or less separated. The former, formally, is subordinate to the will of the latter and has to submit to its laws, regulations, and other interventions. In practice, it's the other way round. For most of the last 30 years, as learned folks across the political spectrum told us class didn't matter any more, inequality increased, production gains accrued to the owners of capital as productivity was decoupled from wages, and ever more ingenious ways were devised by successive governments to transfer tax monies into private coffers via the marketisation of public services. And coincident with this, educational institutions and popular culture have tried churning out obedient subjects that would meekly accept all this.
It's a rare situation to find economics assuming a subordinate role in government policy, but this is one of them. Theresa May's Wrexit trajectory will be profoundly damaging to the British economy, and it's our people who will pay the price. But ultimately, politics has asserted itself. Brexit is a massive pile of shit, as a lately prominent comrade of mine put it, but it must happen. The referendum wasn't sold as a "consultative" exercise, it was clearly and unambiguously a plebiscite on Britain's continued membership of the European Union. Prat about with the turn outs, pull out pie charts proving a majority of people didn't vote to leave, it doesn't matter. A democratic vote was had and the wrong side won, but we have to take the consequences. Because if we don't, the political fall out would have been far more damaging to our people and our movement than a reversion to WTO trading rules post-Brexit.
What I would euphemistically describe as unhelpful is how the party, or rather those who rebelled last night, completely conceded this ground to the right. Democracy isn't a free floating idea, it is bound up with interests and it's in the interests of the people our party represents to extend it beyond the realm of formal politics. We have to make politics substantive, and this means economic democracy. By refusing to support the Brexit process, this ground has been ceded to the right. Our rebels have presented the Tories a crock of political gold with a gift tag that reads "unified to deliver the referendum outcome". At this crucial moment in British political history, the Tories have captured the mantle of champions of democracy without so much as a tussle. And that is profoundly damaging to our future political prospects.