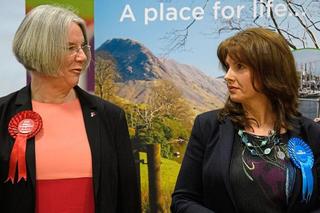 Two opposing stories have emerged about Labour's defeat in Copeland last night. The first is Jeremy Corbyn was a drag on the doors and cost us the seat. The second is Labour's vote saw long-term decline under Jamie Reed, because he was really a Tory. The former requires stuffing the latter down the memory hole. The latter demands ignoring the reception on the doors and the awful polling. For anyone trying to understand what's going on and to address the pickle our party is in, neither of these are particularly helpful.
Jolly old Lenin was fond of noting that one should try being as radical as reality itself, which means looking at things as they are. And, unfortunately, they do not present well. The Parliamentary Party had a good go at trashing Jeremy and making a train wreck out of Brexit, and we haven't recovered since. Pointing this out on social media, while true, isn't going to make it go away. The damage is done. There has been the populist turn in response, but there was little evidence of that on Copeland and Stoke by-election leaflets. In this relatively stable interregnum between the leadership contest and Brexit negotiations hitting the buffers, it's difficult to know what to do.
The key dynamic exploited by the Tories in Copeland was insecurity. Even now, after banging on about it for years, time and again we are ceding this ground to them and, unsurprisingly, we're losing. The three Albatross hanging around Jeremy's neck is his association - however unfair that might be - with terrorist groups, perceived weakness on national defence, and opposition to all things nuclear, which encompasses power stations. It's a truism of politics that people aren't going to follow a leader or a party that makes them feel unsafe. In Copeland, a constituency utterly dependent on Sellafield for its economic lifeblood, such a position was more toxic than spent uranium. Labour had big hopes that the NHS would pick up the slack, but it didn't and never could because, politically speaking, it is a weapon with limited range. Yes, everyone loves the NHS. Yes, people are worried about what's happening at the local hospital. And, yes, invariably thousands of voters in any given constituency will either have had recent dealings with hospital or know someone undergoing them. For most people at all other times, the NHS is a safety net. Few fret over A&E waiting times, lack of beds, and staff shortages until they have to use them themselves. It does not cut to the quick in the same way a potential threat to your livelihood will, and to be honest as the party of the labour movement it's a bad show that we're oblivious to this.
Ironically, pretty much the same reasons underpinning last night's defeat were behind the declining vote share under the dearly departed. Like most MPs, I'm sure Jamie Reed was fairly diligent when it came to representing constituents' interests and protecting local industry. Sellafield wouldn't have taken him on had this not been the case. But politically, throughout the Blair/Brown years, he was the local front man for a party that did little to stymie the complex of anxieties and insecurities their political economy gave succour to. People didn't stop voting Labour because it wasn't left enough. Like the centre left elsewhere more recently, they dropped off because the party didn't act in their interests and, in a number of cases, undermined them. As I'm fond of saying, the Tories don't ever make the mistake of attacking their base.
As leader, Jeremy ultimately has to take responsibility for the Copeland loss. But the underlying culprit is a congenital tin ear. Too many assume that a labourist party can get away with pushing policies inimical to the interests of the coalition of voters that back it up, and then, albeit from a different political standpoint, repeating the same feat and expecting a different result. Two cheeks of the same arse, one might say. Should Jeremy depart before the next general election, looking over the Chukas, the Jesses, the Dans, Yvettes, Lisas, and whoever else fancies a crack, there isn't a single one of them who recognises this is a problem, let alone have a solution. But there is someone who does talk quite a bit about it, despite their politics premised around perpetuating privilege and inequality. And she's riding miles high in the polls.