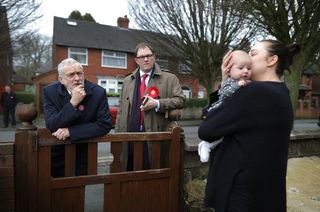 Admittedly, I've never liked polling day much. Probably because my experiences of them are never the greatest. 2011 in Bentilee found me soaked and dispirited by the small numbers we turned out which, thankfully, were enough to see off the BNP. 2012, Springfields and Trent Vale: over a thousand Labour pledges and we still lost to the City Independents and their manifesto promising a ban on cervical smears(!). 2013 in Baddeley, Milton, and Norton - bloody miserable and another loss to the same crew. 2014 Newcastle-under-Lyme, alright I guess. So too was Stafford 2015, until I got home and saw
that
exit poll. Silverdale
last year
was uncharacteristically good as we took one off UKIP. And today?
Let me just say that this was the worst weather I've ever campaigned in. Storm Doris lured me in and gave us a good going over. Despite the multiple warnings from Carol on
BBC Breakfast
, it didn't look too bad out. Sure, trotting up to Hanley from Chateau BC was a touch windy, it was manageable. It was pleasant enough to pause briefly to admire the kippers going in and out of their HQ. I was asked by a plonker wearing a garish Union Jack-covered suit who I'd be voting for. "Not for your lot, mate." "Why?" "Hillsborough ... for starters." The deflated look was worth holding back the real explanation. Anyway, it was 9am and met up with brothers Tom and Lloyd at campaign HQ, and joined by sister N we hit the first doors around Hanley Park and Shelton.
This ward is predominantly populated by students with a large number of second generation Asian residents and an outer rim of white English locals. It was also the only ward in the whole city to have voted Remain in the EU referendum. A juicy morsel for our Liberal Democrat friends perhaps? Except, going door-to-door, they hadn't bothered going out early to drop off their polling day rounds. It was also quickly apparent that Doris had chosen this moment to do its worse. We were flung from house to house, my kipper-coloured brolly mutilated by the storm's gusty tendrils. As Tom put it, it felt like our hands were bloody stumps. Absolutely sodding soaked, Gareth Snell and Ruth Smeeth joined us just as we were beginning the second round. Thankfully this was a stone's throw from home, so I made my excuses and pegged it to change and put on more appropriate wear. Alas, the umbrella was beyond redemption. We'd had some good times ...
Back at base camp after a quick bite to eat, I went out with sister T and a couple of comrades who'd travelled up from Exeter. This was just down the road from the office and so made short work of a couple of rounds. Then back to recharge (bring me coffee or bring me death) and a chat to the poor bugger charged with hair drying all our soaked WARP sheets. By chance I bumped into me ode muckers Chris Williamson and Cllr Sarah Russell from Derby North CLP. Funnily enough, when I last went out with these motley comrades the weather was almost as appalling (snow storms in Mickleover don't come recommended). Off we headed with sister T and other Derby folks to Birches Head. This is a 1980s estate with plenty of detached housing and can be quite tricky for Labour. Here the big coat proved its worth as pulses of rain and beams of sun were cast down upon us, some times simultaneously. And for the finale, we had a double round back in Shelton with an expanded Stoke/Derby/Newcastle/Manchester/Matlock alliance. On this round especially we hit quite a lot of people who'd been and were about to head off to the polling booth. Interestingly, down one driveway I found a Rolls Royce. Not something you'd expect to see in those parts.
I'm sure you didn't want the diarising, but still. What this campaign has reminded me is that going out and doing the kind of slog others avoid like the plague can be and is
a good laugh
. Invariably, canvassing is not quite fun, but is always interesting and occasionally uplifting. And I've been heartened not just by the hundreds, if not thousands of comrades who've poured in from all over the country (and some times, from beyond) but also a good chunk of new members who signed up because of Jeremy Corbyn. A lot of old hands like to moan about the inactivity of these recently-activated folks, but they're no lazier than people who've been round the block a bit. Dozens upon dozens got their first taste of party campaign on the doorsteps of The Potteries, and I hope our shining pearl of North Staffordshire hasn't put them off future activity.
Back to business. The real reason why I don't like polling day is you're only left with an idea of how your vote turned out, whereas the normal go-find-your-voters canvassing gives you an overall glance of how the result might fall. That said, as the day went on turn out improved. Even the horrendous morning session wasn't a total loss. I am cheered by what comrades told me. Knowing someone who worked on the Heywood and Middleton by-election, which the kippers missed out on by a whisker, he said there was a palpable shift in their direction as the campaign wore on. No such shift was seen on the doors this time. Indeed, a few Tory-Labour switches (to keep UKIP out) were turned up - the job is to make them permanent rather than tactical voters. Overall then, the data points to a Labour win. But I
don't do predictions
any more - if that turns out to be wrong, and it might be, there are either a lot of shy kippers
or
we're not asking the right questions to flush them out.
The ballots are now in, and the result is beyond anyone's power. The tense night of counting now begins.