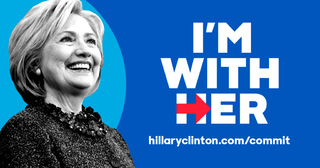 It's high time I invested in a nose peg factory. Here we are again, a presidential election showdown between the Democrat and Republican candidates, just as it has been for 150 years. And on this occasion, just like nearly every other, the logic of lesser evilism must come into play. However, in case you've been living under a rock the contest is between the Democrats and something qualitatively worse. Difference is not a matter of degree any more.
Yes, American politics is stuck. Thanks to the early award of the franchise, the American labour movement never took off unlike pretty much everywhere else. While the Liberals here in Britain tried and failed to co-opt working class votes and aspirations, democratisation preceded industrialisation in the US, meaning our movement fed into one of the two main bourgeois parties, and that's where it has more or less remained. Historically, it has conditioned the Democrats and pushed it in a direction similar to but not entirely comparable with Europe's social democratic and labour parties, and has also ensured its openness to successive progressive movements like civil rights and anti-racism, women's and LGBT liberation. Yet a bourgeois party it remains, another historical twist where early advance gave way to lasting backwardness. Yet here the processes transforming politics here are at work in America too. No exceptionalism this time.
Here is the problem with the Democrats. They are a party entirely in hock to big capital, and also have a progressive voter base. This can be galvanised into doing good works, but even then its active electioneering tends to dissipation as soon as the polls close, as per the genuine enthusiasm for Obama in 2008 and 2012 have shown. A small number might get involved in community organising and find other political outlets, but most remain passive until next time round. The Sanders insurgency however has cast a light on the ferment at the Democrats' base. Hillary Clinton's victory in the primaries was square, but certainly not fair. This has stirred minor controversy as Bernie-to-the-end types have not accepted it is the end, and are prepared to vote Republican in some feeble, farcical echo of the Stalinist third period. Nevertheless, from the long term standpoint of giving labour an independent political voice in the US, it is preferable that the Democrats are in office and that the election campaigns waged by its base, often around unsuitable and anti-working class candidates, win as opposed to defeated by the hard right GOP.
Yes, Hillary certainly does fit that unsuitable mold. A free market, Wall Street-loving, hawkish candidate is never going to do. Her win tomorrow would fracture the glass ceiling some more, but treating that as the singularly significant event to the point of excluding all else is the worst kind of myopia. Obama's extra-judicial kills-by-drone and all the misery that causes is set to continue. Threatening to impose a no fly zone over Syria is madness. And her tin ear to those communities left behind by decades of dog-eat-dog market fundamentalism shows not just shockingly poor political judgement, but scant awareness how such policies can easily turn Democrat voters away from the party. Why is Hillary the worst the Democrats could come up with? Because she's going down the very same political path that got us here.
Yet were I an American citizen, I would vote for her. And on most downticket races I'd vote Democrat too. Because, in case you hadn't noticed, this isn't an ordinary presidential election. As the year has worn on and we've got used to the buffoonish countenance of Donald Trump capering about the stage, the more obvious it is that his presidential campaign endangers democratic politics in the US and elsewhere. Like the Conservatives here, the Republicans are in long-term decline. Their explicit positioning as the white people's party put demographics against them, and they are divorced from the greater and greater dissemination of progressive social attitudes and values. Christian fundamentalism, the Tea Party, and now Trump's candidacy are the last gasps of an America struggling to disappear. And as we've seen with the Brexit vote here, when reaction wins a battle the aftermath is economically and socially damaging. Should Trump win, every racist, every fascist will be emboldened to carry through their imagined grievances against hispanics, blacks, Muslims, Jews, LGBT people, women. The so-called liberal elite, variously identified with journalists, academics, and lawyers are also threatened. And because the US remains the world's preeminent superpower, it will boost the politics of reaction everywhere. Should the worst come to the worst and a President Trump accompanies a GOP majority in both Houses of Congress, then the Republic itself is in peril.
This is not scaremongering. The danger a Trump presidency represents to the people of the United States and of the world is real. And what is awful is that even if Clinton wins, he's run her far too close. It's a pivotal moment from which very different histories flow. On the one side is a fatuous demagogue whose angry, but deeply insecure movement will take America into a very dark place. And on the other is a competent if uninspiring establishment politician whose victory would, nevertheless, drive a stake into a tottering party of racists, religious extremists, and the putrid politics they hold and, despite herself, allow the progressive reconstitution of politics to carry on unimpeded.
Those are the stakes. Vote Hillary, Vote Democrat.