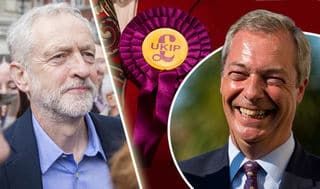 Brexit, Trump. Trump, Brexit. Brexit Brexit. Trump. Trump. What disasters. And it's not over yet, what with actual fascists lining up to take the presidencies of Austria and France. It's as if the 2008 crash was the nuclear explosion, and the collapse of political establishments across the West fold as the slow coming blast wave bursts them apart. Politics is poisoned, and it's difficult to see how it can be bent in a positive direction.
Offering their own solutions come Owen Jones for the left, and Ryan Shorthouse for the right. As you might expect, I'm inclined to concur with the former rather than the latter. Owen recommends that the left ride the populist, anti-establishment wave rather than leave it to the Farages of this world, and re-embed ourselves in our working class communities. This sounds like a very straight forward aim, but for one thing. Hasn't leftist populism already taken over the Labour Party? Jeremy Corbyn might be an unusual populist, when you consider his style is the very antithesis of the tub-thumping charismatic leader. He doesn't talk in simple soundbites like the new US president-elect, preferring instead policy-heavy talking points. And the Labour leader is very well aware the party has to push policies that deliver for our working class support. You see, Corbyn is a populist in as far as he opposes the aspirations and the interests of those locked out (or perceive themselves as such) of the system to a battered policy consensus that puts business and the markets above all else. It hasn't and won't likely fly with the media in the future, but that would be the case if a charismatic leader replaced Jeremy anyway. Trying to make the populism we've got work rather than wishing for a new one might be a good start to the left trying to take it seriously.
As for Ryan, coming from a conservative background he's occupying very different terrain. He opposes the populist wave and calls for a struggle against "anti-establishmentarianism". Almost as catchy as the 'for constitutional fidelity' strap line used by independent US presidential contender, Evan McMullin. Ryan's piece is useful because he offers a defence of the established order. For him, the establishment is a vital component of any functioning democracy, and the people who constitute it - the politicians, the top coppers and civil servants, the business folks and the bankers, etc. - are Very Decent People who've worked jolly hard to get where they are. Besides, if they were no good they wouldn't have made it in the first place. While it would be easy to lampoon Ryan's starry-eyed defence, there are plenty of liberals who, in an honest moment, would agree with him.
Nevertheless, he does make an important point. Despite the flux in our politics, most people are relatively happy with their circumstances. This can mean one of two things. One, that the populist shift is a passing political phase, at least as far as Britain is concerned. Theresa May need not worry as she haphazardly patches up the Thatcherite settlement. Or the other, more frightening conclusion, is that people are satisfied with their own lives in the sense that they no longer blame shit things happening on themselves. Unemployment, not my fault. House prices, not my fault. Huge debt, not my fault. Insecurity, not my fault. The populist turn differs in its Corbynist and Farageist variants, mobilising as it does different groups of people around opposed political projects, but simultaneously they might well represent a rejection of individuating social problems. Hence the apparent incongruence between rates of self-satisfaction and the anti-political establishment mood. If you're in the business of salvaging a hegemonic project, seeing one of its key pillars in such a state of disrepair is enough to make any conservative ideologue nervous.