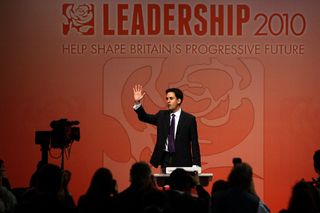 Someone has been reading Lord Ashcroft's
recent report
. Given the nature of stupid red-baiting criticisms leveled at Ed Miliband since his victory in the Labour leadership contest, today's speech was never going to include the nationalisation of the top 100 monopolies. It struck a broadly social democratic tone while simultaneously appealing to the Middle England that obsesses the media and the triangulators alike. It was replete with buzzwords - new generation, good society, fairness, opposing new thinking to old thinking - and delivered with a conviction (whatever one may think of its content) that Blair's speeches often lacked. No, he didn't walk around the stage, and no he didn't speak without notes, but who really cares?

The key talking points were:

* The dogmatism of New Labour and its transformation from a "radical" and "establishment-challenging" force into a remote and out of touch establishment itself.

* The need to reduce the deficit with Alistair Darling's four year plan as a starting point. Neither was he necessarily opposed to every cut, accepted that certain things cut by Cameron would not be reinstated by a future Labour government, and was concerned with rebuilding Labour's "fiscal responsibility". He also attacked the Tories' lack of a plan for growth.

* Labour must understand why many voters are exercised by immigration. But instead of using it as a cue to start bashing them, he argued that employers should not be able to play different nationalities off on one another to undercut wages (when was the last time any mainstream politician fielded such an argument?)

* Unsurprisingly, Ed Miliband distinguished between responsible trade unionism for ensuring "decency" and "fairness" at work and the more militant kind. But also argued for a "disciplined" campaign against the coalition, one which does not see "irresponsible strike action" against the cuts for fear of alienating public support.

* While stressing the unions' responsibility, he also said business and the rich had their own. He reiterated his commitment to the living wage and to incentivise the tax system to encourage it.

* The ritual (coded) pledge to get tough on benefit claimants but again, using careful language to avoid demonising welfare recipients and speaking of a "benefits trap".

* Reinforced his commitment to civil liberties, wanting to reclaim this ground from the Tories and LibDems.

* A "values-based" foreign policy.

* The need to make politics more responsive via vote reform, an elected Lords, more local democracy, and a vague demand politicians have to speak to the issues and not focus group talking points.

Obviously this will be filled out with detail over the coming weeks. Who he appoints shadow chancellor will demonstrate the line of march on the deficit issue: his brother if he wishes to stick fairly closely to the Darling plan, Ed Balls/Yvette Cooper if he wants to assume a more combative approach (given his comments about strike action and "responsibility", he's more likely to go with the former, with qualifications). And of course there's the Autumn Spending Review: he has previously pledged to have ready an alternative to the coalition's demented slash and burn policies. But will it be that much of one?

It wasn't radical but it was something of a break with Blair/Brownism. And it did what it set out to do, stake out a new centre ground of mainstream politics and pitch a tent there. As he said himself, "Red Ed? Come off it ..."