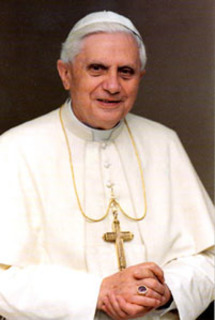 Unlike many of my internet-travelling contemporaries who flit around the liberal left, I am not that exercised by the Pope's visit to Britain. Yes, the Catholic Church can hardly be placed on the side of reason and progress (let alone situated in the camp of the working class). Yes, the church has systematically covered up child abuse. Yes, the church has given succour to mass murdering dictatorships. Yes, its regressive stance on contraception, reproductive rights and sexuality supply ammunition to misogynists and homophobes the world over. Yes, the former Joseph Alois Ratzinger is famous for nudging Catholic theology in a more conservative direction. Yes, the Pope was daft to recently liken atheists to Nazis. And yes, the purported £10m cost of the state visit could have been spent on better things.

But there has been something deeply unsettling about the chorus of criticism that's met the Pope's trip. I have absolutely no problem with polemic and critique. For example, last week's
Peter Tatchell documentary
was absolutely right to shine a light on the murky corners of the church and its "infallible" head. But what I am not comfortable with, and neither should any socialist, is the *glee* with which sections of the commentariat and their cheerleaders in blogland and Twitter have been attacking Catholicism. It might be a cliche, but if you can substitute Catholic for Muslim or Jew in these diatribes and have it come out sounding Islamophobic, anti-semitic and downright racist, chances are you have anti-papal bigotry decked out in fashionable modern dress. Just look at
these
examples
from
today's
protest
.

Much of the recent round of criticism directed toward the Pope and Catholicism generally is framed in terms of the so-called 'New Atheism' as propounded by Richard Dawkins and a cohort of sympathetic (minor) media personalities. As we have
seen before
, Dawkins'
The God Delusion
suffers from the ideas delusion. In the name of philosophical materialism, Dawkins believes religion can be combatted and neutralised by reasoned argument. It's just a matter of everyone be converted to logical thinking and hey presto! All that's left is a (holy) ghost of religious belief.

This is plain dumb. The appeal of religion is deeply rooted in the alienation and atomisation consistently and systematically produced by capitalist relations of production. It is not a matter of being brainwashed or too thick to pierce the sacred aura of His Holiness. As I clumsily put it a few years ago, "when people are atomised, individuated and powerless, the belief we are only feathers buffeted by a divine wind
can
make more sense than salvation lying in our own self-activity as beings capable of consciously making history." Polemicising against religion makes for jolly interesting and entertaining debates, but it does nothing to erode its place in capitalism's ideological pantheon.

Not that this matters to some. For many among the most vocal, atheism has become the new identity politics of the liberal intelligentsia. Their atheism is derived not from a desire to change the world but speaks to feeling smug, superior, enlightened and oh so clever. I wasn't surprised to see many of the media luvvies, bloggers and tweeters most vociferous in their opposition to the Pope are the same arbiters of political and moral rectitude who had a field day condemning people who thought Raoul Moat was "a legend", were quick to castigate BNP voters in the European elections, fell over themselves to brand the Lindsey Oil Refinery workers 'racist', and cheerfully put the boot into Jade Goody over the Shilpa Shetty incident. It doesn't really matter what the issue was, each provided an occasion for establishing clear distance between their educated and "progressive" selves and an ignorant, reactionary mass; an 'other' all too often identified with the (white) working class.

Call it what you like, but a great deal of this new atheism is being used as an excuse for good old-fashioned bigotry.

See also Harpymarx, Socialist Unity, Liam, and Luna17.