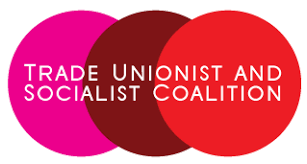 This week's issue of
The Socialist
carries an article on the official launch of the Trade Union and Socialist Coalition (TUSC, or 'tusk'). This is basically No2EU without the embarrassing euroscepticism, the Alliance for Green Socialism (if you accept this
Weekly Worker
piece
as good coin) and, more significantly, the Rail Maritime and Transport union. To try and dampen anticipated disappointment some comrades (not least Socialist Party members themselves) will have with the RMT executive's decision not to support TUSC, the article goes on to note that it still retains the support of Bob Crow, the Prison Officers' Association general secretary (and SP member) Brian Caton, and various national officers of the Public and Commercial Services union (i.e. in all probability, leading SP members in the union). It argues "While there is no formal involvement of a national trade union, this is still an important coalescing on the political plane of the most fighting trade union leaders in Britain today."

What prospects for the new formation? Leaving aside questions of electoral performance (which will surely be very modest outside 'star' candidates), there are two interrelated points against which it should be measured: can TUSC can break down the awful sectarian culture of the far left, and does it constitute a step toward a new left alternative.

On the first count, its potential is very mixed. Like No2EU and very much in line with the SP's favoured structure for alliances, TUSC has a federal character in the sense that a core series of policy positions exist but each participant is free to produce their own supplementary material. No one group rules the roost. This approach can provide a context for comradely relations across different organisations to grow "organically". But equally it can lock in the existing 'ourselves, alone' practice of the revolutionary left. With complete freedom for TUSC's components, would Communist Party comrades, for example, help out a SWP TUSC candidate (yes, they're sort of on board too) or concentrate their time and resources at a CPB challenge 20 miles up the road?

What about the role of independents? Again the federal structure is a double-edged sword. TUSC is operating a relatively open policy when it comes to candidatures. If left-inclined independents want to use its name for the general election, it's doubtful the steering committee would object (the cpgb's desire to use the name for their election campaign will probably be a different matter). But there's not a lot on offer for independents in areas where candidates are drawn from one of the core groups. Some might ask themselves if it's worth bothering participating in a campaign they have no say over.

Then there's the steering group itself. There are seats reserved for each of No2EU's core supporters, plus "stars" like brothers Crow and Caton. I imagine new "affiliates" would be co-opted - such as the SWP or localised groups like Wigan's Community Action Party - but, unfortunately, democracy is lacking. And where there is no accountability, the deliberations of the steering group are likely to remain opaque, just as it was in the secretive lead up to TUSC's appearance.

The next question to be asked of TUSC is what is it for? No2EU was very far from perfect, but at least for SP comrades there was a sense it was part of a process. Regular readers might want to cast their minds back to the European elections where I argued No2EU
was worthwhile
because the RMT's involvement might have paved the way for other trade union-backed challenges in the future. As far as the SP was concerned, it offered an opening to advance its strategic perspective of founding a new workers' party. TUSC is viewed through the same prism. The article concludes it "is a modest but important step in the development of a movement of resistance".

The problem is, compared with preceding alliances in England and Wales, TUSC proceeds on a lower level than No2EU (i.e. lack of RMT), Respect (with its deep roots in a handful of communities) and the Socialist Alliance (which, despite its faults, developed its own relatively independent dynamic). It is more like the Socialist Green Unity Coalition - the skeletal electoral umbrella/non-aggression pact between several left groups during the 2005 elections - than its predecessors. It does possess more weight than the SGUC, but one shouldn't overstate the presence of comrades Crow and Caton. They will not deliver very many extra votes, nor is there any evidence they will attract union support from elsewhere (a point underlined by the No2EU experience). If the RMT were still officially involved (rather than its settled position of letting local branches determine who they wish to support, while the national union organises to make sure its sponsored Labour MPs are returned) it might be a different kettle of fish. But as it stands, regrettably, there's every danger TUSC could be less than the sum of its parts.

What makes this really frustrating is that after 15 years of regroupment projects, this is where the far left is at. Opportunities to lay the foundations for something lasting and with wider support has been squandered by sectarian interests, egos and petty control freakery, and each and every principal organisation of the far left shoulders a share of the blame. The lasting feature of our procession of unity initiatives has been the sinking of new wells of resentment - so much for the Marxist left being the socialist society of the future in embryo.

The window of opportunity the far left has had to make an impact outside its ghetto is closing. The Labour party is, once again, starting to look like the place where the issue of working class representation will be debated and contested in the coming years - despite the stranglehold of the apparatus and lack of meaningful democracy. This means TUSC's prospects, even if it becomes something more than an alliance of convenience, are probably very limited.

Alternative take on TUSC by Dave of Though Cowards Flinch
here
.