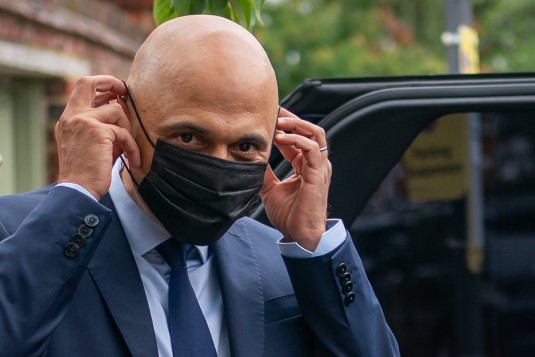 Consider this tension between what the government has said and what it has done. Since March 2020, the Tories have said their first priority is the health of the nation. Their decisions, we were told, are driven by "the science". Choices made about the imposition and lifting of lockdown measures, and the packages of support extracted from the Treasury responded to the needs of a country facing an unprecedented health crisis. And from there, let's evaluate the practice. The highest number of Covid-related deaths in Europe. Delaying stay-at-home rules on three occasions. Letting Covid rip through Britain's care homes. Eat Out to Help Out. The studied refusal to order bosses to close their workplaces. This litany of bad decisions, entirely conscious, purposeful decisions would damn them were it not for the Tories' skillful handling of the politics of the pandemic.

Enter stage right Sajid Javid. Penning a piece for the Mail on Sunday, he dispenses with the caveats of his calamitous but more cautious predecessor and now regards the postponed "freedom day" of 19th July as sacrosanct. After saying we cannot eliminate Covid, he writes,


We also need to be clear that cases are going to rise significantly. I know many people will be cautious about the easing of restrictions – that's completely understandable. But no date we choose will ever come without risk, so we have to take a broad and balanced view. We are going to have to learn to accept the existence of Covid and find ways to cope with it – just as we already do with flu.

Here we have it, in black and white, that the government aren't even bothering with the pretence any more. Published on the day the UK reported the second highest number of Covid infections in the world after India, Javid commits the Tories to turning Britain into a petri dish for new variants with a simple "get your jabs". What matters now are the health arguments against restrictions. He cites the terrible rise in domestic violence and the damage done to people's mental well being, a discovery that never bothered him in pre-pandemic times when it was his government's cuts making people's lives a misery and trapping women with abusive partners. Where was the concern then?

If Javid's new found preoccupation with mental health is genuine, how about he addresses the worries out there about returning to "normal life". Has he given any thoughts to workers anxious about employers wanting to cram workers back into poorly ventilated workplaces without distancing and masks? Or those facing the daunting task of a daily commute on buses and trains sure to fill up in short order? Has Javid reflected on the debilitating consequences and costs of long Covid? As of June, some 376,000 people - almost eight per cent of everyone infected - have experienced symptoms lasting a year or more. Letting the virus rip, which is what "learning to live with" actually means is going to bring more misery to tens, if not hundreds of thousands more people. We don't know what efficacy the vaccine has on long Covid, and it seems reasonable to assume it would lessen its impact or impede its development, but with millions still unvaccinated, including virtually all children of school age, Javid is unconcerned about how a debilitating illness might affect their mental health. And this is before considering the great unknowns of Covid: how it might manifest years down the line thanks to unseen damage done to internal organs. Every new infection now is a stroke or dementia risk in future years.

Javid is nothing if not consistent, as he was trotting out pretty much the same line this time last year - before the disease went on to kill a further 80,000 people. He has all the facts at his disposal. He knows the projections and the consequences, and presses ahead regardless. If this was just one minister, it could be put down to foibles. But we know it isn't. There is Boris "let the bodies pile high" Johnson, a fringe movement of anti-lockdown fools shading into Covid denial, and a pretty active sceptic movement on the Tory benches of which Javid is an example. Looking at their arguments it's always dressed up in arguments about individual sovereignty, a faux anti-establishment feint queered by the fact it comes from the ruling section of the establishment. This discourse, this fake ass libertarianism, isn't a simple matter of ideology. It's not Tories simply pursuing the wrong ideas. It's much more involved than that.

Talk of taking back our freedoms congeals a host of Tory assumptions and fears. As noted here plenty of times, the incoherence, stupidity, and short-termism of their practical management of the pandemic is thanks to balancing the competing interests of their voter coalition, the sectional interests comprising it, and the bottom line of keeping the balance of forces firmly tilted toward business. What we find in Javid's determination to undo Covid restrictions is going back to the old ways. The Tories are turning on the spending taps for capital projects and favoured industries, but are even keener to scotch the notion the state is going to help the hoi polloi out. If the state isn't asking anything of you, goes the thinking, then you're not in a position to ask anything of it. Invocations of freedom always big up the independence of the individual from the state so as to delegitimise notions of being dependent on it, a point the Tories and hard right Randists like Javid know too well. In this case of Coronavirus, it's not about wearing masks in public or obeying social distancing rules that irks the government, it's the continuance of the furlough scheme that Rishi Sunak is working feverishly to shut down. And the extra £20 on Universal Credit, a lifeline for millions of people, that's going too. If the public accept the removal of restrictions, which the Tories like to talk about, then it's a comparatively easy task to remove extra support and condemn more to unemployment and destitution. Et voila, a pool of people desperate to work for pittance wages in those areas of the economy currently suffering labour shortages.

It's neat, but Javid's psychopathy proves itself to be another example of Tory overreach. For one, people will notice soaring illness if he persists in doing nothing to mitigate its spread. If the hospitals start filling up with unvaccinated cases or, as is entirely likely, an even more infectious variant emerges with significant vaccine escape the "irreversible" relaxation is going to have to be reversed with all the political damage that entails. And second, the most Covid-cautious section of the populace are older people, the Tories' core support. If large numbers of them start getting ill, despite vaccinations, Javid's insistence on 19th July regardless of the circumstances could shake their hitherto solid block of support. Hubris, that old friend of the Tory party, is waiting in the wings with Javid eagerly beckoning for it to come on stage. And as it emerges into the light, it steps over bodies wracked with more illness, more long-term sickness, and a growing toll of death.

Image credit