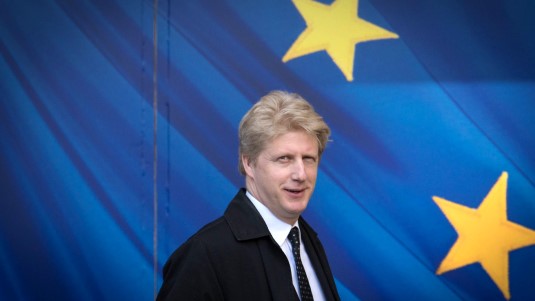 One should avoid making time for the Johnson family wherever possible. But due to their prominence, sometimes it's unavoidable. On this occasion at least it isn't the usual Johnson making the running. The resignation of Jo Johnson from the government was a shocker for two reasons. One, he has spent his parliamentary career thus far (relatively) quietly beavering away in the shadows and cutting an unassuming, if entirely mediocre figure on the lower rungs of ministerial ladder. And two, we have someone resigning because Theresa May's Brexit plan, such as it is, is too Brexity. Unfortunately, it is difficult to dispute his reasoning.
Leaving aside the debate about withdrawing from the EU, Johnson argues we're facing two cliff edges. The first is "an agreement that will leave our country economically weakened, with no say in the EU rules it must follow and years of uncertainty for business" and a no deal scenario which "I know as a transport minister will inflict untold damage on our nation." Quite. He follows it up with this excoriating observation: "To present the nation with a choice between two deeply unattractive outcomes, vassalage and chaos, is a failure of British statecraft on a scale unseen since the Suez crisis." Regretting writing that referendum pledge into the 2015 Tory party manifesto yet, Jo?
But yes, what we are seeing as we approach the Brexit end game - assuming it doesn't rumble on forever and a day - is an implosion of political vision and will. It might be that May does elicit sympathy from some quarters for her impossible position, but it was her government that got us into this mess. From the summer of 2016 when she declared 'no deal is better than a bad deal', to the shattering of her authority following the general election, she has followed the same approach as her predecessor. That is the subordination of everything, including the Brexit negotiations, to the problematic of Tory party management. A truly pathetic state and unnecessary state of affairs.
We can condemn the past and learn from it, but we can't change it. We are where we are, yet Brexit is far from finished with swinging its wrecking ball through British politics. With a deal that now, again, looks like it's going to create some sort of customs border down the Irish Sea - despite being a much-hyped "red line" - the DUP look increasingly unwilling to back May. The ERG aren't about to back it. Boris Johnson and his hangers ons won't back it, but neither will remainer Tories. That is if we take them at their word which, in the recent past, has proven to be anything but their bond. May's pitch to Labour MPs is unlikely to carry her Brexit through the Commons by way of compensation, and we are likely to see the EU enthusiasts like Ben Bradshaw and Chuka Umunna file through the no lobby as per the Labour whip's instructions in the hope they will get their second referendum.
And so May's Brexit not only has a legitimacy problem, it has a feasibility problem too. What's worse is what ever happens next has dire consequences. In normal times May could not possibly continue if her deal is rejected (though, granted, business is anything but usual), but should she fail we have paralysis. Parliament "taking control" of the negotiation process is meaningless rhetoric considering how divided it is, and isn't doing the negotiations. And the idea of a referendum on the deal, as per high profile campaigns is a non-starter too. If you can't get Brexit through the Commons, what makes you think legislation enabling another referendum would?
It doesn't end there. Supposing Jo Johnson somehow gets his way and there is a referendum on the deal. It appears the consensus among the hard remain/"people's vote" faction in parliament is that we should have three options on the ballot. May's deal, no deal, and remain. Not only would the very fact of another referendum have very serious consequences in and of itself, but the likely outcome of a three-way option would be ... more paralysis. Remain would get the highest score (which, of course, is why they want it on the ballot despite the whole thing definitely not being a rerun of the referendum), but getting 50% plus is a very big ask considering the same people who screwed it up last time are in the driving seat this time. You think politics is bad now? Imagine how poisonous it would be after a referendum large numbers of people don't see as legitimate takes place with a result that is indecisive. And meanwhile that clock is still ticking.
There is no easy way out of the mess. Paralysis of one sort or the other is coming, and the political centre of the British state is seizing up. Assuming May's Brexit cannot muster enough support, there is only one option left. For parliament to vote through a freeze on Article 50, followed by a general election. Getting shot of the Tories and giving Labour a shot is the best way - the only way - out of the crisis.