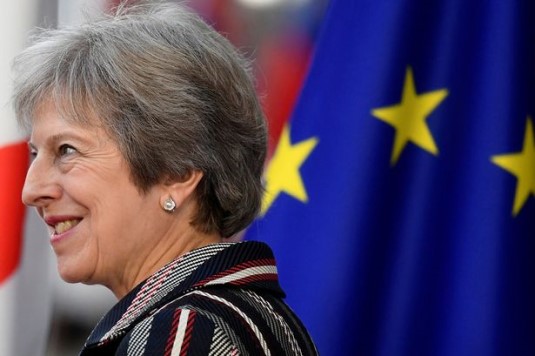 What was Theresa May's game? Running scared of head-to-head TV debates during the general election, and coming off second in the debates-by-proxy that did happen, why issue a live debate challenge to Jeremy Corbyn? Well, it turns out this isn't happening because Number 10 has reeled the kite in and sent out a blanket denial. Oh well.
From the standpoint of the Tories, however, such a debate isn't as kamikaze as it initially appears. There are two good reasons that present themselves. The first, which gained traction in media comment throughout the day is the belief May could and would win such a debate. On the points of detail of all 585 pages of her dreadful deal, there are few beyond the civil servants who negotiated it and the wonks who've pored over it who know the details as well as her. Dominic Raab was the Brexit secretary, but we know he wasn't really the Brexit secretary. May is in a strong position to highlight paragraph 18 of Annex E to make it appear as if the Labour leader hasn't done his homework. Another punch the PM might have hurled Jez's way is Brexit fatigue, as noted yesterday. Millions are fed up with Brexit and May is going to spend the next few weeks presenting herself as the Prime Minister who wants to shut it down, and JCorbz as the politician wanting to prolong it for party political reasons.
Naturally, Labour responded enthusiastically to May's offer. Unlike Prime Minister's Questions where May has a degree of control over its simulacrum of debate, any host worth their salt would have steered the discussion as they see fit. Some of it will be on May's terms. Some of it on Corbyn's, and Labour was banking that would be an opening to talk about wider political issues. Austerity, obviously, and what this means for hospitals, education, policing, etc. Brave is a PM who wants to go toe-to-toe with Labour on the cusp of another winter beds' crisis. Which is probably one contributing factor behind the challenge's hasty withdrawal.
Nevertheless, while this is an opportunity lost May's cold feet could mean Labour dodged a particularly nasty bullet. She's got nothing to lose. Thanks to her weakness and the awfulness of Brexit, her leadership position is as unassailable as it is untenable, and so it trundles on. However, if May was clever - and one should never underestimate a Tory's capacity for low cunning - getting Corbyn on a public platform in front of a live TV audience to agree with May and unambiguously rule out a second referendum might put a dent into Labour's support. This is the Scottish strategy - the Tories were toxic in Scotland and so during the referendum campaign they hugged Scottish Labour so close that the stench rubbed off and, well, we know what happened next. By sharing Brexit, by shifting some of the responsibility for the farcical negotiations and its ridiculous outcome onto the shoulders of Labour, May would have had the chance to spread the pain and hobble Corbyn in the same way the Tories are hobbled.
Chances of a TV debate now happening are about the same as May's deal has of getting through the Commons, yet the Tories may come to regret abandoning their gambit. Going one-on-one is a tricky business, but not just for May and co. It presents a considerable risk to Labour too.