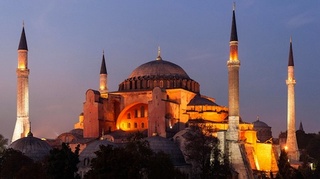 New academic year, a new season with the Sociology Research Seminar Series at the University of Derby. Opening for the semester was Baris Cayli, Research Fellow in Criminology with his paper, 'Zones of Fragility: Outlaws and the Forms of Violence in the Ottoman Empire'. This was one of a series of interlocking projects spun off from Baris's work in the old Ottoman archives scattered about its former territory. These range from the Grand Vizier's office and Imperial decrees on foreign affairs hosted in Istanbul, to smaller collections of correspondence and edicts from governors and local officials. The basic question guiding the paper was how the structure of the empire was shaped by violence, or rather how the sporadic violence undertaken by bandits, outlaws, and rebels – regardless of subjective intentions – contributed to this shaping of the empire.
Received histories of the Ottoman Empire, particularly from the 19th century on to its eventual collapse after the First World War was one of decline and gradual dismemberment by the European Great Powers and newly independent Balkan states. Pressed by imperialism and colonialism from without, the Ottomans faced instability thanks to the spread of national consciousness among subject peoples, and perpetual cycles of tension and revolt around land ownership and tax, the latter varying enormously across the empire's territory. This was symptomatic of a weak central state and high levels of autonomy for governors. Effectively, they comprised petty states within a state and was seldom in touch with the imperial centre. This itself was a consequence of poor and/or non-existent infrastructure. In TE Lawrence's First World War memoir, Seven Pillars of Wisdom, he notes it was quicker and easier to move reinforcements from London to the Palestine front than it was for the Ottomans to transfer forces from Constantinople to the same.
A consequence of this ramshackle state structure was its lack of immediate presence. There was no social fabric as such to support Ottoman rule, little or no identification with the centre. Issues of hegemony and consent, traditionally bound up with socialist strategy in the advanced countries were absent because the structures underpinning them were absent. This meant in towns and villages throughout the empire, there was no rule of law. Instead there was sporadic and unrestrained violence on the part of bandits. The archives talk about Bosnian outlaws sometimes, but not always, influenced by nationalist ideas who would sack towns and villages. It follows that if a state cannot acquit itself of the very basic function of protecting life and property of subject populations, then its potency, power, and legitimacy becomes much diminished.
This is where Baris introduced his notion of zones of political fragility. These are simply spaces where political violence occurs. Likewise, zones of social fragility are locales in which non-political violence are regular occurrences. Where they proliferate, antipathy towards central authority grows. And the second consequence is that terrorised subject populations may surrender to outlaw groups, form alliances with others, and/or take on a nationalist coloration. In short, fragile zones act as centrifugal pressures that prise away national minorities and territories. This dynamic seems to have been at work especially in the Balkan provinces previously under Ottoman control. However, while political and non-political violence contributes to this fragility, and therefore should be viewed holistically in its consequences for state authority, Baris was clear that this is only a provisional concept and requires refinement through the examination of comparative cases.
In the subsequent questions, Baris was asked about how does one differentiate from political and non-political violence? Especially as criminal enterprise can be carried out for political reasons, as well as sustain political violence (an example that immediately jumped to mind was of a youthful Stalin and his bank-robbing scrapes in the Caucasus that helped fund the Bolsheviks). For Baris, the definition just concerns goals, though in practice they may entail similar consequences. With Stalin, for example, the criminality of his enterprise was wedded to political objectives. For most bank robbers, that obviously isn't the case, but a multiplication of this violence for whatever subjective reason results in the fragility zone problem.
While far from a modern state on the 19th century/early 20th century West European model, I asked if hegemony was entirely absent from the Ottoman Empire and if the central apparatus and the constellation of forces bound up with the empire at least promulgate an official ideology and inculcated discourses of consent? Baris replied that its internal looseness (provincial governors often paid none of their tax take to the central treasury) meant such a project had only a limited scope. Plus for consent to be obtained, it needs to acquit the basic function of providing security - a point long noted by Max Weber and the state as the repository of the monopoly of legitimate force. However, as the empire was officially Islamic, while there were degrees of religious freedom for subject populations Muslims were officially privileged. However, late in the day it did try and introduce citizenship laws that guaranteed all subjects certain rights and obligations. The problem here is that in a multi-ethnic, multi-faith empire in which there was already a legally privileged population, stripping those advantages away stirred up resentment among what would be its social bedrock. It was also difficult to enforce. Given the autonomy of the periphery, different areas were ruled alternately by imperial law, Sharia law, Christian covenants, and other local political and religious permutations of both. Not only were these sources of existing tension, a hegemony-building edict from the outside would do exactly the opposite. The state, rather than placing itself as an arbiter of tension becomes its origin, therefore contributing to the dynamics rending the empire.
Overall, an interesting start to the 2016-17 round of Sociology seminars.