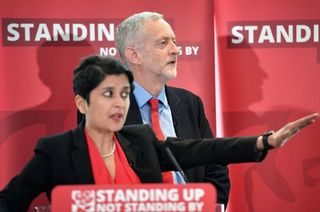 Among Jeremy Corbyn's failings, according to The Times this morning, is the Labour Party becoming a "safe space" for anti-semites. Of course, it is not now nor has ever been a safe space for anti-semitism - as the recent expulsions testify. Yet this is the spin our increasingly partisan "paper of record" chooses to put on the release of the Home Affairs Select Committee report, Antisemitism in the UK.
On page six it says,
This report focuses to some extent on the Labour Party, because it has been the main source of recent allegations of antisemitism associated with political parties. It should be emphasised that the majority of antisemitic abuse and crime has historically been, and continues to be, committed by individuals associated with (or motivated by) far-right wing parties and political activity. Although there is little reliable or representative data on contemporary sources of antisemitism, CST figures suggest that around three-quarters of all politically-motivated antisemitic incidents come from far-right sources.
It also adds that while the other parties have their issues, it's concerning that anti-semitism should have reared its head in the party most historically associated with anti-racism and equality. What's going on?
As readers know, my view is Labour has an anti-semitism problem in so far as society at large has such a problem. It is not institutionally prejudiced and discriminatory toward Jewish people, but nor are we talking about a media invention without substance. Since Jeremy Corbyn emerged as a serious contender for the Labour leadership, the party has attracted fringe elements of the anti-war movement who explicitly identify as anti-Zionist as the flipside of being pro-Palestinian, some September 11th truth'er conspiracy theorists, and idiots for whom politics is a form of radical performance art. In addition, the heat of Labour's internal divisions has proved a useful foil for hardcore racists, among whom are those using Jeremy Corbyn as a fig leaf for their views, and trolls happy to fan the anti-semitic flames as long as it scorches the leadership and the wider party.
What I think the report gets right is critiquing the shortcomings of the Chakrabarti report which, rightly, found anti-semitism wasn't a systemic problem in the Labour Party (despite not running with an operational definition of what it actually is). And rightly it also criticises the cack handed way in which the leadership have undermined their exoneration by handing the report's author a berth in the House of Lords and now a position in the shadow cabinet. If you're going to make a deal about doing new politics, the first rule is to not look like the old politics. It is also right to criticise Ken Livingstone and Jackie Walker for their childish provocations - in both case it shows an appalling lack of judgement and zero awareness about how their behaviour reflects on the party and the political current they support. Or perhaps they did know and just don't care about their responsibility to the wider movement. Of course, what the report doesn't address is the factional uses to which all of this is being put. Indeed, this morning's BBC Breakfast, Andrea Leadsom's former cheerleader-in-chief Tim Loughton was doing just that.
In the party's defence, this reply has been posted to the Labour leader's Facebook page, responding to some of its points and making a number of important criticisms of the report. But does that make the select committee publication another addition to the ledger of smears and baseless claims? If only. Yes, it's damaging to Labour, and there are interests in portraying our party as a uniquely anti-semitic outfit that is not welcome to Jewish people. Context is everything. But that doesn't mean its findings can be swept under the carpet, which seems to be the stock response of some.