Have you seen the latest Ipsos Mori poll? It's grim. The Tories have an 18 point lead over Labour. The last YouGov from a week ago is also pretty depressing. There, Theresa May's clueless Conservatives were on 42% while Labour limps in on 28%. Not good.
What also isn't good is the coincident circulation of this. It got wide traction a week ago, and found itself bandied about again, as if in some way it invalidates the polls above.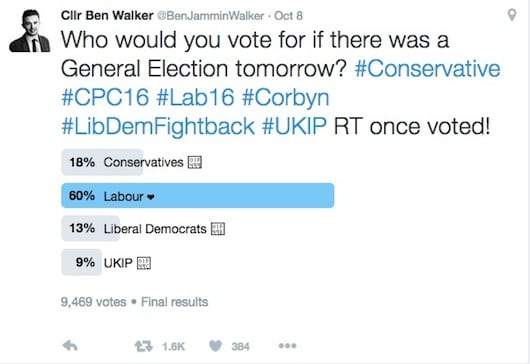 A story. When I was tucked away in Stoke-on-Trent Central's constituency office, I remember an email from an opponent to equal marriage. The author, who regularly sent in evangelical Christian missives, urged the boss to vote against the bill went it came before the Commons. She claimed there was a majority against because a 600,000 signature position (or thereabouts) had got handed in. The polls showing consistent support for a change in the law were wrong because they were based on asking much smaller numbers of people.
Exactly the same logic is on display above. Because some 9,500 participated in Cllr Ben Walker's poll, that means it's more valid than anything our professional pollsters put out. And, oh look, the originator is a Tory councillor so the 60% rating for Labour can't be wrong.
If you're someone who fell for this, this is why you shouldn't. Polling isn't an exact science (in fact, it's not even a science), and they nearly all got the general election and EU referendum results wrong. Wrong, but close. This was because the sample sizes they worked with were weighted to match the voting population. If, for example, men are slightly more likely to vote in elections than women then those proportions will be reflected in the sample. And so on for other demographic characteristics. The sample therefore is more or less a microcosm of what Britain's electorate look like.
The poll represents no one but the people who decided to take part in it. It's an elective poll, not a weighted one. And the problem in this context is it peddles a myth, a fairy tale that everything is fine and the polls are covering up Jeremy Corbyn's massive levels of support. The task is not to hide from reality. If one is truly a radical, it must be confronted.