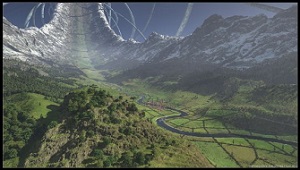 As you get older, life gets more absurd. Or so it seems. The humdrum is occasionally punctuated by something that's really out there, like the Daily Mail standing up against racism and xenophobia. Last week had one of those moments. It was announced that some of the observations of the catchily-named KIC 8462852, a star some 1,400 light years away, might be congruent with an alien megastructure orbiting it. Yes, you read that correctly. Eric Mack over at CNet notes:
Basically, the star's light curve seems to show some strange stuff passing in front of the star, at irregular intervals and sometimes even appearing to shift shape or orientation along the way - this is very different from the relatively predictable orbits we see objects making around our own sun and most other stars that Kepler has observed.
Tabetha Boyajian, the Yale researcher responsible for making observations of the star doesn't mention the possibility of aliens, and it is extremely unlikely that she and her colleagues have observed the industrial operations of an advanced extraterrestrial civilisation beavering away to capture the solar energy of their star. Having a science head and being extremely sceptical about such things, like Eric I'm sold on the anomaly being an extremely large cloud of comets sent hurtling into its inner solar system by the gravitational pushing and pulling by a nearby star. Nevertheless the doings of technologically advanced aliens remains a remote possibility, and that is very exciting.
Let us make some suppositions. SETI have requested time with a powerful radio telescope they want to point at KIC 8462852, and expect to do so around January time. Boyajian and others in the exoplanet hunter community will be refining their observations. And as infrared emissions are generally accepted to be the signature of advanced aliens, let us speculate that this time next year the observations tally together making bug-eyed beasties the most credible explanation, not the least likely. Should that come to pass, what then?
To be sure, it would be a watershed moment in science. It would arguably be the biggest discovery in all of human history, and certainly where astronomy is concerned. What, however would be the impact on human society, on popular culture, and the way we as a civilisation and a species view ourselves? I don't think it would be as profound as those - science and lay - people really into this sort of thing think it might be. Why?
First, there is distance. 1,400 light years is a mind-boggingly vast distance for 21st century humans to comprehend. If we were to beam a message direct to KIC 8462852 it would arrive there as far away in the future as the Anglo-Saxon invasion of Wales lies in our past. The good news for paranoids fearful of bodysnatchers from outer space is that while our technology may be able to detect them, they can't detect us. Yet. Well, they might be able to note the life bearing signatures of our little blue pearl. They could train mighty powerful telescopes in our direction, but all they would see are primitive folk building new cities in Meso-America and various tribes running amok in Europe sacking and burning established settlements. Because of the distance light has to travel, they would be peering into our past. They won't see direct evidence of our own industrial workings for some time yet. Of course, that's true for us as well - we're seeing the doings around their star as it existed quite a bit ago.
Physical distance breeds social distance. As we're not hooked up the the galaxy's hyperspeed broadband service, the collapse in social distance the internet allows for on our puny-sized planet is just not possible. The simulated immediacy that allows us to identify with complete strangers cannot be transferred to aliens we're never likely to meet, let alone have a long-distance conversation with. And that means the impact on our society will be minimal, it's just too airy-fairy for most people to care about. The day after confirmation will go on like any other day. It'll trend on Twitter for an hour or two, make the headlines, but apart from that? Zilch.
We do have some precedent to go on. Back in 1996, for a short period meteorite Allan Hills 84001, a chunk of Mars that fell to Antarctica some 13,000 years ago, was accepted as the vessel of fossilised Martian bacteria. Bill Clinton made his announcement from the White House lawn and front pages all over the world ran the story. Yet religions did not experience an existential crisis and go into meltdown. Everything carried on as it always has done. Perhaps a more apposite comparison to the confirmation of far away aliens would be the arrival of comet Hale-Bopp in 1997. I have fond memories of a summer staggering home from the pub and seeing it blaze away in the firmament. It was a beautiful sight. But apart from increasing the sales of binoculars and telescopes, getting a few more young people into the astronomical sciences, and, unfortunately, triggering the mass suicide of a Californian-based UFO cult, it passed the bulk of the human race by. It was a nice thing to see, that's all.
Confirming an alien megastructure would have fairly similar effects. A few fringe people would start worshipping it, entrepreneurial tykes might crowdfund a generational starship on Indiegogo, KIC 8462852's exploration appears as a staple in the resurgent space-trading genre of video games, of science fiction movies, of novels and space art, the Pope would probably deliver an encyclical on God's children in the heavens. How about an uptick in flying saucer sightings and reported alien abductions? Sociology-types like yours truly might have a fine old time trying to model the social dynamics of our green-skinned friends. And that will probably be your lot. Our place in the universe has radically shifted, and students of human behaviour would barely be able to tell the difference as far as our social structures are concerned. This is because news of beings around another star would not disrupt the rhythms of social life. It demands no collective response from governments, no shift in policy, no readjustment of the mental horizons of the vast majority of people beyond "that's nice" or "that's interesting". One's sense of security-in-the-world remains fundamentally unchallenged.
If, on the other hand, our aliens were to announce their presence in low Earth orbit, then things would be very different ...