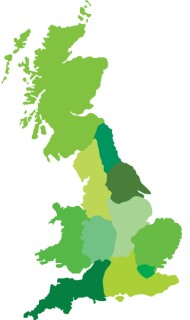 If you thought the far left candidate list was big, wait until you see this. As far as I know, below in the most complete list of Green Party candidates for the forthcoming general election you will find anywhere. It is provisional, subject to last minute selections and withdrawals and will be revised when new information becomes available. Also, I have lumped in the Green Parties of Scotland and Northern Ireland. Yes, they're separate (albeit fraternal) entities but they'll do as one for my purposes.
I shall return soon to say a few words about the Greens' campaign, but whichever way it's sliced and diced this is an impressive achievement. Even with the tens of thousands of new members this is no mean feat. I make it 564 PPCs, which is truly a gargantuan number of candidates for a party that until very recently was a small outfit that did everything on a shoestring.
In case you haven't seen the far left list, the format here lists constituencies contested in alphabetical order with their candidate. If * appears after their name, it means that individual faught the 2010 general election for the Greens too. If there is a date in brackets it shows the result from the last election in that seat. If there is nothing then the Greens did not stand there in 2010 or in more recent parliamentary by-elections.
And that, as they say is that. Go knock yourself out:
Aberavon - Jonathan Tier
Aberconwy - Andrew Haigh
Aberdeen South - Dan Yeats (2010: 413 (1.0%))
Aldershot - Carl Hewitt
Aldridge-Brownhills - Martyn Curzey (2010: 847 (2.2%))
Altrincham and Sale West - Nick Robertson Brown
Alyn and Deeside - Alasdair Ibbotson
Amber Valley - John Devine
Angus - David Mumford
Arundel and South Downs - Isabel Thurston
Ashford - Mandy Rossi (2010: 1,014 (1.8%))
Ashton-under-Lyne - Charlotte Hughes
Aylesbury - David Lyons
Banbury - Ian Middleton (2010: 959 (1.7%))
Barking - Tony Ford Rablen (2010: 317 (0.7%))
Barnsley Central - Michael Short
Barrow and Furness - Robert O'Hara (2010: 530: 1.2%))
Bassetlaw - Kristopher Wragg
Bath - Dominic Tristram (2010: 1,120 (2.4%))
Batley and Spen - Ian Bullock (2010: 605 (1.2%))
Battersea - Joe Stuart (2010: 559 (1.1%))
Beaconsfield - Dave Hampton (2010: 768 (1.5%))
Beckenham - Ruth Fabricant (2010: 608 (1.3%))
Bedford - Ben Foley* (2010: 393 (0.9%))
Belfast East - Ross Brown
Belfast South - Clare Bailey (2010: 1,036 (3.0%))
Bermondsey and Old Southwark - William Lavin (2010: 718 (1.6%))
Berwick-upon-Tweed - Rachael Roberts
Berwickshire, Roxburgh & Selkirk - Pauline Stewart
Bethnal Green and Bow - Alistair Poulson (2010: 856 (1.7%))
Beverley and Holderness - Richard Howarth (2010: 686 (1.3%))
Bexhill and Battle - Jonathan Kent
Bexleyheath and Crayford - Stella Gardiner (2010: 371 (0.9%))
Birkenhead - Kenny Peers
Birmingham, Edgbaston - Phil Simpson* (2010: 468 (1.1%))
Birmingham, Erdington - Joe Belcher
Birmingham, Hall Green - Elly Stanton
Birmingham, Hodge Hill - Chris Nash
Birmingham, Ladywood - Margaret Okole (2010: 859 (2.4%))
Birmingham, Northfield - Anna Masters (2010: 405 (1.0%))
Birmingham, Perry Barr - James Lovatt
Birmingham, Selly Oak - Clare Thomas (2010: 664 (1.4%))
Birmingham, Yardley - Grant Bishop
Bishop Auckland - Thom Robinson
Blackley and Broughton - David Jones
Blackpool North and Cleveleys - John Warnock
Blackpool South - Duncan Royle
Blaenau Gwent - Joseph Champion
Blaydon - Paul McNally
Blyth Valley - Dawn Furness
Bognor Regis and Littlehampton - Simon McDougall
Bolton North East - Laura Diggle
Bolton South East - Alan Johnson* (2010: 614 (1.6%))
Bootle - Lisa Tallis
Boston and Skegness - Victoria Percival
Bournemouth East - Alasdair Keddie
Bournemouth West - Elizabeth McManus
Bracknell - Derek Florey (2010: 821 (1.6%))
Bradford East - David Stevens
Bradford South - Andrew Robinson
Bradford West - Celia Hickson (2012: 481 (1.5%))
Braintree - Paul Jeeter (2010: 718 (1.5%))
Brecon and Radnorshire - Chris Carmichael (2010: 341 (0.9%))
Brent Central - Shahrar Ali* (2010: 668 (1.5%))
Brent North - Scott Bartle (2010: 725 (1.4%))
Brentford and Isleworth - Daniel Goldsmith (2010: 787 (1.5%))
Brentwood and Ongar - Reza Hossain (2010: 584 (1.2%))
Bridgwater and West Somerset - Julie Harvey-Smith (2010: 859 (1.6%))
Brigg and Goole - Natalie Hurst
Brighton, Kemptown - Davy Jones (2010: 2,330 (5.5%))
Brighton, Pavilion - Caroline Lucas* (2010: 16,238 (31.3%))
Bristol East - Lorraine Francis (2010: 803 (1.8%))
Bristol North West - Justin Quinnell (2010: 511 (1.0%))
Bristol South - Tony Dyer (2010: 1,216 (2.5%))
Broadland - Andrew Boswell (2010: 752 (1.4%))
Bromley and Chislehurst - Roisin Robertson* (2010: 607 (1.5%))
Bromsgrove - Giovanni Esposito
Broxbourne - Russell Secker
Broxtowe - David Kirwan (2010: 423 (0.8%))
Buckingham - Alan Francis
Burnley - Mike Hargreaves
Burton - Samantha Patrone
Bury North - John Southworth
Bury South - Glyn Heath (2010: 493 (1.0%))
Bury St Edmunds - Helen Geake (2010: 2,521 (4.3%))
Caerphilly - Katy Beddoe
Calder Valley - Jenny Shepherd (2010: 858 (1.7%))
Camberwell and Peckham - Amelia Womack (2010: Jenny Jones 1,361 (2.9%))
Camborne and Redruth - Geoff Garbett (2010: 581 (1.4%))
Cambridge - Rupert Read (2010: 3,804 (7.6%))
Cannock Chase - Paul Woodhead
Canterbury - Stuart Jeffery (2010: 1,137 (2.3%))
Cardiff Central - Chris Von Ruhland (2010: 575 (1.6%))
Cardiff North - Ruth Osner (2010: 362 (0.8%))
Cardiff South and Penarth - Anthony Slaughter* (2012: 800 (4.1%))
Cardiff West - Ken Barker (2010: 750 (1.8%))
Carlisle - Helen Davison (2010: 614 (1.5%))
Carmarthen East and Dinefwr - Ben Rice
Carmarthen West and South Pembrokeshire - Gary Tapley
Carshalton and Wallington - Ross Hemingway (2010: 355 (0.8%))
Castle Point - Dom Ellis
Central Ayrshire - Veronkia Tudhope
Central Devon - Andy Williamson (2010: 1,044 (1.9%))
Central Suffolk and North Ipswich - Rhodri Griffiths (2010: 1,452 (2.7%))
Ceredigion - Daniel Thompson (2010: 696 (1.8%))
Chatham and Aylesford - Luke Balnave (2010: 396 (0.9%))
Chelmsford - Angela Thomson* (2010: 476 (0.9%))
Chelsea and Fulham - Guy Rubin (2010: 671 (1.7%))
Cheltenham - Adam Van Coevorden
Chesham and Amersham - Gill Walker (2010: 767 (1.5%))
Chesterfield - Matthew Genn (2010: 600 (1.3%))
Chichester - Jasper Richmond
Chingford and Woodford Green - Rebecca Tully (2010: 650 (1.5%))
Chippenham - Tina Johnston (2010: 446 (0.9%))
Chipping Barnet - Audrey Poppy (2010: 1,021 (2.0%))
Chorley - Alistair Straw
Christchurch - Shona Dunn
Cities of London and Westminster - Hugh Small (2010: 778 (2.1%))
City of Durham - Jonathan Elmer
Clacton - Chris Southall* (2014: 688 (1.9%))
Cleethorpes - Carol Thornton
Clwyd South - Duncan Rees
Colchester - Mark Goacher (2010: 694 (1.5%))
Colne Valley - Chas Ball* (2010: 867 (1.6%))
Congleton - Alec Heath
Copeland - Allan Tood (2010: 389 (0.9%))
Corby - Jonathan Hornett* (2012: 378 (1.1%))
Coventry North East - Matthew Handley
Coventry North West - Laura Vesty (2010: 497 (1.1%))
Coventry South - Benjamin Gallaher (2010: 639 (1.4%))
Crawley - Guy Hudson (2010: 598 (1.3%))
Croydon Central - Esther Sutton (2010: 581 (1.2%))
Croydon South - Peter Underwood (2010: 981 (1.7%))
Cynon Valley - John Matthews
Dagenham and Rainham - Kate Simpson (2010: 296 (0.7%))
Darlington - Mike Cherrington
Dartford - Andy Blatchford
Daventry - Steve Whiffen* (2010: 770 (1.5%))
Delyn - Kay Roney
Denton and Reddish - Nicholas Koopman
Derby North - Alice Mason-Power
Derby South - David Foster
Derbyshire Dales - Ian Wood (2010: 772 (1.7%))
Devizes - Emma Dawnay (2010: 813 (1.8%))
Dewsbury - Adrian Cruden (2010: 849 (1.6%))
Doncaster North - Pete Kennedy
Dover - Jolyon Trimingham
Dudley North - Will Duckworth
Dudley South - Vicku Duckworth
Dulwich and West Norwood - Rashid Nix (2010: 1,266 (2.6%))
Dumfriesshire, Clydesdale and Tweeddale - Jody Jamieson (2010: 510 (1.1%))
Dundee East - Helen Grayshan (2010: 542 (1.3%))
Dundee West - Pauline Hinchion
Dunfermline and West Fife - Lewis Campbell
Ealing Central and Acton - Tom Sharman (2010: 737 (1.6%))
Ealing North - Meena Hans (2010: 505 (1.1%))
Ealing, Southall - Jas Mahal (2010: 705 (1.6%))
Easington - Martie Warin
East Dunbartonshire - Ross Greer
East Ham - Tamsin Ormond (2010: 586 (1.2%))
East Hampshire - Peter Bisset
East Lothian - Jason Rose (2010: 862 (1.8%))
East Surrey - Nicola Dodgson
East Worthing and Shoreham - James Doyle (2010: 1,126 (2.3%))
East Yorkshire - Mark Maloney (2010: 762 (1.5%))
Eastbourne - Andrew Durling
Eastleigh - Ron Meldrum
Eddisbury - Andrew Garman
Edinburgh East - Peter McColl (2010: 2,035 (5.1%))
Edinburgh North and Leith - Sarah Beattie-Smith (2010: 1,062 (2.2%))
Edinburgh South - Phyl Meyer (2010: 881 (2.0%))
Edinburgh South West - Richard Doherty (2010: 872 (1.9%))
Edinburgh West - Pat Black
Edmonton - Douglas Coker (2010: 516 (1.3%))
Ellesmere Port and Neston - Michelle Palmer
Elmet and Rothwell - Dave Brooks
Eltham - James Parker (2010: 419 (1.0%))
Enfield North - David Flint (2010: 489 (1.1%))
Enfield, Southgate - Jean Robertson-Molloy (2010: 632 (1.4%))
Epping Forest - Anna Widdup (2010: 659 (1.4%))
Epsom and Ewell - Susan McGrath
Erewash - Ralph Hierons (2010: 534 (1.1%))
Erith and Thamesmead - Ann Garrett (2010: 322 (0.8%))
Esher and Walton - Olivia Palmer
Exeter - Diana Moore (2010: 792 (1.5%))
Fareham - Miles Grindey (2010: 791 (1.5%))
Faversham and Mid Kent - Tim Valentine* (2010: 890 (1.9%))
Feltham and Heston - Tony Firkins (2011: 426 (1.8%))
Fermanagh and South Tyron - Tanya Jones
Filton and Bradley Stoke - Diana Warner (2010: 441 (0.9%))
Finchley and Golders Green - Adele Ward (2010: 737 (1.6%))
Folkestone and Hythe - Martin Whybrow (2010: 637 (1.2%))
Forest of Dean - James Greenwood* (2010: 923 (1.9%))
Fylde - Robert Dennett (2010: 654 (1.5%))
Gainsborough - Geoff Barnes
Garston and Halewood - William Ward
Gateshead - Andy Redfern* (2010: 379 (1.0%))
Gedling - Jim Norris
Gillingham and Rainham - Neil Williams (2010: 356 (0.8%))
Glasgow Central - Cass Macgregor (2010: 800 (2.6%))
Glasgow East - Kim Long
Glasgow North - Martin Bartos* (2010: 947 (3.2%))
Glasgow North East - Zara Kitson
Glasgow North West - Moira Crawford* (2010: 882 (2.5%))
Glasgow South - Alastair Whitelaw (2010: 961 (2.4%))
Gloucester - Jonathan Ingleby (2010: 511 (1.0%))
Gosport - Monica Cassidy (2010: 573 (1.2%))
Gower - Julia Marshall
Grantham and Stamford - Aidan Campbell
Gravesham - Mark Lindop (2010: 675 (1.4%))
Great Grimsby - Vicky Dunn
Great Yarmouth - Harry Webb (2010: 416 (1.0%))
Greenwich and Woolwich - Abbey Akinoshun (2010: 1,054 (2.6%))
Guildford - John Pletts
Hackney North and Stoke Newington - Heather Finlay (2010: 2,133 (4.6%))
Hackney South and Shoreditch - Charlotte George (2010: 1,493 (3.5%))
Halesowen and Rowley Regis - John Payne
Halifax - Gary Scott
Haltemprice and Howden - Tim Greene (2010: 669 (1.4%))
Halton - David Melvin (2010: 647 (1.6%))
Hammersmith - David Akan (2010: 696 (1.5%))
Hampstead and Kilburn - Rebecca Johnson (2010: 759 (1.4%))
Harborough - Darren Woodiwiss
Harlow - Murray Sackwild
Harrogate and Knaresborough - Shan Oakes
Harrow East - Emma Wallace (2010: 793 (1.7%))
Harrow West - Rowan Langley* (2010: 625 (1.4%))
Hartlepool - Michael Holt
Harwich and North Essex - Christopher Flossman (2010: 909 (1.9%))
Hastings and Rye - Jake Bowers
Havant - Tim Dawes
Hayes and Harlington - Alick Munro (2010: 348 (0.8%))
Hazel Grove - Graham Reid
Hemel Hempstead - Alan Borgars
Hendon - Ben Samuel (2010: 518 (1.1%))
Henley - Mark Stevenson* (2010: 1,328 (2.5%))
Hereford and South Herefordshire - Diana Toynbee
Hertford and Stortford - Sophie Christophy
Hexham - Lee Williscroft-Ferris
Heywood and Middleton - Abi Jackson* (2014: 870 (3.1%))
High Peak - Charlotte Farrell (2010: 922 (1.8%))
Hitchin and Harpenden - Richard Wise* (2010: 807 (1.5%))
Holborn and St Pancras - Natalie Bennett* (2010: 1,480 (2.7%))
Hornchurch and Upminster - Melanie Collins* (2010: 542 (1.0%))
Hornsey and Wood Green - Gordon Peters (2010: 1,261 (2.3%))
Horsham - Darrin Green (2010: 570 (1.0%))
Houghton and Sunderland South - Alan Robinson
Hove Christopher Hawtree (2010: 2,568 (5.2%))
Huddersfield - Andrew Cooper (2010: 1,641 (4.0%))
Huntingdon - Thomas MacLennan (2010: 652 (1.2%))
Hyndburn - Kerry Gormley* (2010: 463 (1.1%))
Ilford North - David Reynolds (2010: 572 (1.2%))
Ilford South - Rosemary Warrington (2010: 1,319 (2.6%))
Inverness, Nairn, Badenoch and Strathspey - Isla O'Reilly (2010: 789 (1.7%))
Ipswich - Barry Bloom (2010: 775 (1.7%))
Isle of Wight - Vix Lowthian (2010: 931 (1.3%))
Islington North - Caroline Russell (2010: 1,348 (3.0%))
Islington South and Finsbury - Charlie Kiss (2010: 710 (1.6%))
Islwyn - Peter Varley
Jarrow - David Herbert
Keighley - Ros Brown
Kenilworth and Southam - Rob Ballantyne (2010: 568 (1.2%))
Kensington - Robina Rose (2010: 753 (2.1%))
Kettering - Rob Reeves
Kingston and Surbiton - Clare Keogh (2010: 555 (1.0%))
Kingston upon Hull East - Sarah Walpole
Kingston upon Hull North - Martine Deane* (2010: 478 (1.4%))
Kingston upon Hull West and Hessle - Angela Needham
Kingswood - Cezara Nanu (2010: 0.8%))
Knowsley - Vikki Gregorich
Lancaster and Fleetwood - Chris Coates (2010: 1,888 (4.4%))
Leeds Central - Michael Hayton
Leeds East - Kate Bisson
Leeds North East - Emma Carter
Leeds North West - Tim Goodall (2010: 508 (1.2%))
Leeds West - Andrew Pointon (2010: 1,832 (4.7%))
Leicester East - Nimit Jethwa (2010: 733 (1.5%))
Leicester South - Gabriella Garcia
Leicester West - Peter Hague (2010: 639 (1.8%))
Lewes - Alfie Stirling (2010: 729 (1.5%))
Lewisham East - Störm Poorun (2010: 624 (1.5%))
Lewisham West and Penge - Tom Chance (2010: 931 (2.1%))
Lewisham, Deptford - John Coughlin (2010: 2,772 (6.7%))
Leyton and Wanstead - Ashley Gunstock* (2010: 562 (1.4%))
Lichfield - Robert Pass
Liverpool, Riverside - Martin Dobson (2010: 1,355 (3.5%))
Liverpool, Walton - Jonathan Clatworthy
Liverpool, Wavertree - Peter Cranie (2010: 598 (1.6%))
Liverpool, West Derby - Rebecca Lawson
Llanelli - Guy Smith
Loughborough - Matt Sisson
Louth and Horncastle - Romy Rayner
Ludlow - Janet Phillips (2010: 447 (0.9%))
Luton North - Sofiya Ahmed (2010: 490 (1.1%))
Luton South - SImon Hall (2010: 366 (0.9%))
Macclesfield - Tim Roca (2010: 840 (1.7%))
Maidenhead - Emily Blyth (2010: 482 (0.9%))
Maidstone and The Weald - Hannah Patton (2010: 655 (1.3%))
Makerfield - Philip Mitchell
Maldon - Robert Graves
Manchester Central - Kieran Turner-Dave (2010: 653 (3.9%))
Manchester, Gorton - Laura Bannister (2010: 1,048 (2.7%))
Manchester, Withington - Lucy Bannister (2010: 798 (1.8%))
Mansfield - Paul Frost
Meon Valley - Diana Korchien
Meriden - Alison Gavin (2010: 678 (1.3%))
Merthyr Tydfil and Rhymney - Elspeth Parris
Mid Bedfordshire - Gareth Ellis
Mid Derbyshire - Sue MacFarlane
Mid Dorset and North Poole - Mark Chivers
Mid Norfolk - Simeon Jackson (2010: 1,457 (2.9%))
Mid Sussex - Miranda Diboll (2010: 645 (1.2%))
Mid Worcestershire - Neil Franks (2010: 593 (1.2%))
Middlesbrough - Hannah Graham
Middlesbrough South and East Cleveland - Martin Brampton
Midlothian - Ian Baxter
Milton Keynes North - Jennifer Marklew (2010: 733 (1.4%))
Milton Keynes South - Samantha Pancheri (2010: 774 (1.3%))
Mitcham and Morden - Mason Redding (2010: 381 (0.9%))
Mole Valley - Jacquetta Fewster (2010: 895 (1.6%))
Monmouth - Christopher Were (2010: 587 (1.3%))
Montgomeryshire - Richard Chaloner
Moray - James MacKessack-Leitch
Morecambe and Lunesdale - Phil Chandler (2010: 598 (1.4%))
Morley and Outwood - Martin Hemingway
Neath - Catrin Brock
New Forest East - Sally May (2010: 1,024 (2.0%))
New Forest West - Janet Richards* (2010: 1,059 (2.2%))
Newark - Elayne Forster (2014: 1,057 (2.7%))
Newbury - Paul Field (2010: 490 (0.8%))
Newcastle upon Tyne Central - Alex Johnson (2010: 568 (1.7%))
Newcastle upon Tyne East - Andrew Gray* (2010: 620 (1.6%))
Newcastle upon Tyne North - Alison Whalley (2010: 319 (0.7%))
Newcastle-under-Lyme - Sam Gibbons
Newport East - David McLean
Newport West - Pippa Bartolotti (2010: 450 (1.1%))
Newton Abbot - Steven Smyth-Bonfield (2010: 701 (1.5%))
North Cornwall - Amanda Pennington
North Devon - Ricky Knight (2010: 697 (1.4%))
North Dorset - Richard Barrington (2010: 546 (1.0%))
North Down - Steven Agnew (2010: 680 (2.0%))
North Durham - Victoria Nolan
North East Bedfordshire - Mark Bowler
North East Cambridgeshire - Helen Scott-Daniels
North East Derbyshire - David Kesteven
North East Fife - Andrew Collins
North East Hampshire - Andrew Johnston
North East Hertfordshire - Mario May (2010: 875 (1.7%))
North East Somerset - Katy Boyce (2010: 670 (1.3%))
North Norfolk - Mike Macartney-Filgate (2010: 508 (1.0%)
North Shropshire - Duncan Kerr (2010: 808 (1.6%))
North Somerset - David Derbyshire
North Swindon - Poppy Hebden-Leeder (2010: 487 (1.0%))
North Thanet - Ed Targett
North Tyneside - Martin Collins
North Warwickshire - Ian Bonner
North West Cambridgeshire - Nicola Day
North West Durham - Mark Shilcock
North West Hampshire - Dan Hill
North West Leicestershire - Benjamin Gravestock
North West Norfolk - Michael de Whalley* (2010: 745 (1.6%))
North Wiltshire - Phil Chamberlain* (2010: 599 (1.2%))
Northampton North - Tony Clarke (2010: 443 (1.1%))
Northampton South - Julie Hawkins* (2010: 363 (0.9%))
Norwich North - Adrian Holmes (2010: 1,245 (2.9%))
Norwich South - Lesley Grahame (2010: 7.095 (14.9%))
Nottingham East - Antonia Zenkevitch (2010: 928 (2.8%))
Nottingham North - Katharina Boettge
Nottingham South - Adam McGregor (2010: 630 (1.5%))
Nuneaton - Keith Kondakor
Old Bexley and Sidcup - Derek Moran (2010: 371 (0.8%))
Oldham East and Saddleworth - Miranda Meadowcroft (2011: 530 (1.5%))
Orpington - Tamara Galloway* (2010: 511 (1.0%))
Oxford East - Ann Duncan (2010: 1,238 (2.4%))
Oxford West and Abingdon - Larry Sanders (2010: 1,184 (2.1%))
Paisley and Renfrewshire North - Ryan Morrison
Pendle - Laura Fisk
Penrith and The Border - Bryan Burrow
Peterborough - Darren Bisby-Boyd (2010: 523 (1.2%))
Plymouth, Moor View - Benjamin Osborn (2010: 398 (1.0%))
Plymouth, Sutton and Devonport - Libby Brown (2010: 904 (2.1%))
Poole - Adrian Oliver
Pontypridd - Katy Clay (2010: 361 (1.0%))
Poplar and Limehouse - Maureen Childs (2010: 449 (1.0%))
Portsmouth North - Gavin Ellis (2010: 461 (1.0%))
Portsmouth South - Ian McCullock (2010: 716 (1.7%))
Preseli Pembrokeshire - Frances Bryant
Preston - Gemma Christie
Pudsey - Claire Allen
Putney - Chris Poole (2010: 591 (1.4%))
Rayleigh and Wickford - Sarah Yapp
Reading East - Rob White* (2010: 1,069 (2.1%))
Reading West - Miriam Kennet (2010: 582 (1.2%))
Redcar - Peter Pinkney
Redditch - Kevin White* (2010: 393 (0.9%))
Reigate - Jonathan Essex (2010: 1,087 (2.7%))
Ribble Valley - Graham Sowter
Richmond (Yorks) - Leslie Rowe* (2010: 1,516 (2.8%))
Rochdale - Mark Hollinrake
Rochester and Strood - Clive Gregory* (2014: 1,692 (4.2%))
Rochford and Southend East - Simon Cross (2010: 70700 (1.7%))
Romford - Lorna Tooley (2010: 447 (1.0%))
Romsey and Southampton North - Ian Callaghan
Ross, Skye and Lochaber - Anne Thomas (2010: 777 (2.2%))
Rossendale and Darwen - Karen Pollard-Rylance
Rugby - Terence White (2010: 451 (1.0%))
Ruislip, Northwood and Pinner - Karen Pillai (2010: 740 (1.5%))
Runnymede and Weybridge - Rustam Majainah (2010: 696 (1.4%))
Rushcliffe - Richard Mallender* (2010: 1,251 (2.3%))
Rutland and Melton - Alastair McQuillan
Saffron Walden - Karmel Stannard (2010: 735 (1.4%))
Salford and Eccles - Emma Van Dyke
Salisbury - Alison Craig (2010: 506: 1.0%))
Scarborough and Whitby - David Malone (2010: 734 (1.5%))
Scunthorpe - Martin Dwyer (2010: 396 (1.1%))
Sedgefield - Greg Robinson
Sefton Central - Lindsay Melia
Selby and Ainsty - Ian Richards
Sevenoaks - Amelie Boleyn
Sheffield Central - Jillian Creasy* (2010: 1,556 (3.8%))
Sheffield South East - Linda Duckenfield
Sheffield, Brightside and Hillsborough - Christine Gilligan
Sheffield, Hallam - Peter Garbutt (2010: 919 (1.8%))
Sheffield, Heeley - Rita Wilcock (2010: 989 (2.4%))
Sherwood - Lydia Davies-Bright
Shipley - Kevin Warnes* (2010: 1,477 (3.0%))
Shrewsbury and Atcham - Emma Bullard (2010: 565 (1.1%))
Skipton and Ripon - Andy Brown
Slough - Julian Edmonds (2010: 542 (1.1%))
Solihull - Howard Allen
Somerton and Frome - Theo Simon
South Cambridgeshire - Simon Saggars* (2010: 1,039 (1.8%))
South Derbyshire - Marianne Bamkin
South Dorset - Jane Burnet (2010: 595 (1.2%))
South East Cambridgeshire - Clive Semmens (2010: 766 (1.3%))
South East Cornwall - Martin Corney (2010: 826 (1.7%))
South Holland and The Deepings - Daniel Wilshire (2010: 724 (1.4%))
South Norfolk - Catherine Rowett (2010: 1,000 (1.8%))
South Northamptonshire - Damon Boughen (2010: 685 (1.1%))
South Staffordshire - Claire McIlvenna
South Suffolk - Robert Lindsay
South Swindon - Talis Kimberley-Fairbourn (2010: 619 (1.3%))
South Thanet - Ian Driver
South West Bedfordshire - Emily Lawrence
South West Devon - Win Scutt (2010: 641 (1.3%))
South West Hertfordshire - Charlotte Pardy
South West Norfolk - Sandra Walmsley (2010: 830 (1.7%))
South West Surrey - Susan Ryland (2010: 690 (1.2%))
South West Wiltshire - Phil Randle
Southampton, Itchen - John Spottiswoode* (2010: 600 (1.4%))
Southampton, Test - Angela Mawle (2010: 881 (2.0%))
Southend West - Jon Fuller (2010: 644 (1.5%))
Southport - Laurence Rankin
Spelthorne - Paul Jacobs
St Albans - Jack Easton* (2010: 758 (1.4%))
St Austell and Newquay - Steve Slade
St Helens North - Elizabeth Ward
St Helens South and Whiston - James Chan
St Ives - Tim Andrewes* (2010: 1,308 (2.8%))
Stafford - Mike Shone* (2010: 564 (1.1%))
Staffordshire Moorlands - Brian Smith
Stalybridge and Hyde - Jenny Ross (2010: 679 (1.7%))
Stevenage - Graham White
Sitrling - Mark Ruskell* (2010: 746 (1.6%))
Stockport - Gary Lawson (2010: 677 (1.7%))
Stockton South - Jacqui Lovell
Stoke-on-Trent Central - Jan Zablocki
Stoke-on-Trent North - Sean Adam
Stoke-on-Trent South - Luke Bellamy
Stone - Wenslie Naylon (2010: 490 (1.0%))
Stourbridge - Christian Kiever (2010: 394 (0.8%))
Stratford-on-Avon - Dominic Giles (2010: 527 (1.0%))
Streatham - Jonathan Bartley (2010: 861 (1.8%))
Stretford and Urmston - Geraldine Coggins (2010: 916 (2.0%))
Stroud - Sarah Lunnon (2010: 1,542 (2.7%))
Sunderland Central - Rachel Featherstone
Surrey Heath - Kimberley Lawson
Sutton Coldfield - David Ratcliff (2010: 535 (1.1%))
Sutton and Cheam - Maeve Tomlinson (2010: 246 (0.5%))
Swansea West - Ashley Wakeling (2010: 4040 (1.1%))
Tamworth - Nicola Homes
Tatton - Tina-Louise Rothery
Taunton Deane - Clive Martin
Telford - Peter Hawkins
Tewkesbury - Jemma Clarke (2010: 525 (1.0%))
The Cotswolds - Penny Burgess (2010: 940 (1.7%))
The Wrekin - Cath Edwards
Thirsk and Malton - Chris Newsam
Thornbury and Yate - Iain Hamilton
Tiverton and Honiton - Paul Edwards (2010: 802 (1.5%))
Tonbridge and Malling - Howard Porter (2010: 764 (1.5%))
Tooting - Esther Obiri-Darko (2010: 609 (1.2%))
Torbay - Paula Hermes (2010: 468 (1.0%))
Torfaen - Matt Cooke (2010: 438 (1.2%))
Torridge and West Devon - Catharine Simmons* (2010: 1,050 (1.9%))
Totnes - Gill Coombs (2010: 1,181 (2.5%))
Tottenham - Dee Searle (2010: 980 (2.4%))
Truro and Falmouth - Karen Westbrook (2010: 858 (1.8%))
Tunbridge Wells - Marie Jones (2010: 914 (1.8%))
Twickenham - Tanya Williams (2010: 674 (1.1%))
Tynemouth - Julia Erskine (2010: 538 (1.0%))
Uxbridge and South Ruislip - Graham Lee (2010: 477 (1.1%))
Vale of Glamorgan - Alan Armstrong (2010: 457 (0.9%))
Vauxhall - Gulnar Hasnain (2010: 708 (1.6%))
Wakefield - Rebecca Thackray (2010: 873 (2.0%))
Wallasey - Julian Pratt
Walsall North - Mike Harrison
Walsall South - Charlotte Fletcher
Walthamstow - Michael Gold (2010: 767 (1.9%))
Wansbeck - Christopher Hedley (2010: 601 (1.6%))
Wantage - Kate Prendergast (2010: 1,044 (1.9%))
Warley - Robert Buckman
Warrington North - Sarah Hayes
Warrington South - Stephanie Davies* (2010: 427 (0.8%))
Warwick and Leamington - Azzees Minott (2010: 693 (1.4%))
Washington and Sunderland West - Anthony Murphy
Watford - Aidan Cottrell-Boyce (2010: 885 (1.6%))
Waveney - Graham Elliott* (2010: 1,167 (2.3%))
Wealden - Mark Smith (2010: 1,383 (2.5%))
Weaver Vale - Chris Copeman (2010: 338 (0.8%))
Wellingborough - Marion Turner-Hawe (2010: 480 (0.9%))
Wells - Jon Cousins (2010: 631 (1.1%))
Welwyn Hatfield - Marc Scheimann (2010: 796 (1.95))
West Aberdeenshire and Kincardine - Richard Openshaw
West Bromwich East - Barry Lim
West Bromwich West - Mark Redding
West Dorset - Peter Barton (2010: 675 (1.2%))
West Ham - Rachel Collinson (2010: 645 (1.4%))
West Lancashire - Ben Basson (2010: 485 (1.0%))
West Suffolk - Nial Pettitt
West Tyrone - Ciaran McClean
West Worcestershire - Julian Roskams (2010: 641 (1.2%))
Westminster North - Jennifer Nadel (2010: 478 (1.2%))
Westmorland and Lonsdale - Chris Loynes
Weston-Super-Mare - Richard Lawson
Wigan - Will Patterson
Wimbledon - Charles Barraball (2010: 590 (1.2%))
Winchester - Michael Wilks
Windsor - Derek Wall* (2010: 628 (1.3%))
Wirral South - Paul Cartlidge
Witham - James Abbott (2010: 1,419 (3.0%))
Witney - Stuart MacDonald* (2010: 2,385 (4.1%))
Woking - Martin Robson
Wokingham - Adrian Windisch (2010: 567 (1.0%))
Wolverhampton North East - Becky Cooper
Wolverhampton South East - Geeta Kauldhar
Wolverhampton South West - Andrea Cantrill
Worcester - Louis Stephen* (2010: 735 (1.5%))
Workington - Jill Perry
Worsley and Eccles South - Christopher Bertenshaw
Worthing West - David Aherne* (2010: 996 (2.0%))
Wrexham - David Munnerly
Wycombe - Jem Bailey
Wyre Forest - Natalie McVey
Wyre and Preston North - Anne Power
Wythenshawe and Sale East - Jessica Mayo* (2014: 748 (3.1%))
Yeovil - Emily McIvor
York Central - Jonathan Tyler (2010: 1,669 (3.6%))
York Outer - Ginnie Shaw