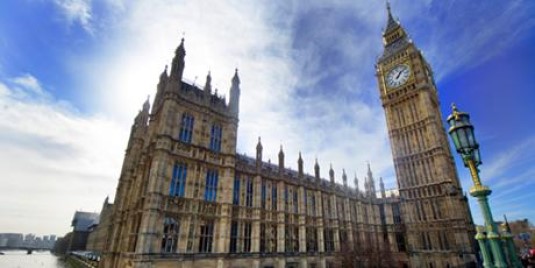 Bright young things swanning around with their sharp suits and lattes. Having the most powerful people in the land hanging off your advice and earning megabucks - it's a nice fantasy. Except for the majority of people working in politics, the unacknowledged and overlooked battalions beavering away in MPs' parliamentary and constituency offices, this is a far cry from what they do. Except for the suits. And the hot drinks. I know because for the last two-and-a-half years, I've been a caseworker for Tristram Hunt, the Member of Parliament for Stoke-on-Trent Central. And as today is my last day before I take up a post in the Ivory Tower, to mark the occasion here's a sense impression in blog form of what it's like to work for an MP.
First thing - an MP is never an individual. Behind them are the people who arrange the meetings, do the casework, make representations to various authorities, research, and organises events. The MP is the figure that makes the interventions in the House and gets their name in the paper, but they stand at the head of a small division of labour. Tristram for his part employs two workers at Portcullis House, mainly for research and parliamentary briefings, article writing and handling correspondence. And in Stoke-on-Trent, there are four of us. While each of us have a title and theoretically work in a hierarchy, in practice we all do a little bit of each other's jobs. For instance, the most junior office member can find himself tackling tricky immigration cases, while the manager folds and stuffs envelopes. But variety is the spice of life, as they say.
Each of us have a specialism and my forte - as regulars may have noticed - is social security, specifically Employment and Support Allowance and Disability Living Allowance. It's meant I've witnessed in direct and visceral ways the consequences of the government's reforms. The survivor of child sex abuse who's had Carers' Allowance removed because the criteria's changed, not because her mental health improved. The man with no legs and one arm informed he had to attend a Work Capability Assessment to keep his payments. The woman who was told on appeal she was fit for work and then died shortly afterwards. When you show ministers the damage caused by their policies, it is angering and frustrating to receive a bland reply asserting the government's position, irrespective of counter-evidence provided, before subtly suggesting that they cannot quite believe anyone is suffering in the manner you've described to them. Take it from me, "out-of-touch" is more than a soundbite. The same is true of the bedroom tax. One constituent, for example, had to scrabble around down the back of his sofa to make up his housing benefit shortfall for *three weeks* until his daughter reached the age of eligibility for her own bedroom. What exactly did that achieve? Time and again ministers say constituents should "get a job". There is zero awareness that there are not enough jobs to go around.
Sometimes dealing with one awful set of problems after another can get to you, especially when nothing can be done. Well known to caring professions, case hardening can be a danger. In spite of yourself, you can quickly jump to conclusions about the merits of a case and especially so where, for whatever reason, early action not taken by a constituent could have avoided present difficulties. Everyone has to have their own set of strategies to mitigate it. Without wanting to sound like an arse, I think an ethic of public service - of doing right by everyone who required help - got me through the cases I had uncharitable thoughts about. But there are upsides, and that is when a case is successfully concluded. The one I'll bore friends and future students about for years to come will be a heavily indebted family who came to us as a last resort. Their plight had left them at their wits' end - the teenage daughters on anti-depressants, and both parents had stress-related mental health problems. Without going into the specifics, a letter to the debtors - the DWP and the City Council - was all it took to have a combined bill of around £70k deemed unrecoverable and written off. I checked and double-checked. The DWP guy on the end of the phone sounded pissed off but he confirmed it. And I will never forget the emails and letters of gratitude that came in full of thanks from each family member. For six years, the oppressive debt that had menaced their lives was literally lifted overnight. Moments like that made up for all the darker ones.
There was light relief from the more unusual cases we took in, ranging from the frivolous to the bizarre. Want to know why Stoke City FC never got top billing on Match of the Day? I wrote that letter to the BBC Trust. Was Tristram aware that CJD was caused by Thatcher's victims ending up in the food chain, Soylent Green-style? And a recent favourite of mine. Querying a UFO sighting over Stoke-on-Trent, the MOD letter we received in reply snootily informed us that "it does not provide an aerial identification service for members of the public". Priceless.
One aspect of my job I enjoyed the most was holding ministers and officers of the City Council to account. Unfortunately, as past masters of linguistic verisimilitude the civil servants who write for the leading members of this hapless government are very good at providing non-answers and brick walls that shut down lines of enquiry. Not so the overpaid managers at the local authority. When, I'm afraid to say, only a minority of councillors are good at questioning officers and holding them to account for decisions made, such work is absolutely vital for effective and responsive local governance.
When I was offered this job, I did hesitate. Having a very different political outlook, I knew managing that tension would be "interesting". After all, Tristram is a leading light in Progress, and me? I grew to political maturity in the backwoods of the far left. So writing "this is Tristram's opinion on X issue" was initially taxing, especially when the temptation is ever present to give your take. Adopting the voice and divining what you think the boss's perspective is forces you to think through ideas you would have previously dismissed out of hand. I did find it exhausting, and this was why I stopped blogging regularly for 18 months. But at the same time having that daily engagement with mainstream centre left politics has been a profoundly radicalising experience. I feel I now have a far better appreciation of what is possible at all levels of government, and what the limits of the state are.
Lastly, for the gossip mongers, what is Tristram like to work for? Very good, actually. All of us are more or less left to our own devices. Nearly everything the office does is self-directed. Sometimes he would ask for a letter to this or that minister, undertake some research, or organise an event. But there was no micromanagement. He never berated staff, nor did he take casework home of a weekend to ensure everything was tickety-boo. Unlike other MPs who keep their offices on tight leashes, we were free to pursue our own initiatives and hobby horses. Fair to say I've written to various agencies on behalf of a "concerned constituent" simply because I was nosy, or wanted clarity on the latest policy twist.
Anyway, that's what my experience of working for a MP was like. Challenging, definitely. In my more honest moments I might say coarsening, unfortunately. Yet it was very satisfying too. The best moments can resemble an episode of The Thick of It, and the worst moments can play out like an episode of The Thick of It. It has easily been the best job I've had, and I commend it to whoever ends up occupying my space in the constituency office.
If I haven't put you off this is the place you need to go and if you fancy working for Tristram, keep an eye out for the advert.