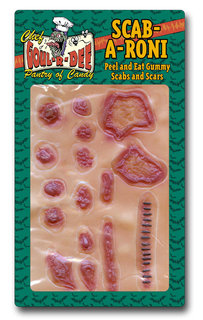 What do Jeremy Vine, Andrew Collins, Emma Crosby, Chris Moyles, Aled Jones, Chris Evans, Andrew Neil, Terry Wogan, Simon McCoy, Mike Bushell, Peter Dobbie, Jake Humphrey, Fearne Cotton, Huey Morgan, Ian Payne, Geoff Dyer, Greg James, Scott Mills, Colin Murray, Paul Ross, Gaby Roslin, Steve Lamacq, Louis Theroux, Peter Kay and Bruce Forsyth all have in common? They either crossed picket lines or scabbed on today's strike at the BBC.

Some readers might remember Terry Wogan wishing pickets the "best of luck" during the last BBC strike ... before crossing them to do his radio show.

And judging by Chris Moyle's inclusion on this roll of shame, he's kissed and made up with BBC management. I'm at a loss to explain his
volte face
. Just over a month ago Moyles was
moaning on air
about not being paid. Fast forward to November he's a-okay with management
butchering his pension entitlement
. What a twonk.

As for the rest of them, they will not be forgiven nor forgotten.

Plenty of people have had a bit of fun with celebrity scabwatch on Twitter earlier today. Comedians
Robin Ince
and
Alan Davies
have covered themselves in a bit of glory for refusing to cross picket lines. In the open surveillance world of Twitter it has been funny to see some of the ire Davies has earned, such as from this
Tunbridge Wells-type
and
this
.

Conversely,
Andrew Collins
, a broadcaster and someone I previously had down as a celebrity lefty has turned his Twitter stream into a tortured torrent of self-flagellation for crossing the picket line. Good. It's one thing for a Murdoch lackey like Brillo to cross picket lines, quite another for someone who sees themselves on "our side".

In a lame attempt to justify his actions (to himself as well as others) Collins has
tweeted
"If I don't go in, I don't get a "day's pay", as I am self-employed, freelance holiday cover with no contract". As a writer, broadcaster, and currently on a successful tour, I'd wager most striking NUJ workers had more to lose than Collins. And then there's
this
: "Bectu advice: "We are not taking industrial action you should work normally but not do any work normally undertaken by striking NUJ members". What he fails to mention is the
advice
directly beneath: "If, however, as a matter of conscience you decide not to cross a picket line and the BBC attempts to discipline you then you will have the full support of BECTU." Oh dear.

We might live in a time when the cultural norms of the labour movement aren't as widespread as they used to be. But when anyone is facing a picket line they have a choice. They can respect the democratic will of the workers involved and aid them by refusing to cross. Or you can crap all over them and stand with management by going in. If someone - especially a celebrity - does not respect the action then they can't complain when they're taken to task for their shabby behaviour.

Update In the comments below, Modernity points to a more up to date list.