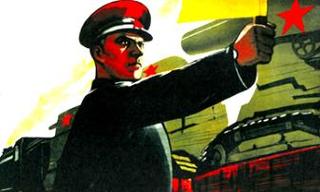 As longtime readers will know since joining Labour last February I have become the Political Education Officer for Stoke Central CLP. Holders of the office can more or less do with it what they like and it's not unknown for members to simply take on the role so they can have a seat on the local party's executive. I'm not of that view.

One of the chief strengths of far left organisations is the emphasis they place on political education. The Socialist Party always had a political discussion as the chief item on its branch agenda. I don't know how they do things in the SWP these days, but when I attended Derby SWP meetings in the summer of '96 that was the same too. Yes, the quality of lead-offs and discussions varied greatly, but it offered an opportunity for members to learn about working class political history and helped round them out as activists who can effectively fight for their organisation's politics in a number of different settings.

I've taken this culture with me and tried importing it into the local party. My branch now has a political discussion in each meeting and it's gone down well with members. I'm told politics did used to take pride of place many years ago, but as membership dwindled and the party became ever more top heavy this tradition withered on the vine. I wouldn't want to jump to conclusions but now the local party is growing again and new faces are appearing at meetings, the readiness with which this has been adapted might be suggestive of a new mood and a new set of expectations members have.

Political discussion in the monthly CLP meeting is slightly different as this is usually a pure business meeting. A typical meeting has of late looked like this:

As Stoke is facing all-out elections for the council next year a lot of time has had to be put into the intricacies of candidate selection, the format of interviews, their progress and what have you. This has necessarily eaten up a lot of the agenda. We also hear from the MP, Tristram Hunt, who tells us about his activities over the last month in parliament and the constituency. The meeting receives other officers' reports, including my own. Members' presenting items are often heard and at times floor-led discussions can arise from questions to officers and the MP. And when all is done 90 minutes has passed and it's time to call it an evening.

My political education report, of which I give the briefest of brief verbal overviews, tends to follow a standard format. Rather than writing an essay stuffed full of my correct views on everything, I write a brief preamble summarising recent political developments and then produce a list of ten links referring to pieces that have caught my eye or feel are particularly pertinent. As the CLP has members from all wings of the party I try and ensure my selection covers every shade of Labour opinion. And of course, as a blogger (and because bloggers are producing the bulk of the freshest and most incisive political writing these days) I make sure they get the lion's share of the linkage.

As not all members are online I always append a complete piece. This month it was David Lammy's
defence
of the liberal arts. The text of this month's report can be found below
sans
the full text from Left Foot Forward.

Producing a monthly report is just one aspect of the PEO role. When we've finally got Labour Students up and running at Staffs Uni I will assist those comrades in developing a programme of political education. Doubling up my responsibilities as Trade Union Liaison Officer I have received backing from two large union branches for a 'trade unionists in Labour' meeting in the city in new year, something which could become a semi-regular fixture. And there was the recent all-members meeting under the auspices of the city party on alternatives to the cuts (see 'Labour Councils and the Cuts', below). But the best political learning experiences come outside of programmes and meetings, and that's when you knock on doors or ring people up. The PEO role therefore is not just about education with a capital E. It is responsible for ensuring the experiences of every member becomes the property of the collective, of making sure that the party not only knows about the issues concerning real people (not medialand's constructions of 'real people'), but responds to them too.

The Political Education Officer's role is a crucial one. If Labour is to be rebuilt as the party of a renewed labour movement PEOs in every CLP have a part to play.



Political Education Officer's Report 19.11.10

If a week is a long time in politics, then a month must be an eternity. So many things have happened since the CLP last met that it would be impossible to list them all. Not that that will stop me from having a go: we've had the suspension of Phil Woolas from the party for defaming his LibDem opponent during the election (though since entering the coalition, our yellow friends have done a pretty good job of that themselves). George Osborne announced his package of cuts, a package tantamount to unleashing class war on millions of workers, benefit claimants, and service users. Tuition fees are set to rise to £9,000/year, which will result in tens of thousands being put off attending university. Meanwhile, the fantastic demonstration in London last week showed students are not taking this attack on aspiration lying down. Ireland and Portugal are on the brink of the economic abyss – again. One man was convicted and fined for posting a joke to his Twitter feed, and lastly a young couple from wealthy backgrounds announced their engagement to a hysterical reception from the press.

In this report and from now on I will be featuring pieces produced from the various think tanks, groups, and policy platforms that exist in the party, alongside the usual culled from bloggers and columnists. From Progress to Compass, from the Fabians to the Labour Representation Committee, each of these prove Labour remains a broad church of contending and clashing ideas. They all play a role in keeping the party's political life vibrant and help shape policy, set agendas, inspire members to become more involved, and (in some cases) get comrades off their bums and onto the phones and into the streets. So, without further ado …


All's Fair
by Tristram Hunt


Cutting It: The 'Big Society' and the New Austerity
by Anna Coote


So Will Barclays Carry Out Its Threat to Leave UK? (Or the "Exodus" that Never Quite Happens)
by Anonymous/Fabian Society


Housing Benefit Reforms Will Cause "Immense Human Suffering"
by John McDonnell


Sinners and Sanctions
by Eugene Grant


The Power of the Broken Pane
by Laurie Penny


Will the Euro Break Up?
by Arthur Bough


Labour Councils and the Cuts
by Phil BC


Cuts? Women Will Take Them on the Chin
by Fionnuala Murphy


A Short Guide to the Financial Crisis
by The Flying Rodent