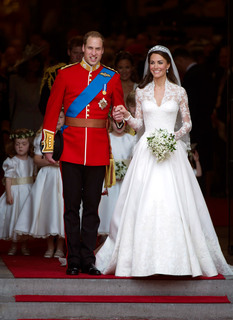 I've never had any time for the Royals. Even when I was a
teenage Tory
I had zero respect for Queen Elizabeth II and her family of Britain's wealthiest benefit claimants. So strong was this dislike for the pomp and pomposity of the monarchy that even at my most nationalist I refused point blank to sing the national anthem. There was something archaic and faintly ridiculous about them that deeply went against the grain of whatever I was thinking - and this was well before my introduction to the socialist critique of constitutional monarchies.

I haven't mellowed with age either. Just thinking about Royal weddings, "Squidgygate", the fire at Windsor Castle, the North Korean-style official mourning for Diana Windsor, the jubilee, the funeral of the ludicrously titled 'Her Majesty Queen Elizabeth the Queen Mother', and all the petty palace intrigues the papers trade in is almost enough to bring me out in a rash. The fawning of the media, particularly the BBC's royal correspondents, is guaranteed to put me in a paroxysm of fury.

So no. I will not be falling over myself to watch the heir to one of Britain's wealthiest families wed the daughter of millionaires at the taxpayers' expense. In fact I confidently predict I'll be doing everything in my power to avoid all coverage. Perhaps I'll join the protest against this waste of money down in London. Or maybe I'll voice my displeasure by penning some Marxist screed or another on why Britain is still lumbered with such an absurd constitutional set up.

Until that time, the best comment on the engagement of William Windsor and Kate Middleton by far comes courtesy of the
Caledonian Mercury
. This is their front page:

Couple Who Met at University to Marry


By James Browne

Two people who went to university together are to get married, it has emerged.

William Windsor (or possibly Wales or possibly Saxe-Coburg-Gotha) and Kate Middleton, both 28, met at St Andrews University eight years ago.

Mr Windsor is a Flight Lieutenant in the RAF – and also a prince.

Wall-to-wall, dewy-eyed hysterical coverage can be found in every other media outlet.
If only the rest of the media followed suit.