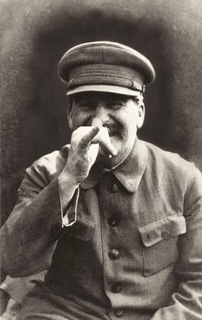 What is a Stalinist? It's a word that gets bandied about the left a lot. The Communist Party of Britain are often described as Stalinist. So is Cuba, China and North Korea. Even our very own (state-cap) Socialist Workers' Party has been described as such. Is Stalinism merely abusive shorthand for authoritarian practices in the labour movement, or is a more precise definition possible?

Shane
on the ever-green
Leftist Trainspotters
discussion list has had a stab at a definition. He writes:
Stalinist is the proper appellation for self-described Marxists, Communists, or Socialists who practice or apologise for, in regard to the present and/or the past, extremely repressive or totalitarian oppression of the workers and peasants and intellectuals by self-described Marxists, Socialists, or Communists.
I think that's a pretty good starting point for a definition. It reminds me of a similar cursory attempt by Ralph Miliband in his entry on Stalinism in
A Dictionary of Marxist Thought
. He writes "... the terms 'Stalinism' and 'Stalinist' have been given a loose and highly pejorative meaning, notably on the left, and ... denote dictatorial, arbitrary and repressive modes of conduct by leftwing individuals and regimes" (1991, p.517).

But there remains two stubborn problems neither definition addresses. Most Trotskyists have no problem defending many actions of the early Soviet Union but obviously would bristle at being compared with those that continued to speak for the USSR after Lenin's death.

The second is a certain fuzziness over what constitutes the defence of the USSR and similar regimes, and an apology for them. Like the parties of official communism, Trotsky lauded the achievements of the Soviet Union in the 1930s in his
The Revolution Betrayed
and made a case for defending it on the basis of its 'proletarian property forms' (planned economy, absence of the law of value, etc.). Does this make him an apologist for Stalin's regime? Similarly in a series of interesting posts on the former East Germany (see
here
and
here
for example) on Socialist Unity, Andy Newman has tried painting East German society and its regime in its full complexity, which includes acknowledging progressive economic and cultural features despite the repressive character of one party government. Is that apology or analysis?

Where do you draw the line? Can 'Stalinism' be spoken of scientifically or does it break down as a meaningful category when applied to anything other than Stalin's dictatorship at the height of its powers? I'm interested to see what readers think.