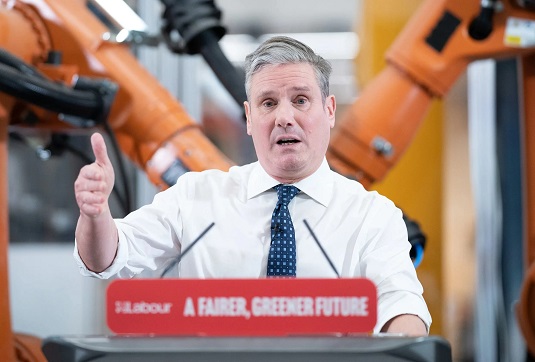 How do you sell a pretty wonky set of proposals to a sceptical press and catch some passing public interest? By half-inching the most notorious, for some, political slogan of recent years and slapping it on your programme of constitutional reform. It was a pretty shameless move by Keir Starmer, but by no means the first he's executed since becoming Labour leader.

Compared with the slim offerings doled out by Rishi Sunak, Starmer's was a more weighty speech with sets of commitments linked to aspirations. Or, because of his addiction to management-speak, "missions". He again reiterated the package he unveiled before Christmas with Gordon Brown, and so there was nothing new on show. His main target was the Westminster system and the short-termism it fosters, and this is exacerbated by the overly centralised character of the state. With so much power concentrated in the executive only certain issues get the attention they deserve, which means when something comes along like a pandemic or yet another NHS Winter crisis, government goes straight into reactive mode - what Starmer calls sticking plaster politics. This approach leads to uncertainty and expensive, last-minute fixes. To meet the challenges besetting the country, a new approach is needed - which is where the 'Taking Back Control' Bill will make a difference.

For seasoned Starmer watchers, framing Britain's problems as technical problems would come as no surprise. His approach to politics, even to his own party, is informed by being the head honcho of a large organisation where employees had to snap to attention. This has led to some howlers, such as getting restructuring specialists in to tell him how to win elections, or attempting to sack Angela Rayner as Deputy Leader. His project, and part of the aim of this speech, is to make Britain a land fit for managers. This is modernisation.

Overall, Andrew Fisher's critique of Starmer's speech is right. The main aim was to send messages to elite opinion formers, and if you think the path to Downing Street runs through fiscally tight Tory voters the headlines generated, that there won't be big spending under an incoming Labour government, is a win. But at the same time, it doesn't matter how ostensibly decentralising and empowering "taking back control" is, if the money isn't there for pay - studiously side-stepped - then public services are ony going to rot further. But the other thing Starmer chose to mention, in ways that would please Blairite fossils, is the close relationship between government and business he wants to build. A new round of public-private "partnerships"? Perhaps. The indicators are there that Starmer favours some sort of tripartite structure similar to continental corporatism and the many abortive attempts to fix one here during the postwar period, but why keep banging on about partnerships with business? Is it just about telling the media that capitalist realism isn't going anywhere under his government?

Take the green new deal, or whatever Starmer's calling it these days. On one level, as Mick points out, levering in private capital to meet renewable generation objectives recalls the old PFI trick of hiding state capital spend off the books only for them to reappear years later rebadged as debts attached to the particular project. See hospitals, schools, childcare facilities, walk-in centres, and community centres for plenty of stories about how this ends up costing the public purse more in the long run. But there's more to it than this. New Labour were able to create so many PFI and PPP opportunities that, in effect, a section of capital had become dependent and retained a direct material interest in keeping the party that oversaw so many contracts in office. And likewise, to reciprocate they duly provided golden parachutes to senior Labour ministers when retirement came knocking. Doing the same on green energy crowds in capital when it comes to renewable investments, but with the consequence of ensuring this section of capital, which can only grow in importance as the century wears on, has a natural home in the Labour Party in the same way fossil fuels have with the Tories. From this will flow future business endorsements, donations, and eventual sinecures. Even though doing so is more expensive than simply investing in renewable generation and infrastructure with state money. Starmer's warm words for business is less about offering reassurances to a sceptical audience, but an invitation that under his administration, despite the ostensible break with overt market fundamentalism, they can fill their boots as before.

Starmer is offering something more than the Tories, and something better as well. But we're only talking about degrees, here. The end of cheap commodities, the ageing society and care crisis, climate catastrophe, and the challenge of automation require a policy agenda and an imagination ambitious and resilient enough to meet these problems. Whatever else was on offer in Starmer's speech, this wasn't.