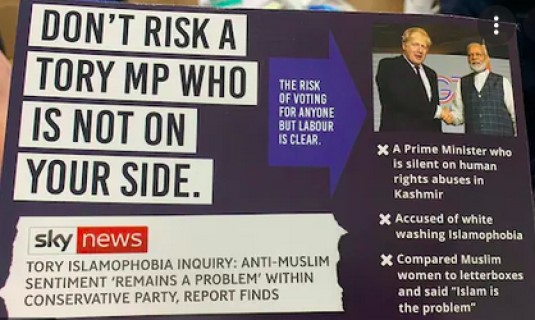 Things aren't looking good for Labour in the Batley and Spen by-election, and only one bit of journalism of late has gone against the depressing grain. If Labour wins, there will be a sense of narrowly dodging a bullet. If the party loses one can expect a storm of obituary notices for Keir Starmer, an unwelcome downpour his misleadership and its backers are entirely responsible for.

Readers might recall this place was among the first to note the jitters among establishment politics concerning the Labour leader. In January it was a lack of opposition and oomph that was causing concern, and because Keir hasn't so much ploughed a furrow but left a faint impression on the soil those questions have only grown louder and louder, supported by poor polling and poor election results. But now there are another set of concerns, a small but significant ripple worrying about the hapless fate of the Starmerist project and what it means for politics. This includes some Tories.

For example, in recent days Paul Goodman of Conservative Home has filed his anxieties about the Batley and Spen by-election, asking the question whether it would be better if Labour were to win than his own party. What's the deal? His fear, it seems, is a political insurgency based on "communalism". For example, George Galloway appealing to Muslim voters in the constituency on the basis of ... the ongoing occupation of Palestine. Goodman worries a Labour Party in its Starmerist decrepitude would respond in a like manner, and as far as he's concerned it has. Trying to pretend the Galloway challenge doesn't exist, Labour are putting out a leaflet (pictured) picturing Boris Johnson with Indian Prime Minister, Narendra Modi, and taking him to task for staying quiet about Kashmir as well as his notorious Islamophobia. For Goodman, this is Labour's attempt at communalist politics, which could incentivise the Tories to do the same in seats with large Indian and Indian-descended voters. Naturally, the Tories' frequent forays into the politics of racism escape our scribe's notice, let alone raise the same tone of concern.

Goodman's fretting is symptomatic of a wider mood. The by-election is advertising the Labour leadership's inability to dampen down what, from an establishment point of view, is entirely inconvenient: mass opposition to their foreign policy and the engendering of a politics that cannot be accommodated by any of the parties. And it's not just Palestine, Kashmir, and Islamophobia either. And if it's not succeeding on these issues, the party might be losing its hold on its voter's imaginations in other ways. For more times than I can count, Keir Starmer has signalled to the UK's power brokers that his business is business-as-usual. Labour in office means to tinker with a few things and pay lip service to fairness (though this has proven a bit much so far), but while a policy here and there will make life better we're not about to see transformative change. There is nothing in Starmerism, if it amounts to anything, that challenges the wage relation, the balance of power in the workplace, the saddling of millions with debt, and landlordism. His political economy is not much different from the Tories' political economy. The same people win, the same interests triumph, and the same folks bear the brunt as they do now. How ironic that the more Keir makes Labour establishment-friendly, the less use they will have for it.

The problem is, historically, Labour has to greater or lesser degrees articulated discontent while defanging it, and integrating it into a programme that speaks to a wide enough electoral coalition to win office or at least be in a position to pressure and temper the Tories. It funnels unease and refusal away from the political centres of power to be harmlessly dissipated at the ballot box, or grumbling electoral abstentionism. At least harmless from the ruling class's point of view. But it's becoming increasingly clear to them that Keir Starmer's Labour Party is incapable of doing this. The rightwingers who raised a toast to Jeremy Corbyn's suspension and cheer every time they assume control of a speedily emptying constituency party are presiding over Labour's ongoing destruction of the party, a demolition job sure to leave its electoral coalition as so much rubble. It's not difficult to see why. The Jeremy Corbyn years was in the process of forming up a a new core vote based on the rising cohort of working people. Socially liberal and at the sharp end of Tory policy before, during, and no doubt after the pandemic, a competent leader, or at least one affecting to be serious about winning elections would want to build on this core vote. But instead the leadership and their supporters have done their damnedest to drive them away. Starmerfication is Pasokification with English characteristics.

What Corbynism accomplished was build a coalition that spoke to this rising generation and, crucially, pointed it in a constitutionalist direction. Thanks to the efforts of the Labour right millions of people have had a brute education in how this goes nowhere. But it doesn't dissipate. It's taking to the streets, finding expression in other parties, and is going to be spending the next few years manifesting in ways utterly dysfunctional to if not corrosive of the establishment set up. A lot of this might have been pacified had Keir stuck to his Corbyn-lite pledges, but we're probably now beyond that point.

It's this that worries the Tories and other establishment figures who look to the longue durée. A changing permutation of the Conservative Party cannot keep a lid on the tensions and conflicts endemic to British capitalism indefinitely, and the legitimacy of the system requires a place for discontent to go. Keir Starmer is not providing that. Indeed, he seems hell bent on ensuring Labour never becomes an outlet for it. By constituting Labour as a more of a blockage than a facilitator, they will flow into projects, movements, and unforeseen challenges that raise the political temperature. In other words, it's not good for the health of the system nor the maintenance of class power if the Tories keep having things all their own way, especially as they face some uncertainty of their own. The left want rid of Keir to help build the political confidence and consciousness of out class, but increasingly and for their own self-preservation, the establishment does too.