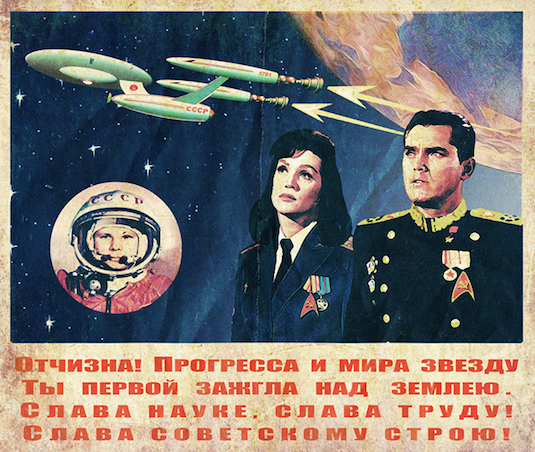 These days I don't often thank remnants of soi disant centrism in the Labour Party, but credit where credit is due. Were it not for Adrian McMenamin's rubbish column on fully automated luxury communism for Progress magazine, I wouldn't be writing this. The specifics of his piece need not detain us - as polemics go it misfired so spectacularly it's a wonder his keyboard didn't have his hand off. Nevertheless, this phrase, 'fully automated luxury communism', has knocked around for a few years now and deserves a few notes by way of elaboration.
You know it, but I'm going to say it anyway. Communism has an image problem. For decades associated with the mind-numbing bureaucracy and grey tyranny of sundry Stalinist regimes, if communism is going to be reclaimed in the spirit of Marx and Engels then we must do more than talk about the "true meaning" of communism. It's not about repackaging it, but restating what communism always was even when Uncle Joe imprisoned millions: a possible, but nevertheless tangible future immanent in and inseparable from the development of capitalism. Let's take FALC's two propositions in turn.
Fully Automated does what it says on the tin. Despite the fancy propaganda posters trumpeting Soviet achievements, the reality of Stalinist dismalism saw the squandering of resources and environmental despoliation that rivalled capitalism for its inefficiencies. The advances the USSR made in ballistic technology and space travel were certainly impressive, and the latter should be celebrated alongside other key technological milestones. But this was only possible because the state's bureaucratic plan was able to concentrate resources. Following the war, reconstruction was able to improve living standards up to a point, but from the 70s economic stagnation set in. The leading edge of Soviet technology was a simulacra of dynamism, a stand-in for deep seated sclerosis in virtually every other area save the military. Yes, fantastic that you can assemble a fully functioning space station for long-term stays in low Earth orbit, not so great that shoddy housing and shortages were the everyday grind for Eastern bloc citizens.
There is another legacy to be overcome here: the anti-technological bent of a chunk of the left. To one extent this was an absorbing of the Green critique of modern civilisation (note, not capitalist civilisation) and to a lesser extent the postmodern anti-science polemic that located technocratic and bureaucratic modes of power in the original sin of Enlightenment mastery over nature. What this meant in practice was the wholesale importation of neo-Malthusian ways of thinking, of identifying the human race and consumption per se as the vector of environmental destruction and climate change over and above the specific character of socio-economic relationships. It's all about commodification and markets, baby. The left wasn't immune to this, and its adoption by large sections of the left was the radical fringe of a complex mess of irrationalism working its way through popular culture. This broad trend has a wide and deep purchase across all the advanced countries and is symptomatic of alienated sensibilities, of a structure of feeling in which the world has run away from us leaving millions at turns fatalistic and pessimistic, with faith being invested in lotteries and quackery over and above our ability to do something about it.
Fully automated then is about taking back control, to coin a phrase. Or, to be more specific, taking conscious charge of the enormous promise of technology, to reassert the fundamental optimism of leftist politics and rethink technology in terms of how socially useful it can and should be. And what greater use is there, when all is said and done, than enhancing the powers of our species and freeing us from drudgery, and laying the basis of a pleasurable and luxurious life? From each according to their ability to each according to their needs, and the free development of each as the condition for the free development of all. These old phrases of Marx are well within realisation. Technology, if put to socially productive uses, can achieve the rapid decarbonisation of economic activity, switch from harmful and unsustainable power sources to renewables, build and rebuild a sustainable infrastructure to bring up the global standard of living, and diffuse technical know how and the very latest in replication technologies. Luxury doesn't mean indolence, though that should be available for those who want it, instead it means an abundance of choices and working toward a world where drudge is reduced to a bear minimum. Who, after all, doesn't want a better life?
And this is inseparable from the c-word. Communism didn't even get a schematic in Marx's writings, and he rightly argued that it's not the job for revolutionaries to create fantastical schemes and try and force the flow of history into its restrictive channels. That is the path to a new tyranny, which brings back all the old crap - as Marx so floridly put it. All Marx observed about communism is that it is only possible on the foundations capitalist development has laid for it. The technical basis for a society without classes is present, and has been since the Manifesto was published 170 years ago. Not only that, a prefiguring, a becoming of the communist future is present in two increasingly important aspects. Despite free market fundamentalism and increasingly threadbare arguments against collectivism, advanced capitalism in all its dynamism and decrepitude is not possible without planning. The giant multinational companies dominating the global economy marshal resources and plan production across oceans and continents, often paying lip service to competition while using their size to swallow up or squeeze out would-be competitors. And/or one titan can come to an accommodation with another and cartelise whole areas of the economy. It's no accident true competition is celebrated so much by capital's ideologists when it is the exception rather than the rule. Underpinning this all is the agency of the state which guarantees class rule, private property, and routinely arranges and plans economic activity. The second strand is the force of production itself: the working class, the proletariat, the multitude. For Marx it was the gravedigger of capital, the subaltern class that made possible the accumulation of capital (and the private acquisition of riches) thanks to their exploitation by their employers. Their labour power is purchased, but ultimately they are not. To use the language of orthodox economics, labour is an input, but unlike other inputs it is thinking, feeling, living. Thanks to experience, it can become aware that its interests and those of their employers are at odds and, crucially, without their cooperation the whole show cannot go on. With the recent mutation in capitalism with a strategic shift toward immaterial labour, that dependence is even more stark and the balance in the long-term is shifting decisively in labour's direction. How long before capitalism is viewed as an unnecessary excrescence?
Communism then is a becoming. It is not only an alternative form of advanced industrial society latent and immanent within capitalism, its partial materialisation in the present makes capitalism possible. Fully automated and luxury are key identifiers of 21st century communism from its forebears, but they are not mere bolts ons. They are fundamental to the kind of society we should be striving to build.