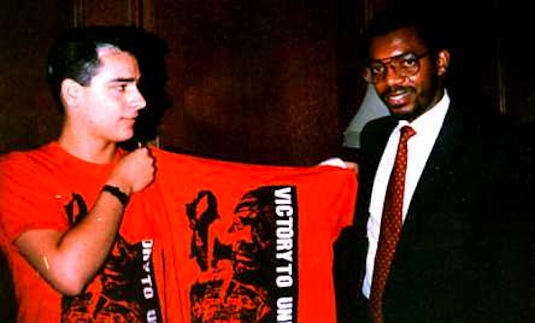 When do past misdeeds no longer matter? I ask because, well, this.
In the 1980s, we find a Westminster establishment regular trying to forge links with the then openly Neo-Nazi British National Party. As a luminary in the Federation of Conservative Students, he said there was a great deal of common ground between himself and the BNP, particularly with regard to "the elimination of Communism in Britain – the mass media, the trade unions, and the schoolroom."
A year later we see our hero flogging off UNITA solidarity shirts. For younger readers not au fait with this particular acronym, they began life as a Maoist anti-colonial guerrilla outfit in what was then Portuguese-occupied Angola. It then undertook an armed struggle against the pro-Soviet MPLA government and morphed into a right wing, anti-communist outfit as cash flowed in from Uncle Sam and apartheid South Africa. A truly charming organisation that was implicated in brutal atrocities and trade in blood diamonds.
Later reflecting on his youthful scrapes, he recalled "I was a fanatical, zealot anti-communist. I wasn't really a Tory, I was an anarcho-capitalist. I was lobbying at the Council of Europe and at Parliament; I was over in Washington, in Jo'burg, in South America. It was 'let's get guns for the Contras', that sort of stuff. I was enjoying it immensely, I got to go with these guys and fire off AK-47s. I always like to go where the action is, and for that period in the Reagan/Thatcher days, it was great fun, it was all expenses paid and I got to see the world." (Matthew Collin, Altered State, 1997, p.99)
Ah, the indiscretions of the young. Ah, but what do we have here? How about a forthright defence of Augusto Pinochet, replete with pig iron production figures and spin so crude they make North Korean apologetics look sophisticated. Likewise, looking back again at the small part he played in the Cold War, he boasts "I'm still pretty gung-ho. We were on the right side of history. I don't have any problem with having raised money to kill communists." Oh, and to bring matters fully up to date, our pillar of establishment politics shares the hard right's racist and sexist obsession with Diane Abbott.
None of this is news. But we have a very forgiving political class because none of the shilly-shallying with Nazis, excusing brutal dictators, and funnelling cash to and colluding with far right paramilitaries matters a jot. He's part of the scene and everything is dandy, all is forgiven. I mean, it's a good job he was hanging around with murderous thugs at the age of 21 instead of anonymously shit posting sexist and homophobic comments on the internet, otherwise he'd be finished.
Hypocrisy is a sickening thing, especially when people are happy to dog pile a new MP for saying daft things a decade-and-a-half ago, and doing so while caring nothing for the anti-social, beyond-the-pale, unrepentant doings of Paul Staines of Guido fame. It's time some perspective was had.