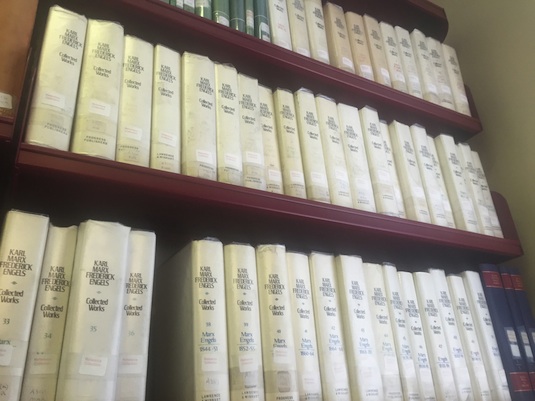 The five most read posts this last month were ...
1. Happy Birthday Marx's Capital
2. No More Heroes
3. Jeremy Corbyn and the New Mainstream
4. Theresa May's Delusions
5. Labour's Bankrupt Brexit Rebels
Good old Marx cleaned up this last month on the blog, so that makes a nice change from the usual Labour Party fare. Unfortunately, what has been less welcoming was a collapse in the readership. Towards the end of last month page views suddenly and without warning dropped off a cliff, and have stayed there. From grazing the 200,000 mark in August to just over 87,000 in September - my lowest figure since last November - something must have happened. And it did. Three things entirely out of my hands are responsible.
There are the changes to Google search that have affected a number of leftist websites. Alternet, for example, reported a 40% loss of its audience between June and today. The World Socialist Website reports the same. Quite why this blog dodged the bullet until late September isn't known to me, but it has hit now. Google referrals are massively down.
We also have to talk about Facebook again. In July, Facebook changed the way auto sharing is done - Mike over at Vox Political has more. Again, for whatever reason it was late September that referrals from Facebook dramatically fell. It could partly be down to the changes to auto sharing, but I've also noticed the groups my Facebook account are subscribed to show much less frequently in my timeline than was the case previously. The result is nothing good for all leftist sites that use the networks enabled by Facebook to disseminate their content.
And speaking of sharing, serving up the pièce de résistance has been a couple of bans on my account from sharing things with Facebook groups. In what looks like an unannounced anti-spam campaign, yet again Facebook are clamping down on the networks that their business depends on.
Google and Facebook are panicked by the accusations of fake news spread via their platforms and know the law is increasingly minded to penalise them for carrying objectionable content. By developing new algorithms and instructing human operators to privilege "trusted" news sources, they are capitulating to the authoritarian impulse to clamp down on fakery (which always includes news and ideas not congenial to the powers that be) and, in the long run, undermining their business models. To use a little supply and demand theory, Google and Facebook's throwing up of obstacles mean, in time, people will simply go around them and find new ways to access the material they want to read.
Therefore next month I would not be surprised if viewing figures dip even lower, and though it is disheartening, especially taking the rip-roaring numbers over the summer, the blog is staying put.