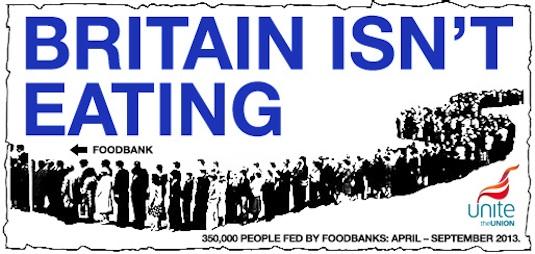 More Conservative idiocy. This time from the self-styled salon intellectuals at CapX, or to you and me the place where brain cells go to die. Chewing up bandwith in defence of indefensible class privilege this week saw Tim Worstall hail the Conservative triumph (his phrase) that are ... food banks. He comes to praise them, of course, but only to support the money grubbing fundamentalism to which his mind is slaved.
Left wingers generally, whether the funky fully automated luxury communism sorts or Progress-types have a pretty similar, if not visceral opinion of food banks. They are good things because of the work they do, and express (albeit at the charitable rather than political level) solidarity between people. But food banks are appalling things. In a society dripping with opulence for the few and a fair standard of living for most, that there are people who must go cap in hand to their local food bank, with all the shame and anguish, is nothing short of disgusting.
Our Tim sees things differently. Food banks are an unqualified good. He celebrates the self-organisation of volunteers underpinning the food bank movement and expends nothing, no empathy and certainly no pity, on those thrown on to them for survival. Because, for him, it proves his precious dogma: that when the state gets out of the way, society organises matters better. Taking the Trussell Trust's finding that the chief factor driving repeat food bank use is delayed benefit payments, Tim notes this is because the state isn't very good. It's too bureaucratic and is slow (and useless) in responding to real needs. You can see where this is going. If volunteers are doing a great job looking after folk, why not get rid of social security altogether?
As if it needs spelling out, he's talking out of his proverbial.
Let's take Employment Support Allowance. Having previously helped people make applications and supported them in appeals against nonsense decisions, I know it can take a while for a claim to be processed. According to the CAB, an applicant can wait for up to a year before a final decision is reached. For first time applicants it's usually three weeks before payment is received. Three weeks of scraping together every ha'penny, of making every pound stretch.
Why do we have this delay? For Tim the inefficiencies of centralised bureaucracy are to blame, and therefore it has nothing to do with austerity. Yes, that is true ... if you ignore entirely what happens outside of your head. People go to food banks because, shock horror, they do not have enough money to live on. For people who work, we have Tim's mates in business to thank for not paying people enough. For those dependent on social security support, their predicament is less the immutable inefficiencies of bureaucracy and more the decisions underpinning them. Our Tory government made the conscious decision to freeze payments. They made the conscious decision to delay payments, sorry, to take three weeks to process a claim. If they wanted the system to work effectively, the axe wouldn't have swung through the DWP and they wouldn't have cut staff at the time of rising demand on the bureaucracy. Yes, applications do get lost in the system, but in this instance food banks are organising not in response to the myriad failures of the state but the cruel political decisions made by Tory and LibDem politicians fishing from the same ideological sewer as Tim.
This dud is is typical of the right. They do not present analysis and prefer instead fairy stories capable of convincing the already convinced. If Tim was confident in his arguments and believed food banks proved his dogma right, he wouldn't have to distort the context they operate in, ignore the importance of politics, write out the experience of service users and basic intellectual honesty. Were it truth and rigour mattered more than power, this and similar nonsense would have got buried decades ago.