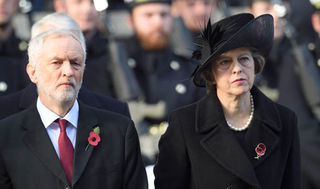 Who is running the best general election campaign? Well, it's obvious, innit. Jeremy Corbyn is. The Labour campaign is dynamic, there's a new policy every day, the leader is ubiquitous, and he's received rare praise from the media for being accessible and helpful. Contrast that to the shambles of Theresa May and the control freak effort Tory central office are running. She hides from the public, will not take questions on camera, is more awful than New Labour at its sound bitey worst, and indulges witless provocations. Compare the two and they're miles apart. If only polls reflected campaign quality, eh?
Then riddle me this. According to ICM, 41% of folks asked think the Tories are running a good campaign and 22% not. Meanwhile, the 21% are of the view that Labour's campaign is a goodie while 40% thinks it's bad. What the hell? Unless the poll is nobbled (very unlikely), how is it that ordinary punters can reach a mind bogglingly wrong conclusion? All too easily, I'm afraid to say.
Firstly, there is cognitive bias. Labour start from a long way back and many people most likely to vote have made their mind up about Jeremy Corbyn. As the local election results are dissected tomorrow this is sure to come up again and again. And so people asked this question about campaigns are likely to rate the figure they find more favourable over the one they don't. It's not fair, but that's how it is.
Second, social media has widened the net of those who obsessively follow political minutiae. And, yes, campaigns are minutiae. Running away from journalists and struggling with real people is jolly knockabout for the likes of you and me, but most people don't see it. They see a steely eyed woman staring down the camera talking about EU wreckers, saboteurs, and offering stability and leadership. Zone out from your own noise and zone in to what others see and hear. May is pitching her tent as a unifying figure who can take on Brussels skulduggery, and is offering hope and security to those who want to believe it.
That's the impression, and then there is the messaging. Labour have made all the policy running so far, and the Tories have offered empty slogans. We know, as a rule, our policies tend to be very well received - it's just that a plurality of the electorate aren't convinced we can deliver them in government. And so, if you ask people who've followed the election askance thus far, which is nearly everyone, they might remember the bank holidays and the 10,000 coppers on the streets, but that will be your lot. Contrast that with the messaging they will have picked up from the Tories. Strong and stable government. In the national interest. Coalition of chaos. It is awful and it does debase the level of political debate, but they do it because it works. When one of my colleagues offered around some Ferraro Rocher, exclamations of "Ah, ambassador!" went up, 30-something years after that ad campaign ceased. Repetition cuts through and can embed messages, particularly in times when electorates are turned off. In this case, by the perception there has been too much politics.
Why is an embarrassing mess favoured over a well-organised campaign? It's because, ultimately, people know where they stand with one over the other. The Tories are vapid but focused. We're policy heavy but sprawling. Labour doesn't have to go all Maybotic, but it should have a small number of punchy, repeatable phrases with the potential of cutting through to ensure the Tories don't have it all their way.