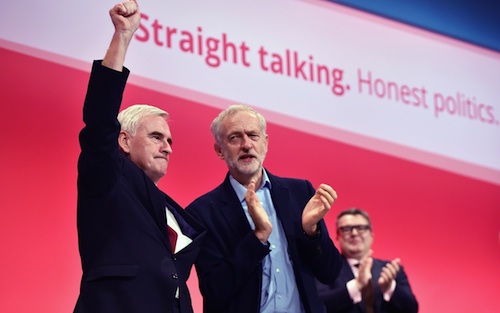 What were the most read posts last month? These:
1. For the McDonnell Amendment
2. Chuka and Dan: Jeremy Corbyn's Heirs?
3. How Opinion Polling Works
4. Gerard Coyne: Another Reason to Vote Len McCluskey
5. Theresa May's Surprise General Election
This month we come in a smidgen under 110,000 page views. Which works out as the fourth highest total ever, so I'm not likely to complain. Helping things along no doubt is, yes, more politics. There can never be too much politics as far as this blog is concerned. Though, interestingly, three of this month's five have nothing at all to do with the shock general election (which comes in at the bottom).
Top of the blogging pops is my argument for the McDonnell Amendment, the proposal to reduce the threshold a leadership candidate has to meet to be considered by the membership and affiliated supporters. Not far behind was my purposely mischievous piece on how the victory of Jeremy Corbyn has shifted the politics of the PLP. Whoever succeeds him, they need a leadership pitch that more or less covers the same ground. I almost fell off my chair when I read Chuka Umunna talking about workers' interests and the need for Labour to stick up for them! Third is a polemic against the anti-science nonsense peddled by sundry self-described Labour and Jeremy supporters who dismiss opinion polling as a Tory conspiracy. Funny to see them suddenly find favour after three reported a marked movement toward Labour during the course of last week. And in fourth is a look at Gerard Coyne's ill-fated and awful campaign for Unite general secretary.
Any recommendations for posts you may have missed? Of course! Two this month. First is on the sociology of camel toe knickers. Yes, you read that correctly. Check it out. And second is my chin-strokey review of Paul Mason's Postcapitalism - an essential work everyone and anyone interested in the fate of capitalism needs to read.