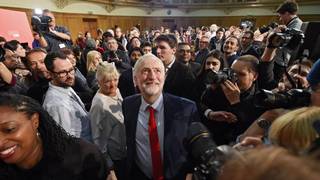 A few remarks to complement yesterday's consideration of Tory strategy.
1. Labour is massively behind in the polls. Whether you think they're wrong or not (I don't believe they are), they have material effects on campaigns and election outcomes. Some countries limit their use in the lead up to voting for a reason. We're at a disadvantage, and we're perceived to be at a disadvantage. On top of that, Jeremy Corbyn is viewed negatively by the public at large. The polls show it. Reception on the doors show it. Why that is has a number of roots and is something for after the campaign's conclusion, not now.
2. With the tide of public opinion against it and facing up to the worst press our party can ever expect to receive, Labour has wisely gone for a split campaign. In effect, Labour is going to be running 229 local campaigns defending seats the party holds, and a smattering of other locally-focused efforts where the candidate lost in 2015 but the margins are tight, and who-knows-what elsewhere. From perceived necessity, Jeremy is being filed away for the election by local campaign committees and the emphasis on x Labour person standing up for their area vs the Tories is on the cards. In other words, turning a national election into local elections is the pathway to safety. Good if you're an MP with a strong local record and profile, not if you've spent your time in Westminster "socialising" at Strangers and doing precious little else.
3. With the odds stacked against him, this is the Corbyn moment par excellence. Earlier in the year we were promised Trumpian-stylee populism, and now we have it. The Corbyn campaign launched on Thursday with a very clear us vs them message, meaning that already the party has a level of clarity we struggled to achieve in 2015. Will this make a difference? We shall see, but what it can do is a) motivate large swathes of the party's membership to hit the campaign trail, b) hope to draw the disaffected in its train, and c) force the Tories to respond. By putting the big issues upfront early and framing them, it makes the attacks and smears to come look cowardly and desperate, and it gives us an issue base from which to immediately rebut Tory policy.
4. This is what Jeremy is good at. His leadership campaigns from the last two summers were master classes. The task for his team and our movement is to repeat it on steroids. When the leader is up there addressing crowds, even when he's taking hostile questions from the press, he looks impressive. If there is hope for Labour, it lies in the ability of this campaign to get voters to take a second look at what he's doing and what his message is. It also conveys a simple truism: Jeremy is comfortable in public talking to and engaging with people. Theresa May, like a typical authoritarian, is terrified of them.
5. The local campaigns and the national effort don't have to be at cross purposes. Here in Stoke, part of our messaging is going to be around making Brexit work for our people - just as it was during the by-election. Likewise, messages around 'A Brexit that works for all' are starting to come out, and before the election was called work was being done in understanding what progressive policies could be adopted whose implementation would have been prevented by continued EU membership - a much more imaginative approach than Tory hopes for free trade deals with far off lands. As Labour is facing a LibDem threat in some Remain-voting seats, and have been pinned as incoherent on this issue by our opponents, unanimity on what a Labour-negotiated Brexit is essential.