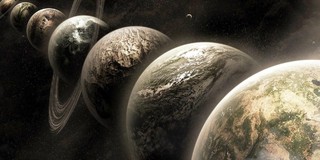 Remember popular crooner Gene Pitney? He had a string of hits in the 60s and 70s, and would probably be best remembered by us 80s kids for his memorable number one with Marc Almond in 1989. Subsequent to that, he spent a lot of his time on the road, gigging about and serving his loyal fan base. He was found in a Cardiff hotel room in 2006 after succumbing to a heart attack. It may be over 10 years ago now, but at the time I remember being shocked as I could have sworn reading about and seeing bulletins about his death some years prior. Another example. When I was a kid, one of my favourite cartoons was Ulysses 31, a sci-fi retelling of Odysseus set in the 31st century. It's actually one of the few kids' programmes that is better once you watch it with an adult's eye, by the way. Back then I just knew it as Ulysses, but years later everywhere on the internet referred to it as Ulysses 31. And sure enough, it's there in the opening credits.
Evidence of matters misremembered, or of something more sinister? What most would write off as memory lapses is apparently "a thing" that has attracted the attention of conspiracy theorists and assorted fringe characters. It even has a name: The Mandela Effect. So-called by one Fiona Broome, a self-styled paranormal investigator and "consultant", Fiona claims that during the course of an internet discussion in the mid-00s, she was surprised to learn that Nelson Mandela was still alive. According to Broome, she had memories of contemporaneous news reports covering his death in prison in the mid-1980s. Obviously, he didn't pass away until 2013. For Broome this can only mean one thing. It couldn't be that her mind lumped together the death of prominent activists, such as Steve Biko, with the never ending coverage of the violent struggle against the Apartheid regime, oh no. The explanation has to be altogether more exotic.
For Broome and the people who believe this sort of thing, it's evidence of alternative realities. Yes, you read that right. The memories are true, but what has happened is people who possess them have either crossed over from some parallel Earth (without realising it) or someone or something is tampering with our timeline, and these memories are traces of what went before the "interference". Jury is out on which is which. And so other popular examples of the Mandela Effect are people swearing blind the man who famously stood in front of the tanks in Tienanmen Square got run over by them, that American kids' books The Berenstain Bears had a different spelling and are therefore remembered as the Bernstein Bears by many as per the previous reality. And that Febreze dropped an e from 'breeze' as our timeline reconfigured itself. What a bastard this dimension-shuffling entity is.
And there you have the Mandela Effect, which must rank as the most irrational, eye-poppingly stupid conspiracy theory ever devised. If for whatever reason you require a debunk guide, knock yourself out.
Why am I wasting time writing about this crap? The first is the oft-noted issue of post-truth in popular culture and politics. The instances of people and organisations clinging to a belief system in the absence of and against available evidence is common enough. Previously the province of established religions and extremist (mass) political parties, in the post-war period this irrationalism went underground and found a home in alternative literature, occultism, Ufology, and conspiracy theory. Every so often it would explode into popular consciousness - a Holy Blood, Holy Grail here, a season of The X-Files there. But post-truth, which in the conspiratorial imagination has always defined itself as the hidden truth about the way of the world, and had a limited spread. Then came the internet, followed by the September 11th attacks, and the mainstreaming of its conspiracy theory. Yet despite repeated debunking, post-truth as it attaches to paranormal and parapolitical phenomena carries on long after the facts of the matter have established themselves. The relationship between signifier and signified, to use the language of 1960s French boffins, has collapsed. All there is is the sign - it has become its own reality.
Sometimes its easier to cling to made-up bullshit like the Mandela Effect if facing the possibility you might be mistaken about something is too hard to stomach. Or, the point about conspiracy theory as a prop some might find helpful to make sense of a bewildering complex world has been done to death here, as per elsewhere. What is concerning, however, is the way post-truth has insidiously infiltrated its way into the mainstream. In the era of snoring, boring managerial politics where everything's supposed to be about "best practice" and "evidence", the magical thinking of the post-truth movement is absolutely embedded in our political culture. You might say we've seen a Mandela Effect of comrades swearing blind Labour have led the Tories in the polls under Jeremy. More importantly, the disregarding of evidence by the Tories questioning their claims about shoddy weekend NHS services as they try and impose a new employment contract on junior doctors, and their blindness to study after study demonstrating grammar schools do not aid social mobility as they justify their expansion in the name of, you guessed it, social mobility, this disregard for facts, the acceptance of only convenient relationships to the world is deeply worrying.
The Mandela Effect is stupid and nonsensical, but the kind of thinking it typifies grips the imaginations of too many people. Poke fun at the silly conspiracy people by all means, but what is to be done about its pernicious grip on the mainstream?