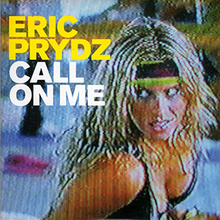 It wasn't one of my favourite dance songs of the 00s, but thanks to its video Eric Prydz's Call On Me is probably the best remembered, if not notorious video of that decade. And yes, believe it or not it's ten years to the day since its official release. If you really must watch it again here it is, and here's the even worse unofficial follow-up. They're not work safe or suitable for folk afflicted with ooooh matron! syndrome.
Bizarre it may seem now, Call On Me was something of a seminal moment. By the time of its appearance, a recrudescence of sexual objectification of women was well underway in music videos, and especially in rap and dance promos. This positioning has always been there but it was getting increasingly regular and, if truth be told, creepier. Whereas women were typically featured as dancers and/or ornaments hung on male popstars, the 'meta' music video by 2004 was all about sexual attributes. For example, Tim Deluxe's It Just Won't Do and Benny Benassi's Satisfaction typify the trend. Bums 'n' boobs were in like never before. So when Call On Me struck, dance culture had been softened up for it.
If you want to be generous, the video could be read as a flirtation between the instructor (Deanne Berry) and the token male dancer (Juan Pablo Di Pace). Albeit one mediated by a class full of women writhing around on the floor, squeezing their breasts, bouncing their backsides, bumping, squatting, grimacing, snarling. But all this pales before the moment. The camera pans down between Berry's legs and just as your eyes register the tiniest slip of her leotard, she starts thrusting her hips. It's enough to make anyone fall off their rowing machine, as Tony Blair reportedly did. Berry's legs fly akimbo, she repeatedly bends over, and the sliver of her costume leaves nothing to the imagination. Basically, the video is porn with a half-decent sound track.
Yes, porn. The early 00s were the great internet land rush. It became ever more indispensable and ubiquitous. And along with it came the spread of easy-to-find porn. Established adult entertainment firms and San Fernando start ups were readily exploring the medium with subscription-only websites, and using websites to sell DVDs - discreetly - direct to their customers. It also meant a lot of free content was swilling around bulletin boards, listservs, instant messengers, and proto-social media like Yahoo Groups. What was being viewed privately at home was impressing on public tastes, and bending it toward tolerance. Going by their risque content, producers of dance music videos were obviously informed by the aesthetics of porn, and its acceptance by wider society meant promos could get away with a lot more than had hitherto been the case.
Just how broad is what Call On Me points to - the ubiquity of genitalia. Since the first razor was marketed at women for shaving "unsightly underarm hair" prior to the First World War, the gaze, which is both male-centred and commodifying, has placed ever greater areas of women's bodies under scrutiny. It's as if the century slowly stripped women's bodies of autonomy and valorised a surrender to a power outside of themselves. The internet's take up accelerated this process. The conventional body type celebrated by magazines, columnists and TV shows aimed at women extended what is and isn't acceptable right down to what's inside their underwear. Apparently because of the practicalities of lighting, photography etc; the hegemony of the waxed/shaved vagina in porn became so ubiquitous that it quickly established itself as the new norm in wider culture. Sex and the City ran several stories on the theme. Magazines debated and raved about "smoothness". Hollywood stars would chime in and let it be known what they were rockin'. Cosmetics companies fell over themselves to provide more depilatory products, and salons sprang up offering a cocktail of options. And men, now habituated to the norm of bare lady bits in the same way women and men previously accepted shaved legs and underarms as "standard", pressed their partners into doing away with the bush. The vagina is now another zone to be patrolled and contested. Women's private parts are very much public parts, as the recent leak of stolen celebrity nudes reminds us.
Call On Me's video condensed these - then new - cultural logics into a few crotch shots. Its significance lay not in heralding what was to come. Semi-pornographic music videos remained fairly standard for the remainder of the decade and would have continued were this promo not made. Instead it marked what had already been accomplished; that vaginas were expected to be "presented" in a certain way; that this sensibility had gone utterly mainstream, and what had been concealed was for all to see and surveil. It announced on the 13th September 2004 that the aesthetics of the pubis had officially arrived.