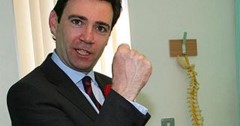 When was the last time you heard a mainstream Labour politician talk about socialism positively? It's got to be since before the 1992 general election, and definitely not while the Blair-Brown axis dominated the party. So leadership contender Andy Burnham deserves half a kudos point for daring to utter the 's word' publicly, but that's the only praise he'll be getting from me.
Unfortunately, but unsurprisingly, this renewed socialism or, as Andy likes to call it, 'Aspirational Socialism' is little more than a soundbite. The phrase is clearly designed to appeal to that significant section of the population who've never been embarrassed to label themselves as socialists, while flattering and seducing the swing voters with the promise of (upward) social mobility.
As Andy
puts it
:
I make no apology for it, rehabilitating the S word, it's on our party card, it's what I think we all are, but we haven't felt able to say it for 16 years. It is about everybody looking after each other, in its simplest expression. It's not about levelling down, but people coming together to let people get on and make something of themselves. Those kids without connections, the older people who have worked for everything and who want to keep it. It's a combination of new and old Labour, and that would be the philosophy that captures what I'm about.

The 'aspirational' is probably the most important word of these two words, because socialism should be about aspiration from my point of view.

In this country it's still the postcode of the bed you are born in that determines pretty much where you will end up in life, and we must be about redistributing aspiration.
This has to be the most spacious and empty definition of socialism I have ever encountered. What, pray tell, is the difference between this and the great Third Way wheeze of New Labour? Indeed, is Andy's understanding of socialism in anyway incompatible with the Tories' 'Big Society' guff?
Apparently Aspirational Socialism is going to be the ideological engine driving bold, new socialist policies Andy will unveil over the coming weeks. I can hardly wait.