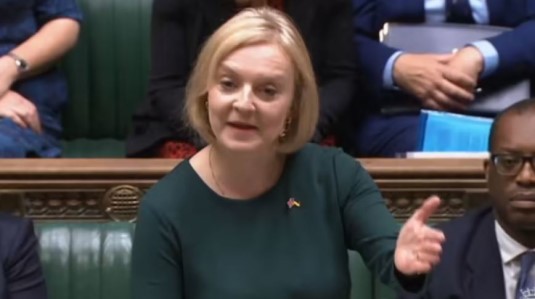 Just before Liz Truss became Prime Minister, we observed that she had one chance to get her energy price policy right. What I was not expecting was an immediate move to see through her tax cuts plan through. But that's exactly what Kwasi Kwarteng announced, undertaking the most self-destructive strategy any government of my lifetime has embarked upon. There's no doubt the economics of allowing the profiteers to profit won't lead to economic growth: the real problem is the politics, which are simply unsustainable.

When the pound tanked and sank to new lows against the dollar, when the interest paid on gilts (i.e. government bonds) shot up, and when the likes of the Halifax, Virgin Money, and Skipton said they weren't issuing new mortgages thanks to volatility in the markets, they were all doing Britain down and being negative and had nothing to do with the policy decisions made. The consequences of which include pressure on the Bank of England to raise interest rates to keep the pound stable (hello repossessions), and further inflation growth as the country's import-dependent economy has to find more money to tread water. Undoubtedly, what Truss and Kwarteng have done have ensured recession is more or less guaranteed, and that it will be sharp and damaging for millions of people.

Politicians can and do make mistakes, but considering how tax cuts were Truss's USP versus the more cautious Rish! Sunak, and the reams of data at her disposal, to suggest it's an honest error guv won't wash. It's either wilful negligence or quite deliberate. And if it's the latter, why?

As long argued here, the Tory party is as much a coalition of interests as Labour. For want of a better phrase, Toryism in its unfiltered form is a mess of tendencies and compromises articulating the views of sections of capital, large and small, with a very subordinate and increasingly unimportant strand of working class sympathy. Alignments shift and change, but there are two constants. The first, the primary reason for existing - as historically proven time after time - is the defence of wage labour and maintenance of class relationships. A position all Tory factions and fractions share. And the second is a commitment to preserving the role played by the City of London in global brokerage and finance. This is not only the goose that lays the golden egg, it ensures the British state and British capital enjoys an outsized pre-eminence on the world stage.

This is the axis around which different interest groups and factions circulate. But, historically, with the City at the centre those who have enjoyed most influence are those bits of capital with closest ties to the City. You just have to look at Tory MPs and ministers to realise this: every Tory government has literal personifications of commercial capital legislating for their interests every time the division bell is called. At least since 2010, the hegemonic interests in the Tory party have been (naturally) commercial capital, with finance and rentier capital, asset strippers and contracting out specialists, and labour intensive industries - some retail and hospitality, some agricultural, some logistics, and some (low automation) industry. Organised in hierarchical fashion, commercial and finance (loosely defined) are pre-eminent, but everyone has to gain something for the alliance to be sustained. Hence depressed house building, tax breaks for property acquisition, holding down living standards and making work more precarious, and so on. The Tories build out from this alliance to bring their mass support on board and are singularly skilled at it, with Boris Johnson's 2019 performance a master class in how it is done.

Truss seems to have partially broken with this configuration of interests, embracing a section of commercial capital, and a particularly short-termist one at that. As is widely reported, hedge funds with close links to the government have profited enormously from the shorting of the pound. By weakening the currency's standing the UK looks less an attractive proposition to invest in and more one conducive to asset stripping on the cheap - something that can only be exacerbated by Truss and Kwarteng's extension of state debt to protect energy profits and give tax cuts to the rich. This means another round of public sector cuts are likely, and with it more opportunities for outsourcing specialists to directly profit from manufactured markets underwritten by state spending. It appears to be Truss's reasoning that getting this done quickly will catch as so much carrion in the nostrils of vulture capital and have it swoop onto a fire sale of UK state assets and delivery contracts. With the most damaging aspect of her programme done, the Tories can then spend the next two years fulminating against "militant" trade unions and the usual targets in a renewed war on woke. And if the Tories lose, it won't be for nothing. For a beautiful moment in time, the most parasitic and socially useless formations of capital will have made a killing and well remunerated retirements beckons for Truss and her lieutenants. The mess can be left for Labour to clean up.

Trussonomics then has nothing to do with growth. And, indeed, it seemingly has little to do with the Tories staying on top of British politics. The cavalier way Truss has dispensed with the alliance of interests that supported her three predecessors is reflected in the opposition and rumours of opposition appearing right across the press. But no matter how risky Truss's strategy appears to be, ultimately the costs of the risk will be borne by those who stand to lose their homes, those dependent on public services for their survival, and those for whom the deliberate stoking of inflation can only make the cost of living crisis bite harder.