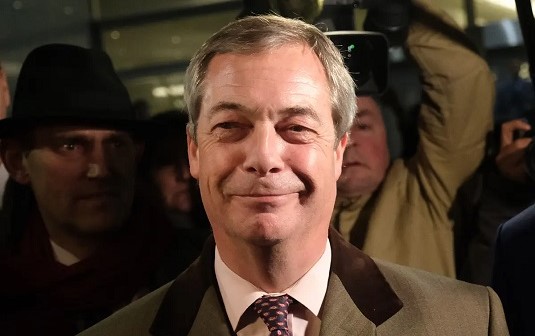 What happens to a politican when their objective has been completely, successfully achieved? Nigel Farage is a useful case study. Having moved from the margins to the mainstream, at least where levels of coverage and influence are concerned, his party made Brexit a reality. And thanks to the refusal of continuity remain to accept the result, Farage's career enjoyed four more years in the spotlight campaigning to get Brexit done and helping ensure the Tories got a handsome majority. And since? Shilling for Trump, nodding toward electoral reform with the Reform UK branding for his Brexit Party adjunct and ... getting sidelined thanks to Tory backbenchers and their mask obsessions and ostentatiously conspicuous wars on woke. Increasingly crowded out, whence does the rightwing political entrepreneur turn to cultivate a second stab at relevance?

Farage thinks he has an answer. Writing in the weekend's Mail on Sunday, Farage has launched a new "campaign" under the heading "The Net Zero zealots are the same elitists who sneered at Brexit and don't have to worry about paying their gas bills". No need for an in-depth analysis here: you can see what the game is from the off. Those soaring energy prices - nothing to do with oil and gas profiteering or recent events, it's them Islington-dwelling liberals again.

Farage writes that net zero is "net stupid". It will cost the country £1tn, according to unsubstantiated figures he attributes to former Tory chancellor Philip Hammond. Instead of importing energy Britain needs to sink those shale gas wells and get fracking. What better way for bringing down those gas bills? But this isn't just about helping protect our purses and wallets. Proceeds should be poured into a Norway-style sovereign wealth fund "for future generations". But it doesn't stop there for our Nige: new pits should be opened to fire a renewed steel industry, and it's lunacy for oil fields in the North Sea to lie undeveloped. For Britain to be truly independent, and not reliant on the whims of foreign despotisms, we must develop our own independent energy policy from our own resources.

The problem with Farage's critique of net zero and other green policies adopted by this government is that, like his attacks on the European Union of recent vintage, some of them are substantially correct. It is madness to ship manufactured goods from half-way around the world from countries with lower environmental standards. And he is right that a fair whack of sustainable energy subsidies end up in capacious, private pockets. It's outrageous the taxpayer is getting hammered on VAT for fuel to pay for the green stuff, he says. And what's the point anyway - Britain is responsible for one per cent of global emissions whie China chugs along with over a thousand coal plants to its name. We need a referendum!

There are a few things Farage misses out accidentally on purpose. Like his point about importing stuff from the four corners of the globe, but how Britain is not responsible for those emissions. There's the dismissal of climate concerns - nice to show he has zero concern for the sort of world his four children will be left with after he's gone. And as an avowed friend of capital, he appears incredibly close minded to the advantages of becoming a market leader in a world that can only ever grow more reliant on sustainable energy generation. And we should expect these gaps in his argument, because Farage's argument is not coming from an honest place. He doesn't even care about a referendum on net zero, just as long as he gets to hawk his mug around the press and the TV studios again.

We don't need convoluted arguments linking Farage to Putin and Russian energy interests to explain his anti-green turn. Remember, Brexit was not made in Moscow. Rather, Farage, like many of his arms length co-thinkers on the Tory benches, were incubated in the belly of the City, which was variously divided about its future vis a vis the UK's relationship to the EU. Surely it's no coincidence that various points of Farage's City career has seen him work with funds and firms close to primary resource extraction - a sector not known for taking environmental concerns seriously. Therefore Farage is habituated to relegating green issues to nought, a point reinforced by the sole occasion he voted for the Green Party in the 1989 European elections - because they were the only eurosceptics standing.

The problem is not that Farage will get his referendum, but the consequences of his high profile grifting. If he is able to capture media attention in the same way as last time, a new fissure could open up by mobilising the same forces that resulted in Brexit. Another round of division and rancour, the deepening of political alienation between generations, and a spin off industry of anti-global warming and climate change denialists with bigger audiences. This creates its own political pressures, one the Tories might adapt to if Farage's bandwagon enjoys any traction, and that could set back the country's slow ecological modernisation back even further. But in the end, Farage will have his profile again while those susceptible to his message won't be around to reap the harvest.