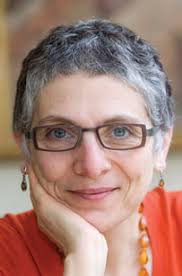 There are days I wish Melanie Phillips would act like a proper troll and only sally forth from under the bridge to harass passing goats. But as the
Daily Mail
columnist you love to hate, Mel wouldn't be doing her job if she didn't cause a shit storm once in a while. And that's what she's gone and done this morning with her latest rant, 'Yes, gays have often been the victims of prejudice. But they now risk becoming the new McCarthyites' (you can read the snappily-titled piece
here
without having to visit
Mail Online
).

In her latest broadside against The Permissiveness Undermining Our Nation and Endangering Your Children, Mel uncovers a secret plot hatched by the cunning homosexualists who pull the government's strings. As "part of the ruthless campaign by the gay rights lobby to destroy the very ­concept of normal sexual behaviour" the biggest threat to kids are no longer the perverts hanging round the school gates, but the gay propaganda infiltrating exercise books and course content. Witness the shocking imminent changes to the curriculum:

"In geography, for example, they will be told to consider why homosexuals move from the countryside to cities. In maths, they will be taught statistics through census findings about the number of homosexuals in the population.

In science, they will be directed to animal species such as emperor penguins and sea horses, where the male takes a lead role in raising its young."

Trigonometry exercises illustrated by pink triangles, crafts geared around the production of soft furnishings, French replaced by Polari, and Year Ones not progressing until they've learned how to spell 'tribadism' can only be a fey handclap away. In short, unless we stop this sick filth now our schools will become madrassas for queer fundamentalism. People will stop having babies, Britain as we know it will vanish and this sceptered isle will be open to colonisation by the Allah-worshipping hordes.

In the real world and not the one existing inside Mel's bigoted brain, it is entirely proper the curriculum normalises trans, lesbian, bi and gay folk. The Tories especially have a historical debt to pay as Section 28 was introduced on their watch - a debt Dave himself
has acknowledged and apologised for
- and any positive moves to making good on that should be welcomed. But despite the massive strides made in gay acceptance legally, culturally, and socially these last 30 years, homophobic bullying remains an unwelcome rite of passage for LGBT and straight kids alike. As this
BBC Report from 2007
shows, far from schools being the gay-friendly spaces Mel imagines them to be bullying remains endemic.

Not that Mel and her ilk particularly care. Like the
seriously deranged big mouths
across The Pond, Mel is a professional right wing provocateur. She knows as well as anyone her career as a columnist and media pundit would be done if she ceased raiding the circa 1981 Monday Club ideological grab bag. She ain't going to shut up as long as there's a buck to be made.

This material interest in continued exposure fits those of Mel's employers as snug as a bug in a rug. A market exists for reflecting back the bigoted prejudices of the angry and the alienated, and is one
The Mail
has long since cornered. But in Britain it has pioneered the capturing of a new and growing audience interested in right wing news 'n' views: that of the outraged left/liberal/Labourist/
Graun/Indy/C4News
milieu. DMGT doesn't care what those muesli-eating Marxists and the occasional lefty celeb are tweeting about, just as long as the newest slice of reactionary bilge upsets them enough to drive more people to the website so they can be disgusted and angered, and who in their turn drive more people to the website.

In short what DMGT have is a business model for successfully attracting large numbers of relatively well educated, relatively affluent people who wouldn't ordinarily touch their toxic rag with a pair of hazmat gloves. It's a stroke of genius: exploit your opponents' right-on politics and they will market your putrefying product across their social media networks for you.

Just remember that next time Melanie Phillips says or writes something stupidly bigoted and controversial.