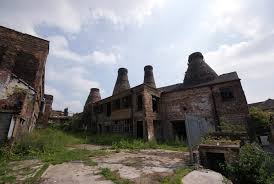 Over the last couple of weeks I've been on a short adventure in city regeneration policy. A fortnight ago I was down at Portcullis House in the Big Smoke for a morning discussion on
'Rebuilding Britain's Cities: Lessons from the UK and US'
. And the Friday before saw a day conference at Keele on the 'Socio-Political Challenges of Medium-Sized Cities' concentrating on neighbourhoods, health, and political leadership. The changes to health policy and the persistence of areas associated with deprivation, unemployment, crime, high morbidity were discussed in some rigorous detail, but I would like to concentrate on that day's final paper by former MEP and council leader, Mike Tappin. His topic not only serves as a bridge to the Portcullis House discussion but is one of crucial importance for all cities negotiating the treacherous rapids of regeneration: the problem of political leadership.

Mike's paper, 'The Governance Challenge for Stoke-on-Trent: A Study of System, Economic and Political Failure' didn't pull any punches. It really was a frank look at the multiple contributors to Stoke's decline. First, Mike flagged up the spatial dimension. Rather than following the "traditional" centre/periphery model of cities, Stoke is a polycentric city. It is as if drawn out along a South East to North West axis. It comprises the six towns that federated to form Stone-on-Trent in 1910, but in practice (according to previous work undertaken by Mike) the city is sub-divided into 56 more or less discrete "villages", which lends The Potteries a very strong cultural and political localism. This is reinforced by the bypassing of Stoke-on-Trent by the M6, poor internal road networks (for example, Potteries Way - the inner city ring road - has been only half built for over 20 years), and a not altogether praise-worthy public transport system. When 34% of city households are without a car this is a big problem.

Like many medium-sized industrial cities Stoke has suffered economic decline. In the 1950s 70,000, 10,000+, and 20,000+ workers were employed in ceramics, steel, and mining respectively. By 2001 those figures stood at 6,000, 200, and zero. In the 1971-81 period (before Thatcherism began to bite), that decade saw the loss of 28,000 manufacturing jobs and the closure of two local collieries. Additionally, because of the dependence on the potteries, Stoke possessed something of a counter-cyclical economy. When Britain entered into recession the devaluation of sterling boosted Stoke's exports abroad, allowing it to buck the trend. Since 1981, for all intents and purposes the potteries are the only significant economic survivor of the early period. Manufacturing - including ceramics - accounts for below 20% of local employment. Distribution and retail have taken up the slack of private employment.

The unemployment figures more explicitly tell the story of Stoke's decline. In the 50s and 60s unemployment averaged at around 3% - roughly 2,500 people. Through the 70s to most of the 1990s it hovered around the UK average, but in this last decade it has become a major problem. In February 2009, at the start of the recession, 24.1% of the workforce were unemployed, and 43% of that jobless total had been out of work for five years or more. Taking together JSA, incapacity benefit, and income support, 55,550 people were dependent on benefits in some way in North Staffordshire. For Mike, this has bred a 'culture of contentment' whereby aspirations are atuned to the income one receives from benefits, therefore helping to culturally lock Stoke into a perpetual cycle of economic water treading. This can be seen in educational attainment. Whereas the West Midlands average for NVQ levels 2, 3 and 4 are 61.6, 42.3 and 24.5 for the working age population, the respective figures for Stoke is 53.8, 32.3 and 14.4.

Mike argues the city's economic problems are exacerbated by its political difficulties. From 1977-96 Stoke was governed by the County Council based in Stafford, reducing the Potteries to the status of a district council. This led to a two-tiered political culture where the brightest and the best "went south" while the "b team" remained at home. In 1996 the city was made a unitary authority (Mike would have preferred a broader N Staffs authority commensurate with the city's economic footprint) and off the back of the national wave against the Tories, Labour romped home that year with 60 councillors to nil. From 2000 on the Labour party began imploding, seeing its vote collapse from 40.75% at the start of the decade to just 25% in 2008. Matters weren't helped by a switch to an elected mayoral system in 2002, only for it to switch back
six years later
. Independents and the BNP started making inroads at Labour's expense, but were checked at the 2010 local election. Labour gained 13 councillors off the back of the general election turn out, and has since recruited another councillor who crossed the floor. Labour now governs in a coalition with the Conservatives and Independents Alliance, LibDems, and the City Independent group.

So much for the form of local politics. What of their content? Mike identified five interrelated problems: the poor quality of local councillors; a clear lack of bold strategic thinking in any of the local parties; the culture of localism; the absence of a civically-minded educated middle class; and lastly, the tendency of the system and parties to store up long term political animosities.

On top of political instability, there has been a constant churn in the city's administration. 2001-10 saw the council get through six chief executives, five directors of social services, and three finance officers. This lack of inbuilt expertise has seen the Council pay out (on average) £6m annually to various consultancies. Even worse, up until the government's bonfire of the quangos, city governance was parcelled out among the City Council, the Renew Housing Partnership, the N Staffs Regeneration Partnership, and Local Strategic Partnerships. It's pretty clear who was responsible for the traditional functions of local government, but which body was in charge of the regeneration process?

These problems have been partially addressed by a governance commission that was appointed in 2007. Its brief was:
1) To consider options about future governance arrangements for Stoke-on-Trent Council to deliver that strong, effective and accountable leadership that the city needs to address the economic, social and cohesion challenges which it faces.
2) To give consideration to governance across the wider public/private sector and to the importance of economic regeneration and community cohesion.
3) To consider the relationship between Stoke-on-Trent and the wider sub-regional/regional/national bodies including other Local Authorities and their partners within the region.
It recommended the setting up of a further body - the
'transition board'
- to make
further
suggestions for sorting out the city's governance. It concluded by favouring all-out four-year elections, single member wards, fewer councillors, member development, more devolved decision-making, working to improve the council machinery, and improving community engagement. After much wrangling councillors will be reduced from 60 to 44, and council ward boundaries redrawn with the majority of them becoming single member (owing to behind the scenes fudges, some will move to two member wards, and one will remain three member). For Mike this strikes at the root of many of the petty rivalries that have grown up between councillors representing the same patch, and the move to four-yearly elections allows the necessary space for longer term strategic planning.

But this doesn't go far enough. He would like to see the council concentrate on core functions and, in the longer term, help voluntary organisations and social enterprises take over some of the ancillary services it currently provides. He wants to see a drive to develop the civic capacity of Stoke's communities to produce the ambitious and competent cadre of politicians the city needs. And Mike also called for more cooperation between N Staffs councils, businesses, quangos and other interested bodies to deliver a proper plan for the city and its hinterland.

While I didn't agree with all of Mike's presentation, it did provide plenty of food for thought.
Regards 'civic capacity' this is where political parties come in. At the moment Stoke Central CLP is in the process of renovating itself. For the first time in years it's been conducting regular political work inbetween elections, which the party is starting to reap benefits from in terms of new recruits and, for want of a better word, "reconnection". Similarly internally the party is rolling out a programme of political education in conjunction with activism to develop all members' strengths. The culture of bureaucracy and deference is slowly being eroded, allowing space for new members to grow and assume responsibilities. But this process is long, slow and painstaking.

A civic culture, according to Will Hutton, is one of the "soft" cultural props a successful and sustainable capitalism depends on (and, I would argue, an essential component for socialism too - but we'll leave that by the by for now). Its absence in Stoke is one of the contributing factors to a generalised lack of internal capital accumulation that could see the city out of its doldrums. Therefore this isn't just a problem that can be boiled down to atomised working class communities and privatised individuals: it's one that afflicts existing business elites too. I don't want to say much more as I'm involved in a couple of projects on the issue of civic culture and political participation, but as we shall see in the next post, there are important lessons that can be drawn from American experiences of declining cities.

Lastly, one cannot disagree with Mike's view of time-scale. Whatever regeneration strategy tickles your political fancy it has to be long-term and consistently pursued. I grew up in and around Derby. Though it has its own set of persistent problems and inbuilt advantages, 20 years of a tenacious pursuit of a coherent regeneration strategy has transformed the city to the point where it has the
highest workplace wage base
outside the South East. While Stoke's situation is such that it's unlikely to achieve parity with its more affluent neighbour, it is a useful exemplar of what vision and determination in local government can do.