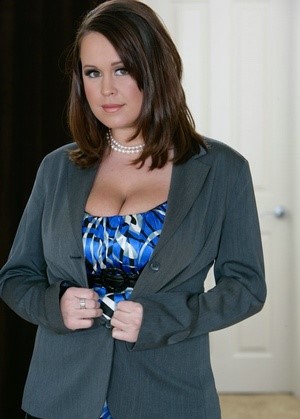 Last Sunday's
Hardcore Profits
was must see viewing for anyone interested in the commodification of sex in contemporary capitalism. In
Hardcore Profits,
"
Tim Samuels
explores the rising pervasiveness of pornography, discovers how new technology is changing porn, and questions porn films' reluctance to portray safe sex on screen." All of this is linked to money - big money. According to a guestimate by the American porn industry's trade publication,
Adult Video News
, its value was somewhere in the region of $13bn. That was three years ago.

Samuels reveals there are some surprising names with their snouts in the porn trough. In Britain Sky and Virgin take a cut from individual subscriptions to the adult channels doing the rounds on cable and digital. So when Jacqui Smith's hubby went on an evening's fact-finding mission with
Dirty Debutantes
, chances are some taxpayers' cash ended up in Rupert Murdoch's pockets. Google and other search engines also trouser porn money through adsense and preferential rankings. Samuels also brands the biggest purveyors of porn in Britain happen to be wholesome family-friendly companies like Vodafone and 3. According to an industry expert he interviewed, the mobile porn market is worth $1.7bn with projections of it rising to $4.6bn by 2012. On top of all this the big hotel firms make a packet from the pay-per-view porn they pipe to their rooms. And lastly Visa and Mastercard make a healthy margin from charging porn firms a premium on internet-based card transactions. According to Scott Cotman, CEO of the free PornTube site, this amounts to 1.5% extra over and above what straight businesses have to pay.

With this cash sloshing around Wall St have started showing an interest. Samuels meets up with Francis Koenig, founder of the
Adultvest
hedge fund. It is unique because it only invests in the adult entertainment industry. Since launching in 2005 the fund has - according to Koenig - been catapulted into the top quartile for investment returns. Asked about who has invested in the fund Koenig keeps mum. This isn't surprising - the two funds he runs require
$100k and $1million
as base investment. The steep entry level rules out everyone but wealthy individuals and institutional investors.

The influx of big money and the demands for large returns has led to unforseen social consequences, quite apart from those
traditionally flagged up
by feminists. The health of pornographic actors frequently comes second to the aesthetics of fucking. In short condoms are out because sex looks better without them. When three female stars contracted HIV in 2004, the studios adopted but quickly discarded condom use (Wicked Pictures remains the only studio where condoms are mandatory). The only precaution the industry has taken is compulsory monthly testing for all (registered) performers. One actor, Randy Spears, notes this is woefully inadequate. The big customers of porn - the hotels that buy it for pay-per-view for example, could make a difference by bulk ordering porn that promotes safe sex. And yet they don't, leading Spears to conclude another HIV outbreak is likely (in fact there was a small scare
this June
).

In the age of globalisation unforseen consequences can spread well beyond the porn sets of southern California. Samuels takes off to Ghana and finds how porn is invading even the most remote of villages. He meets up with Earnest who's trying to promote abstinence-based HIV prevention. But we soon find out he's competing with mobile porn cinemas that get hauled around the countryside. According to interviews with some of the villagers this has led to an increased frequency of rapes and marital breakdown. If this wasn't bad enough the Ghanese
AIDS commission
sees the corrosive effect American porn has on its work. In the opinion of its director general, one legacy of colonialism and Western hegemony is an acceptance of the superiority of its cultural artifacts and norms over Ghanese customs. So when they see Americans having sex without condoms young men are likely to follow suit. Samuels speaks to Kofi and Frank, who are HIV positive. In the absence of sex education they learned about it via porn and did not pick up on the importance of condoms.

Unfortunately Samuels' report slightly disappoints on three counts. While the big firms are asked to provide statements on the place porn occupies in their business (Visa, Mastercard, etc. gave non-answers and empty spin) they are not challenged about the more testy issue of condom use. Second, little is given over to the misogyny underlying mainstream male-oriented straight porn. It is touched on occasionally in the discomfort felt by one actress and the objectifying/dehumanising reduction of women to genitals and sex acts, but more could easily be made of it. This is just as critical an issue as condom use - if porn is the main sex education received by millions of young men then it will affect their perception of and behaviour toward women. Third there is a question of timing. It would appear the film was shot before the economic crisis kicked in early Autumn last year. Since then the porn industry has proven to be anything but recession-proof. According to
this piece
in the
LA Times
, the recession has driven traffic away from DVDs and paysites to free porn. The result has been falling revenue for the studios, fewer productions, declining rates for work and reduced hours for performers. If you're a top-ranking star you should be okay. But for those who are not there is an increasing competition among models, a competition favouring women willing to do more and more extreme performances. Despite this porn is more pernicious than ever. Ironically economic crisis is now driving its expansion as the main players fight for their share of the free to view market by offering up more material for nothing.

These criticisms might be unfair. After all I haven't seen the second part of the documentary yet. But whatever conclusions the film has reached, it offers a glimpse into a complex world socialists need to get a handle on.