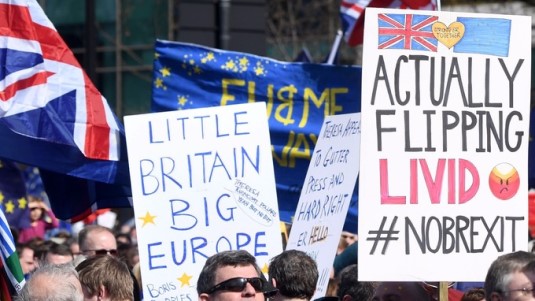 Hallowe'en is now over, but the horrors October unleashed are just beginning. Here are the five most popular posts last month:
1. The Bourgeois Politics of the People's Vote March
2. When Centrism Tanks
3. Ten Points about Brazilian Politics
4. David Davis's Brexit Fantasy
5. Theresa May's Pitch to Labour MPs
If you want to understand politics, a class analysis is part of the basic kit. Though be careful, some people really don't like it - as the piece looking at the elitism at the heart of the so-called People's Vote Campaign and march demonstrated (loose end tier-upper here). This came not long after Chuka Umunna burnished his radical, street politics cred with the launch of another centrist identikit think tank. Still, £65k for 12 hours a month is tidy work by anyone's reckoning. Who wouldn't talk wonk shit for that? In third came my consideration of the first round of the Brazilian presidential election results. If only Bolsonaro was so placed. And in the rear we have Theresa May and David Davis, people who, one hopes, no words will have to be expended on come this time next year.
Who's up for a second chance airing? It has to be our mate Gilles Deleuze with an excursion in how his philosophy can help think about the authoritarian turn in liberal democracies.