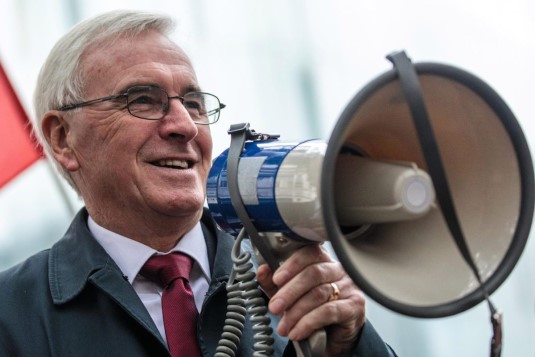 A question to everyone who thinks Jeremy Corbyn and the current Labour leadership aren't much cop. Can you imagine a Tory chancellor, a noted fiscal hawk, proclaiming the end of austerity if Labour wasn't an effective opposition and hadn't made the running against the cuts? And the honest answer, of course, is no. It says something about the growing hegemony of the left that the likes of Philip Hammond are forced to ventriloquise its programme. And yet, just to reinforce the point this was a Tory budget, there is the movement of the 40p tax threshold, of raising it from £45k to £50k from 2020 onwards. There is no economic necessity behind the move, Hammond chose to do this for naked political reasons. And this is where things get interesting.
From the standpoint of the slow-burning Tory crisis, Hammond's tax move was aimed at preserving their declining voter coalition. The reasoning goes that by offering a subsidy to higher earners support for the Tories will be shored up, and make the difference among those layers tempted by Corbynist fare. It's a bet that hundreds more in the pocket is enough to make better off voters forget the mess and the cruelties the Tories have dished out. This then was no attempt to reach beyond but preserve, conserve their vote, but one that falls short of the narrow requirements of party interests. When support is literally dying and not getting replaced, one might suggest something with a broader appeal might be considered.
Then came a curve ball: John McDonnell has decided to accept this move, and drawing down criticism from the soft left and the usual suspects in equal measure. Yes, it's a bizarre spectacle to find erstwhile Blairites and Brownites criticising and rebelling against the party on this when, had either of their heroes done the same thing, you know they would have hailed it as a master stroke. See, for example, the contemporary praise for New Labour's pledge to stick to Tory spending plans for the two years following 1997. But, as Stephen Bush points out, most members tune out complaints from habitual bellyachers unless they're going out their way to attack the leadership. Still, it is a move not without risk as plenty of front benchers have criticised Hammond for prioritising this cut over and above the urgency with which crumbling infrastructure and the ever-present threat of climate change warrants. And by implication, criticism of Tory taxation plans is now a critique of Labour's.
What then is John's game? Why is a shadow chancellor unafraid of publicly commenting on his debt to Marx set on giving premier league footballers, FTSE 100 CEOs, and A-list TV personalities 900 nicker a year at the public's expense? As Stephen rightly suggests in his piece, there is a desire not to hammer the professions whose salaries often cluster in the £35k-£50k range. They're part of the Corbynist coalition too. But I'd also suggest it's about heading off future Tory attacks. Labour could commit itself to the most demented Friedman-Hayekian programme of flat taxes, privatisation and market fundamentalism, and the Tories will still paint it as a tax and spend party. By accepting Hammond's tax plan it does two things. It helps insure the next manifesto against attempts to reduce questions of economic competency to taxation - just as Dave and his media helpers managed in 2010 and 2015 with the deficit - and blunts Tory attacks. There can't be any smoke if there's no fire. This also gives Labour more room to pivot scrutiny onto Tory weakness, which is pretty much every aspect of their record. They are vulnerable on investment, growth, quality jobs, homes, and government debt.
Nevertheless, it is a funny business, an uncomfortable business for a left wing would-be chancellor to go down this road. Especially when there's no end to the benefits freeze in sight and public sector wages remain depressed. To add bite to the party's position, Labour could consider the possibility of introducing additional tax bands for higher earners, and other measures like beefing up Hammond's social media tax. Both would please the base and defend the leadership against charges of cynical positioning, as well as finding another angle to add punchy, populist policy to the next manifesto. While no doubt the Tories would try piling in, suggesting the likes of Jeff Bezos and Piers Morgan shouldn't pay more tax is not the stuff of which a popular politics is made.