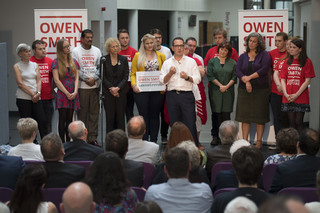 I was a bit naughty talking about Owen Smith a couple of days ago. I kinda implied he was almost entirely anonymous and were it not for the public scrapping at the top of the Labour Party, I don't think he'd have gone down in history as one of our most able parliamentarians. That is not to be the case. Having been picked as the 'unity' candidate to run against Jeremy by the PLP majority, there is an opportunity now for him to seize the limelight and make a real name for himself. It's therefore time to give his candidacy the once over.
Owen's back story. Well, it's not the most compelling, is it? He followed the PR-lobbyist-MP route into Westminster which, to be blunt, is unlikely to endear him to many people. As there's an over-preponderance of such people already on our benches it's not going to help him stand out any (and yes, in case rabid Owen fans are already in existence and reading this, I'm fully aware that Jeremy is no horny handed son of toil either). Where policies go, there wasn't much to write home about until his launch a couple of days ago, of which more in a moment. Appearing on Newsnight semi-regularly, he didn't really strike me as much of an ideas man. Someone who can play the Westminster game, certainly. A politician competent in his brief and knows what to do in front of a camera (mostly), yes. But again, nothing stands out. Say what you like about last year's contenders, they each had something distinctive to offer and, yes, some substance too. I'm afraid to say that prior to his launch, all I knew about Owen was that he thought Jeremy should go and that he wants to be leader.
All that said, I think he enjoyed a very good leadership launch. It was more competent than Angela's late and unlamented affair and did what I think a challenger to Jeremy needs to do: he talked about policy from the get go. He scooped up Ed Miliband's baton (seeing as the PM relinquished all claim to it a short 24 hours later) and pledged to put equality at the heart of his policy agenda, including a totemic rewriting of Clause IV. He endorsed anti-austerity politics, a huge infrastructure fund, serious action on climate change, changing the law so Parliament decides on war, not Prime Ministers, and renationalising the rail. Who seriously can argue with such a policy line up? Perhaps the gruel I've imbibed for years is too thin, but I think it's quite a compelling platform. To win over those who fell in and out of love with Jeremy and the floating members, it needed to be. And were it on offer from the anyone-but-Jez camp last year, we might not be where we are now. However, a symptomatic reading of the launch reveals two significant silences. Trident was one, and his hankering for "progressive" immigration controls the other - positions I don't think disillusioned Jez supporters would find seductive, and by their omission Owen is aware of that too.
His big eye catcher though, which didn't get floated on the day, was his Europhilia. Calling for a second referendum on completion of May's slow Brexit (whenever that will be) is smart politics now because, firstly, the leader's support was and is mostly pro-EU, and secondly there are still millions of people politicised by, though not necessarily in a radical direction, by the referendum result. Remember, three million signed a petition calling for a re-run, and greater numbers (16 million) voted remain than has ever for a winning party of government in a general election (yes, yes, not proportionally, but the point is a substantial pool of voters are there).
Owen has problems though. While I liked his Citizen Smith pitch, his past will come up and bite him just as it has done Jeremy. Others have made hay out of Owen's involvement in PFI lobbying, on being more Blairite-than-Blair, of clapping through the academisation of schooling, and accusations of fibbing from noted Jez ally, John Mann. To me, at best this paints Owen as a politician who goes with the flow and says what he thinks has to be said to get on, much like how Labour unilateralists of the 1980s became Trident's biggest fans in the 90s. At worst, it suggests he is disingenuous. When anti-politics, some of which is informing Jeremy's support, is sick of less-than-straight politicians this is a significant disadvantage that could dog Owen over the next couple of months. Owen's second problem is his tendency to walk into rakes. The daft comment about Leanne Wood and the "being normal" silliness are quite petty in the scheme of things, but with the future of the party at stake it won't be the jibes online that do for him - it will be himself unless he gets a handle on this unfortunate habit.
His other big disadvantages, is - talking with comrades last night, both of whom are supporting Owen - that by standing as the unity candidate he is de facto the establishment candidate. His platform is a break from last year's hopefuls, but uniting party elites to beat a populist figure is what the anti-Jeremy team desperately needed to avoid. After all, pitting elites against 'the people' has worked well this year so far. The second big problem is there is little to no recognition of why Jeremy won in the first place, nor that politics and the party itself is undergoing a process of recomposition. If you cannot acknowledge that fact and think about what needs to be done, your insurgency is over before you've made the first phone call. Like the hapless coup plotters in Turkey, you cannot win if you plan for yesterday's realities. And lastly what applied to Angela's leadership bid now becomes his problem. There are forces supporting him now like a rope supports a hanging man. If Owen wins, and I think there is an outside possibility he could, he and the whole party knows he's on borrowed time. The so-called A-listers still have their designs on that office. What Owen will find hard to rebut is his being a foil for other people who'll push him aside when the opportunity arises.
And there, dear readers, is Owen Smith. Support him, reject him, praise him, condemn him. He does deserve some credit though, and this applies equally to Angela. Putting up against a popular party leader (at least among the members) is potential political suicide. He could well be feeding his career into the shredder. But in so doing he's shown more courage and leadership than all of the "big names" hiding behind his campaign, and for that I commend him.