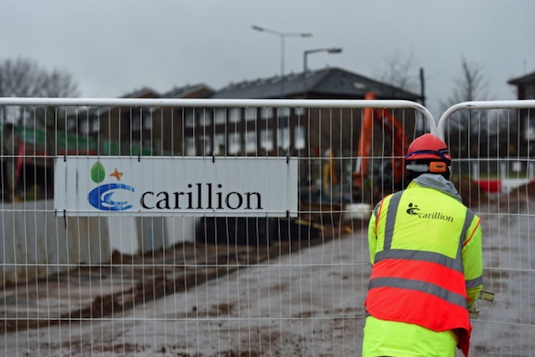 Love him or loathe him, John McTernan is a useful fella because he's one of the few commentators the Labour right have got who plainly, and sometimes bluntly, states their collective position on an issue. No shilly-shallying, no fudging. That doesn't mean he's right, as his latest piece in outsourcing demonstrates. What John demonstrates is the managerial/technocratic approach to politics as opposed to, um, a political approach to politics. Que? Let's look at his argument.
For John, there are three great things about outsourcing to companies like Carillion. Private companies can deliver public services well, the risk of failure is privatised, and public services are delivered cheaply. It doesn't really matter if these companies fail because contracts can be transferred over, shareholder value is lost and we lose a cadre of suits - big deal. As for jobs lost, while this is "disruptive" John points out we are seeing the tightest labour market since the 1970s, the implication being there are opportunities enough out there. The wider point is when you set it against other big government departments that don't practice outsourcing on a huge scale (he cites the Home Office and the bungling of Universal Credit), you have multiple inefficiencies and failure. Contracting out introduces accountability into the system.
In its contact with reality, John's argument falls to bits. The claim Private Finance Initiative schemes - the sort Carillion were heavily involved with - are cheaper and better quality is simply not true. According to the National Audit Office, schools and hospitals built using PFI schemes are more expensive than if the state borrowed the cash and built it itself. On accountability, well one might suggest there is a better way to keep companies (and state institutions) honest than market signals, and blatant conflicts of interest. And as for the privatisation of risk, what risk? When the state is a guaranteed customer, where is the risk? Again, as with so many claims made for market efficiencies, they're not based on fact. Indeed, they're refuted by fact. Instead it's supposition, the idea that profit making makes enterprises lean and efficient is stated as if its true, a piece of hocus pocus no amount of corporate failure seems able to dispel.
More dangerous, however, is the politics. John treats outsourcing like a management exercise, but it is not. When anything is outsourced to a private provider, they take up the contract because they're in the business of making profits. And this usually means cutting costs. Often, this involves taking on new staff on worse pay and conditions (despite TUPE), skimping on the service provided, using cheaper and shoddier materials, and increasing the casualisation of labour. For example, before my mum retired she was a home help for the county council. In the last couple of years the way she and other workers went about their tasks changed. Out went time to sit with and talk to pensioners receiving the help, and in came the well known (and well reviled) telephone check-in system. As soon as the job was done, she'd ring the number, walk to and ring in at the next client. Meanwhile, the care was partly outsourced to a private provider. The remaining staff were still employed by the council, but new starters were taken on by the company at minimum wage, which was much less than what mum received.
For John and the outsourcing cheerleaders, this is fine and dandy. Money saved, yes? No. Lower wages for the new staff meant higher rates of top up via the benefits system. The imposition of clock tyranny brought with it micro management by the providers, which meant higher staff turnover and a diminution of the care ethic. No time to chat to the clients, who were often house-bound elderly people who otherwise see someone once in a blue moon, meant they too were alienated from the care and suffered the consequences of increased loneliness - something the government now pays lip service to. This doesn't save money. For a few thousand here, a few thousand there off the council's care bill we find costs displaced onto social security and, given the rise of mental health problems among the elderly, is no doubt a contributor to the (manufactured) strain on the NHS.
And what about the political costs? Outsourcing is absolutely corrosive of the social solidarities the Labour Party depends on. If you're an old person receiving poor quality care from a young woman on the minimum wage, are you likely to feel sympathy with their difficulties? If you're a young woman shuttling from grumbling pensioner to grumbling pensioner for pittance pay, are you going to pay any mind to problems affecting the elderly? It's all very unlikely, isn't it? And neither are going to thank the Labour council ultimately responsible for this state of affairs. Now imagine this writ large. What do you suppose outsourcing has done to our communities? Think about the declining quality of jobs, the casualisation that means Britons have to work longer, on average, than our European counterparts. Think about the atomisation, the fraying of communal bonds at work and in the community decades of these practices are responsible for. That is why, rightly, trade unions and the left are opposed to outsourcing, because it makes life harder and damages our interests, which makes selling our politics that much harder.
It should be basic labour movement politics, really. If there is anyone who lays claim to the left and lays claim to the Labour Party while advocating this nonsense, you would be wise to think "with friends like these ...".