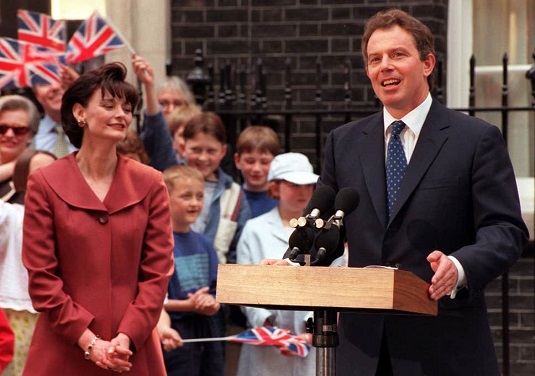 Is Tony Blair Labour's greatest ever leader? John McTernan certainly thinks so. He lays out Blair's stall and talks up the nice things he achieved in office. It begs the question, what is wrong with those people who grumble about him? Rising employment, stable public finances, the minimum wage - Gordon Brown couldn't have inherited a better set of policy achievements. It must be that Blair refused to nationalise the top 100 monopolies, and didn't squeeze the rich until the pips squeaked. Or perhaps it's because he won three consecutive elections by sticking dead centre and ignoring the advice/demands of the left. Only the embittered argue with success. But is that it, really?
Disclaimer time. As Blair took the reins of the Labour Party I was being radicalised. Apart from a very, very brief moment in 1996 when I thought about joining the party, I always had Blair down as a wrong 'un. The smooth patter and coiffured sincerity never chimed with me. Then again, teenage Trotskyists were not the priority swing voters Millbank wanted to win over. Wind history forward to now and as a relatively dull and sensible socialist Blair strikes me still as less charm, more smarm.
None of this would matter if his achievements were legacy-defining. But to describe them that way is to throw a sack over the historical record and give it a good thumping. For me, Attlee was. Thatcher was. But Blair? It all depends on how you look at him and what angles matter to you and your politics. On John's part, it's public services, rights at work and, of course, winning elections. Funnily enough, these things matter to most Labour Party people too, so that's where I'll drop a few words.
On public services, yes, lots of nice new hospitals were built. Building Schools for the Future - before it was cancelled by the Tories - ensured hundreds of thousands of children won't be sitting in cold Victorian buildings and rain-stained portakabins. Add community centres and fancy buildings for the government bureaucracy in old London town to the pot too. All good stuff, I'm sure you'd agree. But what's that oil in the lemonade? Oh my, the slick has a distinctive shape. It's spelling out three letters: PFI.
Yes, the Private Finance Initiative. The process by which a hospital worth, say £500m, ends up costing the public purse double or triple that amount. A scheme that was cooked up while John Major was still haunting Number 10, Blair and Brown made it very much their own. Basically you get a private contractor, such as Balfour Beatty, to build you your school, hospital or whatever and then over a period of time (usually 25-30 years) the public sector organisation that inhabits it pays off a mortgage. Services are also usually locked into expensive maintenance contracts too. As per the decadent character of our ruling circles, it was designed to reap short-term political capital by keeping new infrastructure costs off public spending figures. The pain, however, is long-term liability. It will cost the taxpayer many more billions in the long-run than if the government had simply paid out for the buildings. George Osborne has occasionally singled out PFI as proof of the last government's profligacy (curiously, he didn't raise his voice in opposition at the time). So concerned about the great PFI rip-off is he that the government are committed to a PFI wave of their own. Osborne and friends have never had a problem with socialism when it's for the rich and sadly, neither did Blair.
How about the workplace, the labour movement's front line. Did things get better under Blair? Setting aside the minimum wage, I'm interested in the balance between capital and labour. The "new rights" granted trade unions were mandatory recognition in workplaces of 20 or more workers if half of employees voted for it - a vital "in" after a period where unions more or less operated underground in many an office and factory. At the same time, New Labour strengthened maternity leave and introduced two weeks paid paternity leave and can lay claim to piloting equal rights at work through the Commons. Again, why grumble? The bulk of the achievements here - welcome as they were - are individual rights, not collective rights. Does this matter? Of course it does. Stronger unions mean fairer workplaces and less inequality in wider society. Time after time employers and employees skirmish over pay, holidays, pensions, the work process, managerial authority, and so on. Blair's reforms, ultimately, did not enhance the capacity of working people to press for greater freedoms in the job. In fact, the number of workers covered by collective bargaining fell.
You see, it is impossible to to assess Blair's record on workers rights without looking at his wider policy agenda. Across the public services - local government, the NHS, education, the law, the post office - New Labour strengthened internal markets where they existed, introduced them where they did not. Public institutions were obligated to contract out certain services to the private sector. For workers, this meant pay cuts, a worsening of conditions, the closure of final salary pension schemes, and an upsurge in part-time, insecure working. In short, the technocratic fantasy that markets deliver greater efficiencies was then and remains an article of faith, but Blair's commitment to it severely undermined Labour's base. The Tories never make the mistake of hammering their constituency, and neither should we.
Lastly, those general elections. I've come across many otherwise sensible Labour people who have allowed three election victories under Blair crowd out their critical faculties. Of course, yes. It is a superficially impressive achievement. But Blair's victories were hardly alchemical. It's a truism that governments lose elections, oppositions don't win them. And in 1997 Labour was blessed to be facing an exhausted, scandal-ridden and divided Tory administration. Had John Smith not died prematurely Labour were still on course for power - returning Major for a second full term just would not have happened, period. Just look at the votes. 14.1m votes for the Tories in 1992 - the highest popular vote ever - and Labour's 13.5m votes in 1997, two million more than Kinnock's outing five years earlier and accounting for less than half of the voters who deserted the Tories. Turn out was down six per cent.
Come 2001 Labour lost three million votes but only five seats, thanks to first past the post. Turn out collapsed by 12%. And in 2005 another 1.2m votes vanished while turn out went up two per cent. Was Blair an electoral genius, or - like Thatcher - lucky in that his opponents were in disarray and were unable to substantially capitalise on the Iraq debacle. What is annoying is not that Blair won three elections. It's that Labour's support was gradually dispersed through the pursuit of policies antithetical to the interests of our key supporters.
To be fair to Blair, his record is more complex than one-sided hack jobs from either the left or right suggest. The SureStart centres, improvements in NHS care, the minimum wage, LGBT advances, these are real, tangible positives that made big differences to people's lives. That campaign groups, the unions and the far left have worked to protect the public services Labour renovated under Blair and Brown is enough to show a substantive difference existed between Blair and the Tories in those years. But being economic with the truth, of overlooking the inconveniences, all that John's article establishes is his unwillingness to look at Blair's record as it really was. Nostalgia, of seeing 1994-2007 bouncing to endless replays of Things Can Only Get Better has its uses, but drawing conclusions on the basis of analysing facts is not among them.