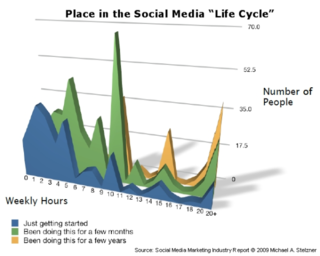 About 80 North Staffs business-types and yours truly attended a networking breakfast and seminar on social media last Wednesday in Keele's new ball room. No, it wasn't not a prelude to my selling out (which is a mite presumptuous seeing as I have bugger all to sell) - I went along to see what business and institutions thought about the new media and what they are doing with it. All this is with an eye to its political applications. In this first part I will concentrate on the morning's talk and the discussion. The second post will see if politics has anything to learn from what business is doing.

The morning's three speakers all have a successful track record with social media.
Kevin Holdridge
is the MD of
Kent House
, a firm that specialises in building/managing the online presence of its clients.
Linda Jones
is a blogger who has managed to make the cross over into print media, and is the head of the PR firm,
Passionate Media
. Lastly
Hannah Hiles
is Media and Communications Officer for
Keele University
and has steered Keele's social media strategy.
Rosi Monkman
of Keele
Science and Business Park
presided. The audience was a mix of young and old, of businesses with social media experience and none.

Kevin opened with a
few
examples
from
politics
that demonstrated the power of online social networks. But because the phenomenon is new and with dozens of applications coming on stream every week no one really knows how to use them.

To make sense of it all, he proposed classifying social media into three groups - social news sites and blogs (characterised by commenting, rating and sharing); user generated content (YouTube etc.) and social networking (Facebook, Twitter
et al
). The last represents a huge potential market. Facebook claims
250 million
active users. The business networking site,
LinkedIn
has 365,000 company and 12 million individual profiles.

Business cannot afford to ignore social media. According to Kevin's figures, some 9/10 consumers trust their peers over marketing. This matters when 25 per cent of search results for the top 20 brands are generated by social networks and that some 34 per cent of bloggers have written opinion pieces on brands. Perhaps sensing a relatively unique marketing opportunity he flagged up Ford's campaign for the US introduction of the Fiesta as a way of making use of the networks. In addition to traditional campaigning, Ford gave 100 bloggers a free car for six months in exchange for regular blog posts about their experience. The net result was a buzz on the campaign and the product, converting the blogs and the networks they are part of into effective publicity multipliers.

For Kevin social media is more than a fancy means of advertising. It lets companies get a snapshot of the market and of what competitors, vendors and (potential) customers are saying. They offer a new means of developing a presence and an identity. Business can communicate and engage while fulfilling traditional customer service functions - sometimes at lower cost. But as with most things, one needs to adopt a strategy that is attuned to the medium. For starters it should be listening and be willing to talk. Don'ts include
not
creating large corporate identity that projects a monolithic image to the public. Nor should one lose sight of the people in one's social network, or respond in kind to negative comments or criticisms aimed at your company or product.

In sum business needs to take ownership of what it's doing, determine its goals, focus on the customer experience, understand the new landscape and build a business case for taking part.

Linda began her talk with a well worn business cliche that bears remembering: people buy from people. And some firms are using social media to get their heads around this truism. Linda also blogs at
havealovelytime.com
, which is a family-friendly holiday recommendation site run by and for parents. Unsurprisingly some companies have shown an interest and have given writers free holidays in return for a review. One example Linda used was Butlins, who are trying to move away from their traditional red coat image into broader holidaying-at-home markets. Lovelytime's resort review - like the Ford case - gets their new look talked about in the networks who use the site, which again can act as a publicity multiplier at little cost versus traditional "closed" market surveys. There are negatives from Butlins' point of view - it's risky because they're opening their resorts to "commissioned" criticism. On the other hand if they are seen to respond to criticism it lifts their reputation as a listening company. So here you have an illustration of how businesses can interact with social media. By inviting the networks in and engaging with them the result can be invaluable feedback and PR gold.

Her general advice for businesses thinking about social media use was two-fold. First is the development of a proper personality, of giving the firm a human face. This means dumping management-speak and engaging in normal relationships with people. The biggest don't is spamming and hard selling. The second is to remember this is about building and enhancing relationships, not hectoring and lecturing. Time and effort invested in building a community around the company can look impressive to casual viewers, potential clients and customers. Linda concluded the best social media relationships are based on trust and over the long-term they can bring excellent results.

Hannah gave a more nuts and bolts talk about Keele's social media strategy, which can be summed up in her presentation's title: 'You've got a friend'. Social networking allows the university to know what people are saying about it and engage directly but informally with past, present and prospective students.

Keele almost accidentally stumbled into a social media strategy. The official Keele Facebook group was set up in January 2007 after an unofficial alumni group by a postgrad spurred the press department into action.
Keele on Twitter
followed not long after as did LinkedIn (which has proven especially useful for tracking alumni) and YouTube.

For Hannah, the internet is now the first port of call for almost every inquiry. But the growth of social networking means the university cannot always control the information searches might turn up. It is essential for Keele to engage in these networks - and the very act of engagement can show the university in a positive light. For example details of Keele's various homes on the web are sent along with the traditional packs sent to prospective students. They can sign up to the Facebook group and speak to current undergrads and members of staff who can introduce them to Keele and answer any questions they may have. It's also helping transform the student experience. Social media is allowing students to make friends
before
they set foot on campus.

Using Twitter enables it to have a 'personality'. A lot of universities only use Twitter as a means of disseminating their press releases, but Keele have tried and successfully built a responsive community around the account. What Hannah does is always respond if a message is received and every so often searches Twitter for references to the university. For example, she saw someone had tweeted their dilemma choosing between Keele and two other institutions. A few exchanges were had and later he got in touch to say he decided to apply. Of course Hannah doesn't claim he chose Keele on the basis of a Twitter exchange, but it might have contributed to his decision.

As the other speakers noted, social media lets you see what competitors are doing, it can raise your profile and brand recognition. But the downsides from a media management perspective are as much properties of the medium too. For businesses used to measuring performance in terms of facts and figures there are no real tried and tested ways of assessing the impact of social media. This makes it and difficult to determine how many resources to allocate to it. But what was also crucial for Hannah is patience and persistence - if one's social media architecture lies abandoned or poorly maintained it looks very bad.

Unfortunately there was time for only a few questions. One asked how do you find the appropriate networks? Hannah replied for Twitter that directories like
WeFollow
are a good place to begin.

I asked about how they would handle flak and negative comments? I drew a distinction between my political blogging, where it doesn't really matter if one adopts a "robust" approach to criticism, and the need for business and institutional actors to maintain a certain reputation. For Linda, because her work is inseparable from her personalised image she has the same range of freedom to reply if she wished. But all three thought they should be engaged with to find out what the issue was (obviously depending on the nature of the complaint). Nevertheless this sort of feedback is free to access and instantaneous, so it saves money AND time.

Lastly, someone asked how many hours does a social media operation take. The answer was - rightly - how long is a piece of string? Managing social media is very dynamic and varies from day to day. The rule Hannah applies to Keele is as much as it takes - but it can free up time in other areas. For example, in a recent project Lisa was engaged in she did not have to spend time chasing after the press and trying to get them to print a feature - and yet it was still a success.

Some of this stuff will be ABC for politicos already familiar with social media. But there are a number of matters arising which makes things slightly different for politics, as we shall see in the second part.