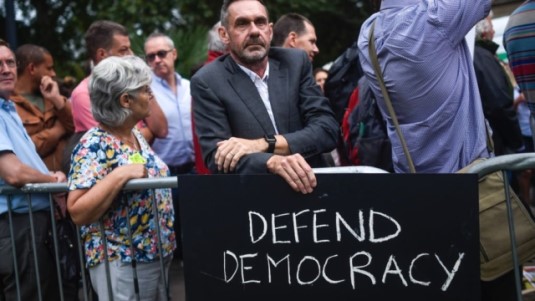 I've never understood it myself, but left and liberal journalists paying fealty to and fancying themselves the next George Orwell are ten a penny in British politics. Perhaps it's his prose, which he famously likened to being as transparent as glass. Or his reportage, of which Down and Out in Paris and London, The Road to Wigan Pier, and Homage to Catalonia are stand out examples of excellent journalism. Or might it be the novels, Animal Farm and Nineteen Eighty-Four, who've left indeligble marks on English letters and the political imaginary?

Paul Mason has seemingly approached Orwell's example from another direction: by looking to collaborate with the security services to take down his opponents and critics on the left. In a bundle of documents leaked to The Grayzone, we have emails and a crude network relief supposedly demonstrating the relationship between the Russian and Chinese states, websites, organisations and politicians, and the constituencies they appeal to.

This is obviously a grotesque smear, and one not without consequences. There are organisations that happily apologise for the Kremlin and Beijing, but there are plenty of people and outfits on the list that do not. Tribune, Young Labour, Jeremy Corbyn and the other named left MPs, and Novara are anti-Putin and opposed his invasion of Ukraine. And even for those who are Putin adjacent, do they not have the right to peddle their politics free from the interference of the state and MI5 cosplayers? The leaked materials are setting up leftists to be on the receiving end of potential vigilante action. And need we mention the recklessness and racist stupidity of linking the black and Muslim communities to the influence of outside powers?

How did Mason pass from his membership of Workers Power to the BBC and Channel 4 News to left celebrity journalist to apparently begging to be of service to this country's spook establishment? It's a spectacular collapse that puts other passages to the right to shame. Only having met him the once when we shared a platform with Chris Williamson (how times change) at Derby Transformed in 2018, I can only comment on the politics of his trajectory. What made Mason an effective broadcast journalist wasn't just a talent for making complex topics simple, as per his coverage of the 2008 crash and the aftermath, or his personal courage when he live broadcast from Gaza during the Israeli bombings of 2014, but the fact working mainstream outlets disciplined him. The tension produced by performing neutrality and impartiality in these circumstance were, for him, a productive one and helped Mason win a deal of respect in the left and labour movement. While not overtly leftwing, he did give due respect and fairness to those he interviewed and reported on. But this wasn't just a case of "one of us" making it big in a hostile environment. His books, particularly Why It's Kicking Off Everywhere and Postcapitalism were well received.

After C4 News he returned to activism, using his platform to promote Corbynism while pursuing his own journalism projects. This is where the problems started. Freed from contraints, the throughtful and nuanced Mason of old rapidly gave away to a forceful and bombastic character that enjoyed browbeating allies as much as opponents. The trolling of Progress conference in 2017 was good for a laugh. But the same uncompromising and often uncomprehending treatment was meted out to comrades too. As the contradictions within Corbynism sharpened, especially among the membership and supporters over Brexit, Mason dropped into the delicate tensions with all the finesse of a 100 lb bomb. He waged the war for remain in his characteristic manner. Aligning politically with a section of the establishment, I suppose it wasn't much of a shock when he came out for Keir Starmer in the post-Corbyn leadership contest, and has stuck doggedly to him since. As he memorably put it, "If you don't think KS will advance the class struggle you're possibly not understanding social democracy correctly from a Marxist viewpoint."

Since then, Mason's politics, which he maintains are still anti-capitalist, have merged seamlessly with the traditional positions of the Labour right on foreign affairs. The invasion of Ukraine has seen him elevate NATO to the status of a fetish and an organisation whose existence can no longer be questioned. The only difference between Mason and Starmer on Labour's position on NATO is Mason pushes it with the zealotry of a true believer. He sees Ukraine as the frontline in a tripartite world divided between Russian and Chinese imperialisms, and the NATO alliance of liberal democracies. The war in the Donbas is the war for liberty and freedom, and NATO our shield against the threats from the east.

Plenty of people have made not dissimilar journeys to the right, but seldom do they express a desire to turn cop and police the movement they've left behind. If you're looking to entertain a good faith explanation for this, Mason's superficial and shaky snapshot of international relations means the West are at war with two authoritarian rivals. No quarter can be given to those who might straight up support their machinations, equivocate, or even bring a bit of nuance to analysing tensions between the great powers. What is more likely is the logical culmination of a personal I-know-best politics desperately craving to put pay to his opponents by psyopping and using dirty tricks to drive them out of politics, leaving the field of "permissible" radicalism to decents like Mason. Or this is one hell of a differentiation strategy to show those on the Labour right he's desperate to court that he's one of them, and is happy to traduce, libel, and expose leftists to danger to prove this.

This is the final straw for Mason. There's no coming back from this. His passage from comrade to renegade is completed.