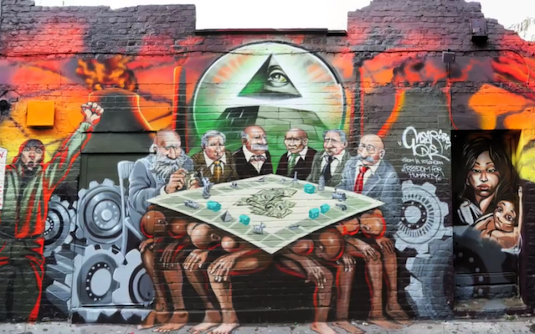 A picture says a thousand words, so take a look at this one and tell me what you see. Did you espy the anti-semitic themes? And how did you arrive at this conclusion - did the caricaturing give the game away? And how long did you take - a fraction of a second? Or are you like leading Stop the War activist Yvonne Ridley who, in the Facebook thread below the now infamous image, couldn't see anything wrong with it?
Unfortunately anti-semitism has yet again resurfaced and as everyone reading this knows, this time it's Jeremy Corbyn who's in the firing line for failing to notice the image above, which he commented on, was racist. In the world of social media there is a tendency to shoot from the hip without looking properly at what or who you're commenting on/sharing. It's happened to me enough times when posts shared on Facebook have been construed as supporting the Tories because of the titles (as such I was expecting some earache for Friday's effort). And I'm happy to accept that Jeremy's explanation that he wasn't paying attention. After all, over the course of his career he has put his name to eight Early Day Motions attacking anti-semitism, and under his leadership Labour has adopted a line far harsher on anti-semitism than any of his predecessors. And still, this happened.
While the Labour Party does not have an anti-semitism problem distinct from the anti-semitism problem of society as a whole, unfortunately a section of the left does, particularly those that have historically prioritised anti-war and Palestine solidarity activity. We're not talking conscious Jew hate a la neo-Nazis and assorted fash riff-raff, though some on the fringes of anti-war work order their conspiracy theorising with a side of anti-semitism, but rather a certain carelessness which, persistent and unchecked, amounts to anti-semitic behaviour. Cast your eyes over the Socialist Workers Party, for example. Previously the key organising force of Stop the War, Respect, and 'official' anti-fascism as per Unite Against Fascism, when it came to matters anti-war they tended to put a plus wherever the British establishment put a minus. They weren't hard "defencists" (i.e. calling for the defeat of one's own military and victory to whoever they are fighting), but in practice this meant tolerating far right Serbs on the small marches against the war in Kosovo, ditto with Islamic fundamentalists in the anti-war movement and, in the case of notorious anti-semite Gilad Atzmon, not just rubbing shoulders with but actively sponsoring his events. The SWP has a history of turning a blind eye to such characters. Sometimes this was for expediency's sake, such as not wanting to threaten the "united front" of whatever bandwagon they're riding at that moment. For others it's because they are of some use. Atzmon was so promoted because a now disgraced former leading member was really into jazz.
The SWP have diminished influence these days, but their attitude to problem people is typical. For them, overlooking the foibles of allies could be justified in terms of their lust for the big time, which was always one more demo, strike, and paper sale away. For others not so invested in sect building, making episodic common cause with people who shouldn't be touched with a barge pole was simply a fact of life of doing left-wing politics: you work with what you've got. Up until the sudden change of fortunes occasioned by the 2015 Labour leadership contest, self-described leftists were a small and dwindling bunch. The likes of Jackie Walker and Tony Greenstein, both of whom are prophylactics for socialist politics, were tolerated because there wasn't exactly a massive pool of activists to draw upon. And it had been this way for a long time, so turning a blind eye was in many cases a condition of getting things done. Which also meant "left" anti-semitism wasn't taken seriously - a culture of sensitivity was absent.
Nevertheless there were some on the left who refused to go along with this. Among the remnants of self-described Leninism, the Socialist Party tended to prefer focusing on bread and butter issues and promoting its still born initiatives that were always a step toward a new workers' party. It worked with others when occasion demanded, but never fell into the crude 'my enemy's enemy' anti-imperialism of the SWP and friends. The Alliance for Workers' Liberty, in a number of ways the SWP's mirror image, regularly polemicised against the rest of the far left for not taking anti-semitism seriously, and often accused them of an at times unconscious, at times semi-deliberate anti-semitism for focusing so much on Israel and refusing to recognise the national rights of the Jewish people who live there. And Andy Newman via the legendary Socialist Unity blog regularly battled against anti-semitism in the anti-war/anti-imperialism movement, arguing that not only is it appalling in and of itself, it hands ammunition to Israel's supporters. How easy it is to dismiss criticism of Netanyahu et al's latest crimes if those same opponents can be associated with anti-semitic positions and propaganda. That and the small matter of it inevitably biting the left in the behind in due course. Like now.
In context, Jeremy's remarks could be read as symptomatic of this culture of carelessness. But let's not beat the left up too much. Simultaneously the groups and activists above, including the SWP, have a better record than virtually anyone else in the labour movement of taking on outright peddlers of Jew hatred. As Michael Segalov reminds us, writing in September 2016 during another anti-semitism controversy, it was the far left and a few hardy souls from the mainstream of the labour movement who were confronting neo-Nazis on our streets. As he rightly notes, those who take anti-semitism not as a problem to be addressed but as a stick to beat Corbyn and Corbynism with were never to be seen, and barely concern themselves with the threats the far right pose Jewish communities. It's almost as if they're acting entirely in bad faith.
What should be done then? The party is now institutionally anti-anti-semitic, but there remains a persistent and stubborn layer of members who either believe there is no issue, don't think it's worth talking about, or is entirely a weapon used against the leadership by the usual suspects. Clearly, there is much political education to be done. I don't mean every branch and CLP hosting its own diversity training or whatever, but rather a left declaration of war against anti-semitism specifically and the kind of thinking - conspiracy thinking - that incubates it and, in turn, finds a ready audience among large sections of Corbyn's online support. As a rule, the so-called alt-left media sites are dismal failures in this regard and, indeed, stoke the fires of click bait conspiranoia. This has to be opposed by materialist analysis, of understanding the world as it is so we can make the world what we want it to be. This takes a concerted effort at building an intellectual culture that encourages comrades to think critically for themselves, and treat with extreme prejudice any and all explanations that place social ills, however they're defined, at the feet of secret cabals working away in the shadows. Then, perhaps, the culture of carelessness can be overcome and "left" anti-semitism goes back to being what it should be: an oxymoron.