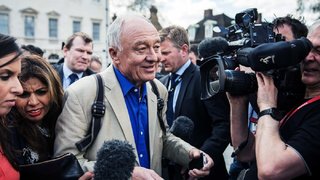 "Ken Livingstone is a massive dickhead. It's high time he acted like a member of the Labour Party, not the Ken Livingstone Party. I and many thousands of activists, including plenty on the left, are fed up with his frequent foot-in-mouth moments that damage his own reputation, that of Labour's new leadership, and the standing of the party as a whole." That was me, just shy of a year ago and nothing has changed as anti-semitism in the Labour Party makes the headlines again.
Of course, anyone with a shred of honesty knows Labour isn't anti-semitic. It is not a safe space for racists to thrive, nor are Jewish members threatened or discriminated against by the party. That isn't to say the membership doesn't contain anti-semites. It has some of those. As well as racists of other persuasions, as well as your cretinous sexists and homophobes. That doesn't make the party institutionally racist, sexist or what have you. If anything, the party is institutionally anti-racist, anti-sexist, anti-homophobic. Views that are characterised as such will attract sanction and expulsion the party makes efforts to put people from these backgrounds forward. Labour does so not because it's enlightened, but because it has been pushed to do so by women, black and minority ethnicity, and LGBT members and their allies. Unfortunately, eternal vigilance is required because Labour represents a significant cross section of people numbering in the millions. If there are unpleasant views existent in wider society, they will be reproduced inside all of the parties that serve it. How progressive a party is depends on how the ingress of rancid views are dealt with.
That said, there is a sliver of political space, unfortunately, for "left" anti-semitism. As we saw last summer, it tends to come in naive/careless, hardened, and cynical varieties. The hardened kind is straight up racism that latches on to the language of radical critiques of Israel and Zionism to try and give their anti-semitism a leftist veneer. There are those who fake anti-semitism and, via social media, pose as supporters of the leadership as a means of discrediting-by-association. And there are careless folks who lazily lapse into tropes and language that is grotesquely offensive but just about skirt the fine line between critique and prejudice. For some, it's a genuine mistake, but for others who've been around the block they should know better.
Here lies Ken Livingstone. Yes, he has an excellent record as a campaigner against racism. Yes, five Jewish members of the party went to his hearing as character witnesses for the defence, including the sainted Walter Wolfgang. But time and again, when it comes to matters concerning Israel Ken goes straight up to the fine line and dances all along it. Why? The historical record doesn't support his contention that Hitler supported Zionism before "he went mad", and Ken knows full well that most Jewish people in Britain find the mentioning of Israel in one breath and the Nazis in the next upsetting and disrespectful. So, again, why? I don't believe Ken is anti-semitic, but when you're consistently provocative and unrepentant about it to the extent you damage yourself, the faction of the party you're aligned with to the point of aiding the leadership's opponents, and the standing of the Labour Party itself, it's easy to see why many people aren't so forgiving.
The National Constitutional Committee therefore were right to find Ken guilty of bringing the party into disrepute but wrong to to give him a slapped wrist. His behaviour should have made the ultimate sanction a foregone conclusion.