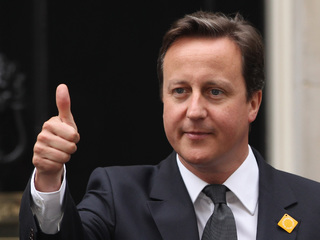 Asked why he wanted to be Prime Minister, Dave reportedly replied it was because "I thought I'd be rather good at it". Well, I have some news. He turned out to not be very good at all. And as he draws a curtain on a political career that hadn't even begun when this century started, it's time to reflect and take stock.
100 years from now Dave will be remembered only for one thing, and that's Brexit. Future historians and biographers will rightly conclude that his career was one gamble after another. As the rewards diminished over time, so the stakes grew higher. Detoxifying the Tories to the extent they became the party that pushed equal marriage through the house cost Dave little beyond losing his party's wing of the unreconstructed and unhinged. And three years later to woo back this sliver of activists and thin layer of voters, Dave staked Britain's membership of the European Union and its position in the single market. We know what happened next.
Leading politicians do feel the need to dress their politics up in some sort of world view. Dave didn't really have a philosophy as such. Yes, he did try the Big Society wheeze, which was exactly that. On its own terms, official efforts to encourage civic mindedness and volunteering isn't objectionable. Giving social enterprise and the third sector more recognition, and highlighting cooperatives was no bad thing in and of itself. But critics, and they were legion, were quick to point out that increased volunteering was to compensate for the swingeing cuts to public services under his watch. For instance, many a library saw paid posts deleted as budgets radically imploded, and had to rely on the good grace of unpaid amateurs to remain open. I don't know whether this was Dave's intention - his six years as Prime Minister showed a remarkable resistance to the radical notion that actions have consequences, but the Big Society was something that kept a few wonks in employment.
Nor was there much distinctive about Dave's politics apart from egregious opportunism. For cheap electoral reasons, he and Osborne seized upon the 2008 stock market crash and subsequent bail outs as evidence of Labour "profligacy". The tanking economy, we were told, was a consequence of the huge debt Gordon Brown had piled up. Cause and effect were cynically swapped around, and the message driven home that everything would get fixed if public spending was reined in. With a supine media and an opposition turning immediately inwards to fight a leadership election, once Dave assumed power he defined the terms of the discussion. The deficit was all; it was the black hole that sucked politics into a spiralling, doomed orbit around it. Against the backdrop of a crisis of capitalism, and from the standpoint of the British economy, it was absolutely the wrong thing to do. It choked off investment and the economy stalled, gaining momentum only after this stupid and ignorant plan got junked. But its immediate effect was to stoke fear and social anxiety, to allow employers to speed up casualisation and precarity, and erode the social wage further. Grounds perfect for a fear-mongering election campaign the Tories later won. But again, one should not credit Dave with Machiavellian genius. He was no thinker and did not ponder his politics in these terms. He was spontaneously neoliberal, and therefore committed to the magical, recuperative power of unregulated markets simply because that was Tory common sense. Petty prejudice and predisposition, not politics, was his guide. It just so happen

s

that they always operate to the benefit of the wealthy few.
And now, he's gone. The self-justifying memoir is bound to appear in due course, just as the clutch of directorships will surely present themselves. Yes, Dave shall be remembered alright. All political careers end in failure. But few suffer the ignominy of climaxing in complete disaster.