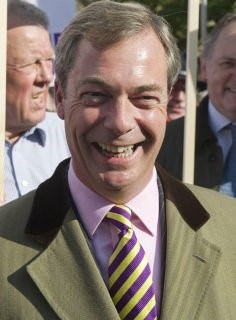 UKIP may well be "fruitcakes, loonies and closet racists" but they're also riding high after last night's by-election result. Farage must be kicking himself for not standing as just 1,800 votes separated his party (and it is his party) from the hapless LibDems. With his profile, had he not ducked out of the fight the commentariat today would be pouring over a loss as horrifying to the Tories as Galloway's win in Bradford was for Labour.
In an attempt to put a brave face on the 14-point drop, Clegg said "We overcame the odds with a stunning victory". A solid LibDem constituency with 40 LibDem borough councillors (gaining two in 2012) aren't exactly adverse conditions, Nick. For EdM, Labour must "redouble its efforts" to win over people who wouldn't normally vote for it.
And then there is Dave. His response was a bland "This is a by-election. It's mid-term. It's a protest. That's what happens in by-elections. It's disappointing for the Conservative Party but we must remain true to our principles, true to our course, and that way we can win people back." If you say so, Dave. But every socialist and progressive person must hope they listen to Tory vice chair, Michael Fabricant, and act accordingly. He said "The Conservative voice is muffled and not crisp. It does not clearly project Conservative core policies or principles." Does he have a point?
Some Tories regard UKIP with envious eyes and believe tacking right will win the voters back. As empiricists of the crudest and most stupid kind, the simple arithmetic of adding the Tory and UKIP vote is taken for proof. But, to use the old language, you have to burrow beneath appearances to get at the essence of things. One Tory with more sense than his feverish contemporaries is Lord Ashcroft. Based on a study of 14 focus groups with UKIP voters and maybes, Ashcroft's observation is worth quoting at length.
The single biggest misconception about the UKIP phenomenon is that it is all about policies: that potential UKIP voters are dissatisfied with another party's policy in a particular area (usually Europe or immigration), prefer UKIP's policy instead, and would return to their original party if only its original policy changed.





In fact, in the mix of things that attract voters to UKIP, policies are secondary. It is much more to do with outlook. Certainly, those who are attracted to UKIP are more preoccupied than most with immigration, and will occasionally complain about Britain's contribution to the EU or the international aid budget. But these are often part of a greater dissatisfaction with the way they see things going in Britain: schools, they say, can't hold nativity plays or harvest festivals any more; you can't fly a flag of St George any more; you can't call Christmas Christmas any more; you won't be promoted in the police force unless you're from a minority; you can't wear an England shirt on the bus; you won't get social housing unless you're an immigrant; you can't speak up about these things because you'll be called a racist; you can't even smack your children. All of these examples, real and imagined, were mentioned in focus groups by UKIP voters and considerers to make the point that the mainstream political parties are so in thrall to the prevailing culture of political correctness that they have ceased to represent the silent majority.



UKIP, for those who are attracted to it, may be the party that wants to leave the EU or toughen immigration policy but its primary attraction is that it will "say things that need to be said but others are scared to say". [My emphasis]
Where UKIP's support comes from is the virulent disenchantment and irreverence with and toward official politics. It is a knee-jerk reaction - in both senses - against the cultural trajectory toward greater integration and acceptance of minority communities at the
perceived expense of the majority
, and is also a diffuse, unforeseen consequence of the ways our social fabric has been bent and ripped by 30 years of neoliberal economics. Think I'm flogging a hobby horse by banging on about the dismal science? Well, all you need do is look at all the liberal democracies who've undergone similar social change over that time frame - most continental countries have seen the emergence of right-populist parties and movements speaking to (national-specific) concerns outlined by Ashcroft, and all position themselves as ostensible truth-tellers to a corrupt, uncaring and elitist political class.
As the party of government, and one of two parties naturally capable of forming governments, right populism is closed off for the Tories as a serious political strategy. They can indulge in contrived demonisations of immigrants and social security recipients, play around with Europe and other 'UKIP' issues (they can even steal their colours), but as they pose their UKIP-lite to the real deal, more moderate voters who might like Dave, appreciate his principled stand on equal marriage, and accept the austerity programme will get alienated. Trying to out-UKIP UKIP on policy hobbles the Tories, and misrecognises the nature of the beast they're up against.
But the Tories, or at least its dwindling and ageing activist base, believe that grappling UKIP issue-by-issue is the route out of their impasse. Ashcroft instead suggests that at least among those UKIP voters who could be persuaded to switch back, patient explanation and clear evidence of policy delivery and efficacy could win them down. But with Dave and Gideon dogmatically addicted to trickle down assumptions and the disastrous economic policy that flows from that, UKIP will continue to thwart, blunt and erode the Tory capacity to fight and win elections.
It is worth remembering that UKIP springs from a pool that has analogous constituencies across Europe and the United States, it is also part of the long decline of conservative politics as hegemonically constituted in the British (or, more specifically, English) context. With more expulsions, resignations, and defections than your average Trot group, UKIP is an incredibly volatile party. Like most such movement/parties, the persona of its leading figure plays a crucial role in holding it together - without them as a focal point for a movement to invest its hopes and aspirations, it can quickly dissipate - as the subsequent fate of Lijst Pim Fortuyn proved after the murder of its leader.
Another thing missing from Ashcroft's analysis is the appreciation of age. The concerns he identifies are, to put it bluntly, mainly middle-aged and old-aged worries. The latest YouGov tracker poll finds them on four and three per cent respectively among the 18-24s, and 25-39s. Of course, younger people's attitudes change with age but the under 40s are far more at ease with the sort of Britain UKIP rails against. In other words, the efficacy of UKIP and right populism is time-limited.
As a Labour and labour movement person, I am only worried about UKIP in as far as they can tap into discontent among our support, which has so far proven to be limited. More important is that our party and our movement rebuild trust in politics by rebuilding itself and, later in government, tackling the conditions that fuel anti-political rage. Again, following Ashcroft's advice, it means policy delivery. But more than that we need to seriously address the kind of economy we want and ensure our people feel secure in their place in it. If you can't offer certainty, it's small wonder that many millions turn off and switch to those whose politics promise a reified form of security.